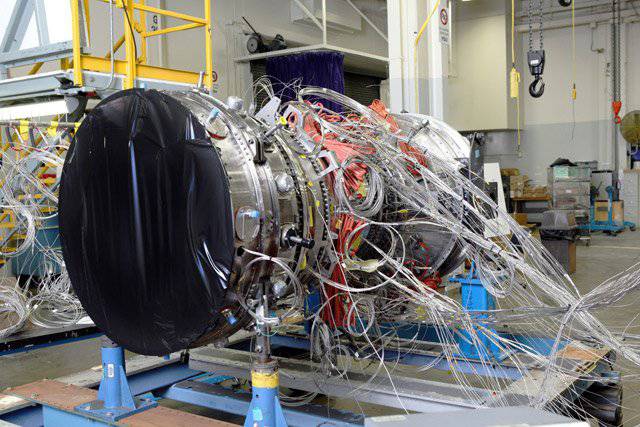 The US Air Force will be ready to test the "adaptive engine" in 2016 year, if Congress approves the allocation of 1 billion for this program in 2015 year, according to February 28 flightglobal.com.
On February 24, US Secretary of Defense Chak Hagel announced that these investments could be directed to rival companies General Electric, Rolls-Royce and Pratt & Whitney. General Electric is said to have been designing such an engine for the past six years. TRDDF with an adaptive cycle of work (DIC - engine with a variable cycle - approx. "Military Parity") is designed to equip sixth generation fighters and consumes 25% less fuel.
Pratt & Whitney stated that the Pentagon understands how important the DITS program is, and is willing to work on it as part of a sixth generation fighter. Work has already begun.
In 2006, GE and Rolls-Royce North America won a contract from the Air Force Research Laboratory (AFRL) to develop a new generation engine under the ADVENT (adaptive versatile engine technology) program. Pratt & Whitney also submitted its proposal at that time, but was left out of the competition.
General Electric began preliminary testing of its "three-stream engine" in November 2013, with full-scale ground testing due later this year. The engine will be 25% more economical and have 5-10% more thrust than the F136, which was developed by the GE / Rolls-Royce group for the F-35 fighter (this engine lost the competition to the Pratt & Whitney F135 turbojet engine. - approx. "VP ").
Last September, Pratt & Wittney also developed an inlet fan test bench that will be used to create a full-scale engine. The company said that last year, the F-135 fighter jets produced the hottest working gas temperatures ever recorded in a turbojet engine in the F35 powerplant. Increasing the operating temperature allows for greater traction and engine performance. The company has reworked high-pressure turbine blades, which are capable of operating at very high temperatures, the blades themselves are covered with "insulating material."
But General Electric said that working on the ADVENT program gave her a six-year head start over a competitor. The engine has a ceramic low-pressure composite matrix composite components that can withstand higher temperatures than those achieved in previous generation engines, the company said.