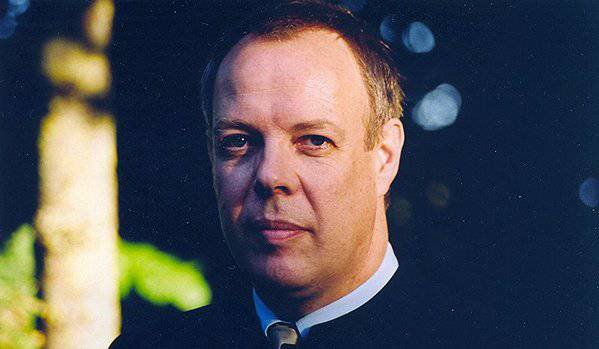 The crisis in Ukraine and the role of the West in it were commented on by Golos Rossii by government adviser and publicist from Germany Christoph Hörstel
- Events in the Crimea. Full combat readiness of the Russian armed forces on the peninsula. How to treat this, or rather, how serious the situation?
- I consider the situation very serious. First of all, because the West, unfortunately, was not afraid to reach its aggressive goals in Ukraine to communicate with completely unacceptable radicals — with such forces in Ukraine, from which we in our Western countries are definitely defending ourselves. However, they are absolutely unpredictable, they have their own agenda, mostly violent. And such people during the Second World War were already on the side of Adolf Hitler.
- The West was counting on this development of events?
- In my opinion, the clarity and consistency of the Russian reaction came as a surprise to the West.
This, of course, is typical in Russian. We say: the Russian bear wakes up slowly, and when I wake up, something, of course, happens! And how quickly it happened now came as a surprise to many in the West. I remember how Steinmeier returned after signing the treaty, which violated, thanked Russia and immediately called for cooperation. Here it became noticeable that an unclean conscience stirred. And he realized that what we did would not be perceived positively. And Lukin, a skilled adviser to Putin on special issues, did not sign.
That is exactly what happened: Steinmeier had a real presentiment, but he did not follow him. Instead of warning our friends - the French and the Poles - they say, guys, we cannot do that - he just continued in the same vein.
- In accordance with the agreements of February 21 between the legitimate President Yanukovych and the foreign ministers of Poland, France and Germany, EU policy primarily guaranteed the safety of the Ukrainian president. Under these documents, they put their signatures. Now Yanukovych is on the run. What then are the concluded agreements?
"By not complying with these important agreements, the West confirms that it cannot be trusted." And this is a problem. This is very difficult to fix. We have two other platforms where the loss of trust is irreplaceable. These are negotiations in the format of "5 + 1" and Syria.
And I know this will have consequences for these important topics. In addition, we still have an attempt at a coup in Venezuela, another state friendly to Russia.
- Why, in fact, here in the West, do not talk about non-compliance with the Kiev agreements from February 21?
- This I can explain to you very precisely. Most of the blame for this, in my opinion, falls on Russia. Because Russia does nothing for public relations, for relations between people, but relies too much on classical diplomacy and on classical diplomacy of statements. Need a lot more
- speaking quite primitively - Russian propaganda in the West, so that Western people understand that our governments are wrong. And so this great power of critically-minded citizens, who don't want any disputes with Russia at all, and, in fact, positively disposed towards Russia, is completely irrelevant, and therefore over the past 15-20 years it has been possible to severely undermine Russia's reputation in Germany. West.
- What would you as a government adviser advise the Russian government?
- Until you have been asked, you should not declare your opinion, but I just said about this one point, I can, roughly speaking, quite easily agree with all the steps of Russia, except for the only one, namely, concerning the sensible public of the West, people, who don't want any new NATO aggression, it's all the same against whom, whether it's about Syria, Iran or Russia, that these people were simply left out of work. Left alone with their completely isolated governments and the media, it's very sad, with
historical
point of view is completely wrong.
- The current government in Kiev called on NATO to intervene in the situation. Here the question arises: how legitimate is the government, with whom should Russia speak and, first of all, will the alliance interfere in the situation?
- I think that NATO will do very well if it retains such caution as it is now. But one can easily imagine, and the current events show, that if Ukraine is mobilized by its illegal government in the way it has been done so far, by conscription and so on, that the West will simply try, helping the Ukrainian military, and further stir up unrest here, so that NATO does not need to intervene itself, it can do it indirectly. This can be imagined. It is impossible to imagine anything more.
- What do you understand or what is generally understood in principle as "indirect"? Is it far right in the West?
"The indirect assistance of NATO to Ukraine in the event of a possible armed clash, or only in the event of a threat, when both sides confront each other, armed from head to toe and fully mobilized, - this can be anything that is imaginable. That is, the supply of weapons, advice, secret information about the movements of Russian troops - something like that.
- How legitimate do you consider the current government in Kiev?
- I have already said: I consider it illegal. I do not think that the group that came to power there convincingly represents Ukraine. I am certain that this group, together with NATO, will try to bring about a situation in which credible re-elections in Ukraine will become impossible. People are pretty much intimidated. I mean, the 60 of thousands of people from Ukraine who have been seeking asylum in Russia since the beginning of the year are quite unequivocal, and if NATO ignores it, it makes its position extremely vulnerable, and I can only say that we will use it with friends to attacks.
- The EU, the USA, Ukraine, Russia - all the parties are in favor of the territorial unity of Ukraine, but are all the parties really interested in the unity of this post-Soviet republic?
Yes, unity is such a beautiful word. I'm interested in him too. However, the problem is how to fill it with content. And if now the so-called Council of Maidan or the government, whose legitimacy is weak, sends armed gangs from Kiev to rage everywhere in the country, especially in areas where the overwhelming majority are people of Russian origin, Russian-speaking or Russian, then we have problems with unity, because it is, in fact, unwilling by the central authorities. Because instead, they continue to drag in power grabbing and intimidation, and this is a big problem.
- In the current discussion we are talking primarily about the peninsula of Crimea. Whose do you see this peninsula?
- This peninsula is Russian like nothing else. There can be no two opinions here, and now this is not about provincial thinking. We know how Ukraine got to the Crimea - because of Khrushchev, and then they didn't take it that seriously, because they couldn't imagine that the Soviet Union would collapse, and now suddenly we had such a discussion. I think it's about people, and the most correct thing to advise Russia is to say: we keep our troops on alert, which will allow us, with the full support of both houses of parliament, to protect Russian citizens there, but we will not aggressively move forward. And I think that here it is quite possible to trust the Russian vision of the situation, as it has so far been formulated.
- At the end of March in the Crimea should pass a referendum. This was announced by the head of the Crimean parliament. What to expect from him?
- Well, I think, in the West, too, they will not doubt that the result of the vote will be absolutely clear - either a direct transition to Russia, or the preservation of its independence from Kiev.