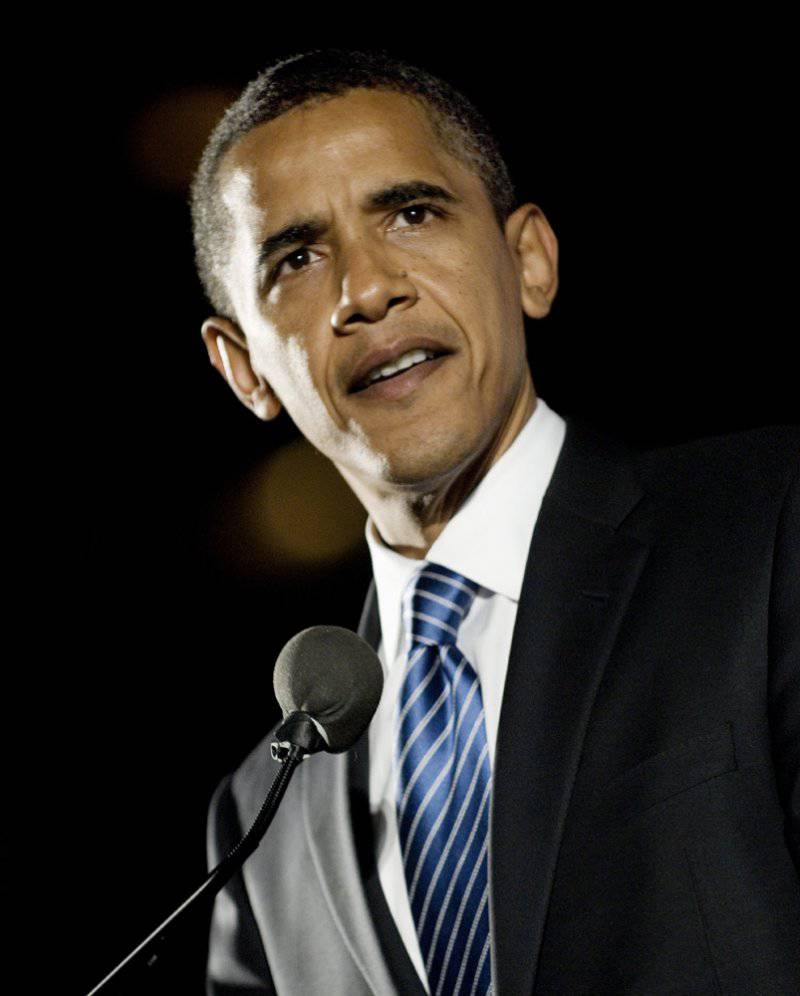 Barack Obama's warning that Moscow will pay a high price for a military invasion of Ukraine did not impress American critics of the White House.
Speaking to Fox News, conservative commentator Charles Krauthammer said that "everyone is shocked by Obama's weakness. I find it stunning ... In fact, he said that we will not do anything ..."
"Putin is acting, and Obama solemnly declares," the headline note by William Kristol, editor of the conservative Weekly Standard magazine, is entitled. The author notes that the US president did not clarify exactly what consequences Moscow expects for the intervention, and did not even say that America would lead the international community in collecting the "high price" from the Kremlin, which it threatens. According to Obama, he "solemnly declares" together with other countries that Russia will pay this price.
"I suspect that President Putin is not particularly concerned about the solemn statements of the international community about some future consequences," Kristol writes. "He saw that Bashar Asad ignored similar statements and survived. Like Asad, Putin understands actions, not solemn statements ".
Giveaway game
"So will Obama move from statements to actions now?" The author asks. "Will Obama convince Brussels, Berlin, Paris and London to start isolating Putin's regime diplomatically, politically and economically? Will Obama convince our allies to postpone the G8 meeting from Russia, cancel an invitation to Putin, to deny Putin's friends in foreign visas, to publicize and freeze the bank accounts that are in the West with him and his friends? "
"Does Obama force Georgia to join NATO and start promoting security arrangements with Ukraine?" Kristol continues. "Will Obama ask members of his administration about what can be done to start undermining Putin in his country and abroad?" "Will Obama begin to act in such a way that the Russian people and Russian elites see that Putin's actions have a high, real price, and not solemn statements about a possible price? Or will it all come down to just one talk, no action?"
The same Weekly Standard seemed to answer these questions, noting significantly on Saturday that Obama had missed a meeting of his security officials in the White House to discuss the situation in Ukraine.
Republicans have long proven to voters that Obama basically plays in a giveaway in the international arena, and that few people abroad take him seriously. From their point of view, Russia's intervention in the Crimea serves as a convincing confirmation of this thesis.
In 2008, Alaska's governor and Republican candidate for vice-presidency Sarah Palin criticized Obama, then a senator, for his sluggish response to Russia's invasion of Georgia, and predicted that if he was elected US president, the next number of his program Putin will invade Ukraine.
"Unbelievable scenario"
On Saturday, the conservative media triumphantly reminded Palin about this prophecy and slyly cited the reaction to him of the respectable Foreign Policy magazine, who then wrote: "This is an extremely improbable scenario. to force in order to press Kiev to the nail. "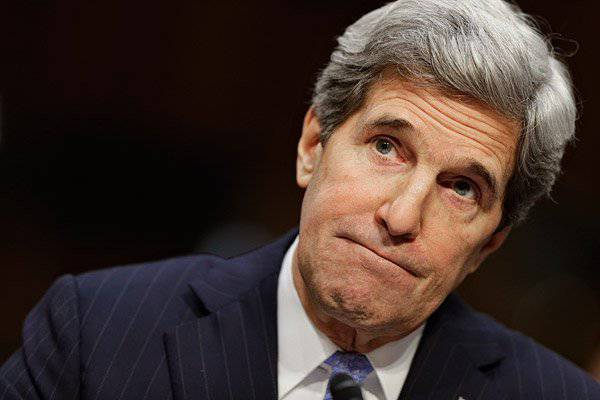 John Kerry, write newspapers, was unprepared to talk with Sergey Lavrov
"It turns out that Palin's prediction was not so implausible," Christine Russell mockingly remarks on the conservative Townhall site.
Obama is calling for a more decisive response, not only conservative circles, but also such liberal newspapers as the Washington Post. On Saturday, she titled her editorial, "Condemnation of Russia's actions in Crimea is not enough." According to the newspaper, the President of the United States did not mention any consequences, except for the international "condemnation" and the unspecified "price", which is unlikely to stop Putin.
So far, writes the Washington Post, "The West responded by phone calls." David Cameron and Angela Merkel talked with Putin, and Secretary of State John Kerry spoke with Lavrov.
"Lavrov objected that Russia does not violate the territorial integrity of Ukraine, and Kerry was not ready to object to him," the newspaper notes. "Putin is unlikely to take this into account in his calculations."
It is not difficult to guess what goal Putin sets for himself, writes the Washington Post: "Obviously, he is responding to overthrowing the pro-Kremlin government, using old, repulsive Russian tactics. He provokes a separatist insurgency in the neighboring state, and when necessary, uses his own troops."
Nobody wants war with Russia
The newspaper gives other examples of this tactic: Transdniestria, South Ossetia and Abkhazia - and notes: "These attacks are beneficial for Moscow by giving it dominance over strategic segments of the territory and at the same time destabilizing the countries that they nominally belong to. If it grabs Crimea from Ukraine, this will allow Putin to attack the throat of a weak government in this country, which has already been hit by a serious economic crisis. "
Like a number of other newspapers, the Washington Post recalls that the invasion of Crimea represents "a flagrant violation of Russia's obligations, including the Budapest memorandum of the 1994 of the year, in which Moscow promised the United States and Great Britain that in exchange for exporting nuclear weapons from Ukraine
weapons
she will respect her independence and borders. "
The newspaper calls on Obama and European leaders to threaten Putin "not only with a condemnation, but also with economic and diplomatic sanctions."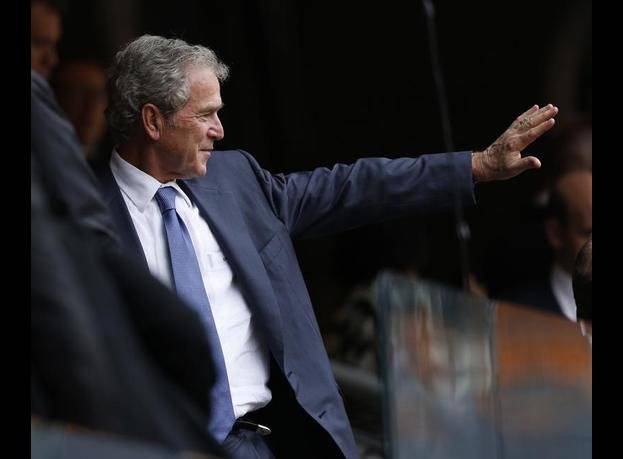 During the Russo-Georgian War, George Bush also showed caution
Appeals to them are heard in the US this weekend from all sides, but their effectiveness is far from obvious, writes the New York Times Saturday. According to her columnist Peter Baker, the United States has few real opportunities to make Russia pay the "high price" that Obama threatens. Moreover, the experience of recent years shows that when "Russia believes that its interests are at stake, it is ready to bear any consequences."
"Neither America nor NATO is able to stop it," Julia Yoffe agrees on the website of the liberal journal New Republic. "They showed it in the case of Georgia, because no one wants to start a war with nuclear Russia, and is doing the right thing. So for now Washington and Brussels are puffing and wailing about rubicons, sovereignty and diplomacy, Russia will do what it sees fit, and we absolutely can't stop it. "
"At the moment, we can't do anything to save Ukraine," said former national security assistant, James Jeffrey, a former assistant to Bush's junior national security adviser to Baker.
He advises Obama to offer NATO to transfer troops to the Polish-Ukrainian border and thereby conduct Rubicon there. "All we can do is save the alliance," he explains.
"Could not do anything"
It was Jeffrey who first told Bush in August 2008 of the year that Russian troops were entering Georgia. That conflict also coincided with the Olympics, only Beijing, which was attended by both Bush and Putin.
Bush talked with Putin about Georgia, achieved nothing and deployed American ships closer to it, and also provided a military transport plane in order to hastily transfer the Georgian contingent from Iraq to his homeland. The United States sent aid to Georgia on military aircraft on the assumption that Russia would not bomb Tbilisi if there were American servicemen in it.
Bush also put in the back of the prepared agreement on the peaceful atom, and NATO temporarily canceled military contacts with Russia.
"We did a lot," Jeffrey says now, "but we couldn't do anything."
According to him, in the circles of the Bush administration, such measures as bombing the Roki tunnel to block the road to Russian troops, or the supply of Stinger anti-aircraft missile systems to the Georgians, were discussed. Secretary of State Condoleezza Rice resisted. Bush's national security aide, Stephen Hadley, suggested interviewing presidential advisers to see if any of them recommend sending American troops to Georgia.
Former US Ambassador to Moscow, Michael McFaul, urged to warn the Russian business about the consequences
There were none, and Bush did not dare to escalate. Although the Russian troops stopped before reaching Tbilisi, Moscow achieved practical independence for South Ossetia and Abkhazia and continues to keep its units in those areas from which it pledged to withdraw them under the ceasefire agreement.
About a year later, Russia's isolation came to an end, Baker writes. Obama came to power, having started a reboot. In 2008, NATO renewed military contacts. A year later, the United States resurrected a nuclear agreement with Russia.
Tell them about isolation.
According to Baker, the Obama administration is now discussing such measures as canceling his summer visit to Russia, ending negotiations on a trade agreement with Moscow, excluding it from the G8, or transferring US warships to the region.
On Saturday, Obama announced the first response measure: the United States suspends preparations for the June G8 summit in Russia.
Former US ambassador to Moscow, Michael McFaul, told the New York Times that Obama needs to go further and bring to the attention of the "business-oriented Russian producer, that he may be isolated."
"We need to seriously discuss economic sanctions as soon as possible so that they understand what price they will have to pay," McFaul said. "They should know what the consequences will be that they should state before they take further action."
But, as Baker notes, "Putin has already shown that the damage to Moscow's international reputation will not stop him. He had just taken the Olympics in Sochi and had to realize that he was practically throwing out the seven years and $ 50 billion spent on polishing Russia's image Obviously, he considered that any diplomatic damage does not outweigh what he sees as a threat.
historical
Russia's interests in Ukraine ... ".