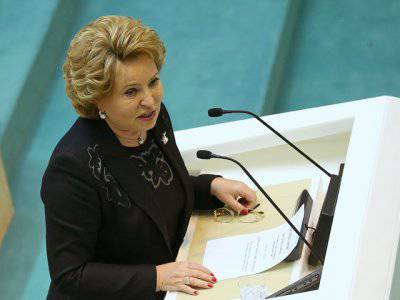 Russia is in favor of preserving the territorial integrity of Ukraine, but no one can forbid Crimea to hold a referendum on expanding autonomy. This was broadcast on Sunday evening with Vladimir Solovyov, "said the chairman of the Federation Council, Valentina Matvienko.
"Russia is interested in a peaceful, stable, prosperous Ukraine," ITAR-TASS quoted Matvienko as saying. "And, of course, we are in no way interested in the disintegration of Ukraine." We stand for the preservation of the statehood of Ukraine, for the preservation of its territorial integrity, "stressed Matvienko.
With regard to the Crimea, the Chairman of the Council of Federation concluded that the residents of the autonomous republic want more autonomy. "They are tired of the dictatorship of Kiev, when they do not give money to the Crimea, when it is now forbidden for the Crimea to speak Russian, they say how many Russian and Ukrainian schools. It's a question of the Crimean people, and according to the results of the referendum, you can finally understand the mood of people living in Crimea" noticed Matvienko.
She also stressed that there will never be a war between Russia and Ukraine - the Federation Council only provided President Putin with the opportunity to respond in case of further aggravation of the situation.
We are talking about the fate of Russian loans for Ukraine. Until a legitimate power appears in Kiev, Moscow will not provide these funds to Ukraine. "The biggest problem of Ukraine is that the country is actually bankrupt, the economy collapsed," Matvienko said, calling on Ukrainian politicians in Kiev to think about the people, about their country, and not about their political ambitions.
"We, of course, should help both the Crimea and other regions where Russians live, and just the fraternal Ukrainian people. But until Ukraine does not have legitimacy-recognized power, we cannot talk today about multibillion-dollar loans in within the framework of the agreements that were signed, "explained the chairman of the Federation Council.
At the same time, Matvienko is convinced of Russia's special humanitarian mission in Ukraine. "Leave our people, just quit ... Of course, we will never do that," Matvienko assured. "We are responsible for the Russian world, we must always remember this."
Recall, on the eve of the premier of the Crimean Autonomous Republic as part of Ukraine, Sergey Aksenov asked Vladimir Putin to assist in securing peace in the Crimea. The request is dictated by fears for the safety of the Russian-speaking population on the peninsula. In turn, Kiev asks the West to help protect the integrity of Ukraine.