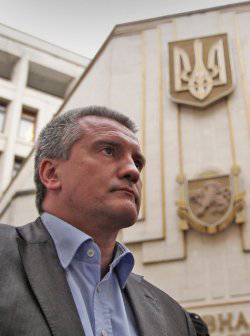 A defense ministry will be created in Crimea, Prime Minister Sergei Aksenov told reporters. "In the near future, a new ministry will appear in the Council of Ministers of Crimea. I'm sure that we will need such a ministry," he said at the ceremony of swearing in the heads of law enforcement agencies of the autonomy. "Crimeans showed that they can defend themselves independently."
At the ceremony in the meeting room of the Crimean Council of Ministers, the heads of key security forces of the autonomy took the oath of loyalty to the people of Crimea: Head of the Crimean Security Service Peter Zima, Head of the Main Directorate of Internal Affairs in Crimea Sergey Abisov, Head of the Main Directorate of the Emergency Services of Crimea Sergey Shakhov and Acting Head of the Border Service of the Crimea Viktor Melnichenko. Also, the oath of allegiance to the people of Crimea was brought by the rear admiral Denis Berezovsky, appointed earlier by the commander of the Navy of the autonomous republic.
According to the premier of Crimea, 2 March "will enter
history
autonomy, as the day of the formation of all its power structures, "ITAR-TASS reported." Today, 90 percent of all power structures are subordinate to the Supreme Council of Crimea, "said Aksenov, adding that in the next few days some more leaders are ready to swear allegiance to the people of Crimea units and public services.