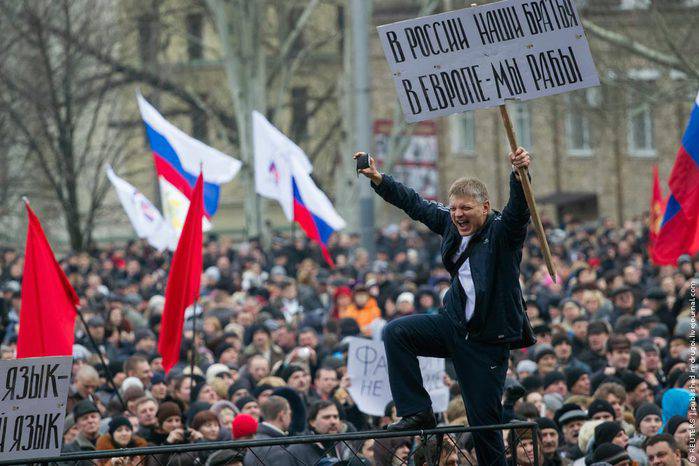 I bring to your attention something like emotional travel notes of two Russians who visited Ukraine last weekend. Just in case, the names and some names are changed. In order not to complicate the possible next visits, nothing more. The same applies to photos. Everything, probably, has its time.
The action took place on March 2-3.
We were going to Kharkov. And then to Lozovaya. Preparing carefully, it seems to take into account everything. And, in fact, 2 of March, they set off towards the Ukrainian border, which they got at night.
On the part of Russia, we crossed the border in splendid isolation. Our border guards (apparently out of boredom) quite carefully examined everything that we had dumped in the luggage compartment. There were questions, but since the border guards are no stranger to patriotism, and we were not carrying ammunition, we missed quite quickly.
On the Ukrainian side there was a queue at the exit. 50 machines, no less. They also looked at us quite obliquely, but also missed them almost without question. For everyone goes crazy in his own way, and the work was enough. We took with us 200 hryvnia for auto insurance and another 30 - for the RUS sign. Diligently into the computer, and missed.
After Belgorod, the Kharkov direction is something. In terms of roads. We even threw lots, who will unload the car, if we kill the wheel. It fell to me that optimism did not add. But it began to dawn, and the mood began to improve as it approached Kharkov.
Having entered Kharkov, thanks to navigation, we found the street we were looking for. We were waiting there, although not so early. Unloading staged right on the street, all at once scattered on the cars that sped away. And we went to communicate and everything else.
Communication was without gorilka, more precisely, we refused it. For behind the wheel. The people didn't insist too much, they hinted that "today will be ogogo!". We were aware that a citywide action was planned, and were not against seeing, since time allowed.
We looked.
No, it looked at all. The people were the sea, the people were not particularly wound up, what then began to wind up, from my point of view, their mayor was to blame. Well water Kernes, the right word. We were particularly shown our film crews, we were tusili not far from "Russia". But they made the muzzle bricks, did not burn.
And then the fun began.
This is when a significant part of the youth began to move towards the building itself. That is, the regional administration. They seem to be close, so at first it was not noticeable. Well, and then it turned out that it was such a plan - to get together, sort of like a rally, and then arrange a fun day for those who sat there.
Well, how would all go, and we went. It's unbecoming for guests to lag behind the hosts, as it were.
TV crews also realized that something was fried, but they didn't have time. The police did not intervene, either by order or because it was also a shock for them. In short, did not have time.
Everything was shown on TV, it only makes sense to add something that was not included in the reports. The most awesome moment - this is the year six burly guys took out the door with the help of the railway sleepers. And noticed her inside. Such a "gift" could demoralize anyone, especially if such a thing were not one.
In general, maydauny were not ready to receive. Relaxed. Therefore, they knocked them out quickly enough.
The reports then said that they threw stones from the windows. I will correct. Well, where in the building you can get hold of stones? These sheep, while they were sitting there, destroyed several toilets. And thrown on top of the attacking fragments of toilet bowls and tiles with a solution. Heavily. A guy not far from us flew such a projectile, well, in the shoulder, if it were in the head - would be a corpse.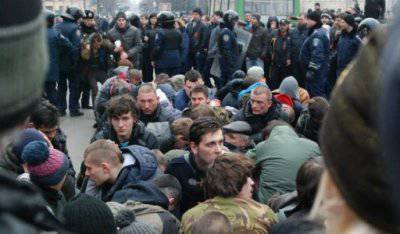 Some media in Ukraine wrote later that the assault ended with the lynching of supporters of the Maidan, who were missed along the live corridor of the aggressive crowd. They were beaten and humiliated in every way, forcing them to crawl on their knees and kiss the symbols of the protesters. So, this is nonsense.
In the corridor they were let in, yes. Close to the center of the square so that everyone can see them. As it is not clear without a corridor, there was a crowd standing near the entrance - God forbid. They were beating me ... well, as if everyone were still made during the assault, but yes, I saw how some particularly tough "heroes" got out. It was. And the jerks did not touch at all. As for crawling and kissing - also nonsense. All symbols are Russian flags and shovels. What does a cutting kiss? Maydauny and so these cuttings were kissed. Flag dirty? Yes, such crap to anyone in the square and would never have occurred, honestly.
We didn't go to the building itself, the brethren with cameras churned there and the police pulled up. So we decided modestly on the sidelines. But the "heroes" considered from the heart.
To say that they were demoralized is to say nothing. Harassment, beaten, a few were really hysterical, roared in a voice. Basically - years 20. Older - well, one out of ten, no more. In short, puppies who wanted to become wolves, but did not. The grandfather alone, with medal strips on his jacket, came closer: "What is roaring? Hitler kaput? And by the way, it looked like the Hitler Youth at the end of the war.
Then the police began to bring the buses and ship them there. You had to see how they were pressed there! Racing!
I do not presume to judge and think that these puppies will turn out further, but I know one thing for sure: this day, the day of their defeat, powerlessness, under the Russian flags, under the shouts of "Russia!" They will hardly be forgotten.
Then ... then there was just glee. I have never seen this before. It cannot be described in words, it should not be seen on TV, it was necessary to boil it in this pot. It was their victory. The guys hugged, jumped like mad, screamed ... I asked Anton, one of the commanders, how he feels. He, too, was slightly drunk after a massacre, with a split eyebrow, smeared, slightly gasped and said the following: "I don't know how to describe it, it seems to me that this is the most important day in my life. We were afraid that something might happen to us, we were afraid for ourselves, for our relatives, for the country. Probably, we were too afraid lately. And now when we know that we are stronger than this trash, we will no longer allow them to bend us. Everything inside me sings, we are strong, we are right, we will not allow ourselves to be broken. I do not know what to call what is in my soul. " I do not know what jerked me so to speak, but I whispered to him: "May forty-five." He clapped me on the shoulder and went to his.
And I was left with a strange sense of belonging. Participation in the battle won. To a common victory. And even if I did not break the door, did not fight with maydauns, did not drag them to the square, did not burn their clubs and helmets. But I have the right to say that I was with them. I did my part, they did mine. And it was our big overall victory. Let my contribution to it was small. But he was, and I can say that WE, both Russians and Ukrainians, won this day.