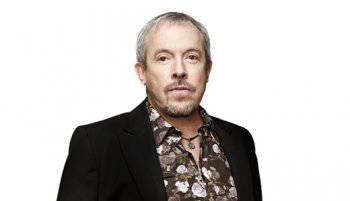 I read on a tip
Andrei Makarevich blog
. Well, like any "scoop" I adored "Time Machine". But his participation in some events of the past, shook my love cherished over the years. And what I read was generally off-balance, and I will allow myself to comment on some of his statements.
I worry about the events in Ukraine. But much more I worry about what is going on in this regard with us.
So do I. Only for some reason it seems to me that we are worried about different things.
So, the most typical revolution took place in Ukraine, and despite all my dislike for revolutions, I cannot call it unfair. And now you can flap your wings as much as you like, call the rebel citizens "the brown plague" - it looks disgusting.

Typical ... well, if I had not been to Ukraine three times since the beginning of all this orgy there, I would have thought so too. If I did not communicate personally with those who left there, too. But alas, I don't really trust blogars, twitter and other sheluponi. Give me living people.
I'll flap my wings and call it the brown plague without quotes.
I don't remember such unbridled propaganda and so many lies from the best of Brezhnev times. And then do not compare: the possibilities were then less. Guys, what are you trying to achieve? Creating a public opinion for the entry of troops into the territory of a sovereign state? Ottyapat Crimea?
And I remember. I remember very well CNN, BBC and other reports about Yugoslavia, Libya, Syria, Iraq. Andrew, they say, if it is bad with memory, it should be treated. Your time is clearly.
With regards to the second part, I personally only need to watch some channels like "Russia 24" to conclude that no one is going to connect Crimea to Russia. Apparently, I'm a fool with brainwashed, but alas - this is my opinion. Moreover, I sincerely believe that only Russia can help other people disinterestedly. Sorry, all these "gamno-ritual cares" took place in the nineties. Swam, we know.
The Central Committee of the CPSU, entering troops into Czechoslovakia, did not consult with the people. And what, besides that crap on the whole world? Here today are two countries instead of one. And what, where is the first, where is the second? Did we get their love? Or something else?
But they didn't consult us ... And didn't we go out to the square in thousands? Did not act differently? Why sign for everyone? Personally, it seems to me that our opinion clearly coincides with the initiative of our President. But Makarevich is clearly not understand.
But already managed to zazombirovat a fairly large number of idiots and just ignorant with an unstable psyche. Already torn from weapons in the hands of saving the Russian-speaking population - as if it appeals to this. And they believed. Guys on TV, what are you trying to achieve? For a long time to embroil two people living side by side? You do it. And how does it end, you know? Do you want a war with Ukraine? So, as with Abkhazia, it will not work: the guys on the Maidan are already hardened and know what they are fighting for - for their country, for their independence. What are we for? For Yanukovych?
How to call it? Erodam pop up? There are no other words. So, in your opinion (yes, to "you", for being born in Russia, turning to "you" was a sign of respect) people who do not give a damn about the humiliation of the Russian language, Russian
stories
and Russian memory - zombies?
The worst thing about this is that all these maydanovsky hundreds will scatter at the first danger. It's not for nothing that everyone there is crying now, it's scary from the prospect of facing not the unarmed "golden eagles", but army units. An army that, whatever one may say, gets up from its knees. Army, which has a goal and capabilities. Yeah, scary. I agree. Therefore, screaming like pigs from the same perspective to face this army.
So it will. And you should not count on the "guys from Maidan". These are different things, anyway. But you do not understand and appreciate. Alas.
Okay, I'm a zombie. Russian such a zombie. But, oddly enough, I'm not for Yanukovych. I am for Ukraine. I am for the TU Ukraine, without Bander, Shushkevich, burdens and bilih. And for those people who are brothers to me. By blood, culture, language, history. They, apparently, are also zombies. Because they do not want to Europe under the command of the above. Well, here we are, Slavic zombies. Strange.
Guys, why did you hide him in Russia? An honest person will not hide a criminal and a thief. And the thief - will be. Why do you disgrace yourself in front of humanity? I know you don't give a damn, but still?

And we in the breadth of the Russian soul do not make a difference. Until. And, every person who is in danger from your friends from the Maidan can get protection here. This can confirm each of the 140 000, which is now here. Not everyone wants to shout "Glory to Ukraine" and dance to the Bandera Rimmer.
Of course, Ukraine has done a lot of stupid things - with the Russian language, with the demolition of monuments. But such nonsense inevitably accompanies any revolution - the spring unbends in the opposite direction. And then everything falls into place - stupidity can not last forever.

Yes, I had to threaten them with my finger. And wait until everything returns to its place. Meanwhile, the brown bastards under the black and red flag would continue to rob people who do not want to shout "Glory to Ukraine." Demolished monuments. Would make laws for themselves. And so on. Well, it is clear, whose is a blue dream. Sobchak, bulk, Makarevich. All with the prefix "euro".
Guys, we live with them. Still next door. And preferably in friendship. And how they live, they decide for themselves.

And we will live. And in friendship, and in a neighborly way. Only if such a neighbor spoils you on the porch, we are unlikely to preach to him eternal spiritual values. This is too European. We are in Russian, that is to say, barbarically - a muzzle in his own creation. And to mess from the heart.
Conclusion.
Who protects the famous musician, culinary, underwater filmmaker, of course. And why - too. How many wolves do not feed, he will look into the forest. How many do not feed the "swamp intellectual" - he will look to the West. To each his own. I am pleased with one thing: it is unlikely that during my life I will see the triumph of his ideals. Why am I so sure of that? Yes, everything is visible and so, on the screen of the box that zombies me. In crowds of zombie people who express support for their brothers in Ukraine. I was in such a crowd. So I'm a zombie. Let it go. It is better to be such a zombiek than the "evrovozvesellenny." It's my personal opinion.
And I would recommend Andrei Makarevich to listen to the upcoming song of an old group. "Time Machine" is called. And the song - "Puppets". And think about who the master is, who is pulling all of you, "evrosovesvechennyh" by the strings.
P.S.
"It would be better for this person not to be born" (Matt. 26: 24).