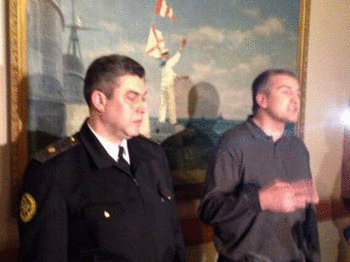 Chairman of the Council of Ministers of the Autonomous Republic of Crimea Sergey Aksenov announced today in Sevastopol that he signed an order appointing Rear Admiral Denis Berezovsky, appointed by the Kiev authorities as commander of the Ukrainian Navy, as commander of the Navy for the ARC. After that, Berezovsky took the oath of allegiance to the people of Crimea, ITAR-TASS reported.
Aksenov's statement and the oath of Berezovsky were made in Sevastopol following the results of a trilateral meeting held today with the participation of the commander of the Black Sea
fleet
Russia by Alexander Vitko, Berezovsky and Aksenov.
Information confirmed by video published by the portal "
Operakor.net
": on it Aksenov reads his decree, and Berezovsky - takes the oath.
It is worth noting that Denis Berezovsky was appointed to the post of head of the Ukrainian Navy 1 in March by decree of the executing president Oleksandr Turchynov.
We will note that the ships of sea protection left the Crimea and arrived to Odessa, reports portal "
Dumskaya.net
"by publishing photos. According to these data, the ships of the BG50" Grigory Kuropyatnikov "and the BG57" Mikolaiv "from Balaklava (Sevastopol Squad), as well as the III rank sea guard ship for special tasks" Crimea "moored at the pier of the military harbor of the seaport , also referred to as "presidential yacht".
Earlier today, according to unofficial data, Berezovsky ordered the staff to hand over
weapon
, as reported Sobkoru "
RBC-Ukraine
"in one of the naval units in the Crimea.
A source "
Ukrinform
"in the Ministry of Defense of Ukraine also reported that in the 36-th brigade of the coastal defense of the Ukrainian Navy in the village of Perevalnoe, Simferopol district, the full combat readiness announced on the night of March 1 was canceled. As of March evening 1, weapons and ammunition are handed over to armored rooms returns to the places of dislocation.