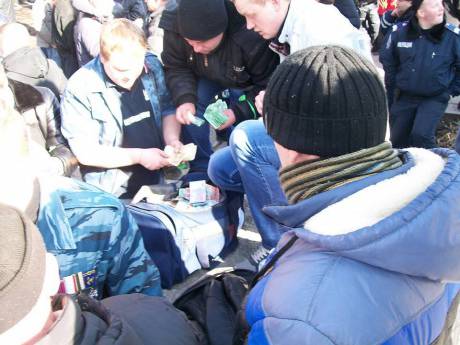 In the Lugansk Regional State Administration a meeting of the regional council was held with the agenda "On the socio-political situation in the country", at the end of which the building of the regional administration was captured by the participants of the rally "Russian Spring" informs
Ukrainian Truth
.
According to the press service of the Luhansk Regional Council, the meeting is held "due to the exacerbation of the socio-political situation in the country and the appeal of the participants of the rally" Russian Spring ", which took place on March 1 in Lugansk.
According to the publication "0642", around the building of the Lugansk regional council gathered about 400 people who are holding flags with the Russian tricolor, as well as the flags of "Russian unity".
The protesters adopted a resolution on holding a referendum in the region to disconnect the Donbass.
Roughly referendum should be held on March 10.
According to the publication, rumors are spreading among those gathered under the regional council that allegedly Arseniy Yatsenyuk plans to send troops into Luhansk region.
Also around the building, unknown people damaged cars - tires were punctured, windows were broken.
In addition, the protesters drew up an appeal to Vladimir Putin, asking to send troops to Lugansk, and also demand that the new government be recognized as illegitimate.
The head of the "Lugansk Guard", Alexander Kharitonov, presented to the deputies of the regional council the Resolution of the decision to appeal to Putin. In turn, several deputies tried to escape from the regional council building through the rear entrance, but they were returned back to the session hall.
Later, the deputies of the regional council decided not to sign the resolution adopted by the protesters, to which the demonstrators began storming the building.
Masked men with Russian flags and shields broke the gates and doors in the building and broke through to the regional council. Deputies left the building through the back door.
As the activist of the human rights center "Postup" Yulia Krasilnikova reports on her Facebook, a Russian flag was hoisted onto the roof of the RSA.
"There were fights. Police are not visible. Only Klinchaev is not touched (Arsen Klichaev, a deputy from the Party of Regions). The ODA building is seized. The gate is broken, all entrances are blocked," she notes.
At the same time, Krasilnikova notes that the participants in the 1 March rally in Lugansk "right during the rally behind the monument to Shevchenko" shared "a bag and a bag of money."
The Lugansk Regional Council declared that it did not recognize the central executive authorities as legitimate, reports Radio Liberty.
The deputies of the Luhansk region also demand a ban on a number of political and public organizations, in particular VO Svoboda and the Right Sector.