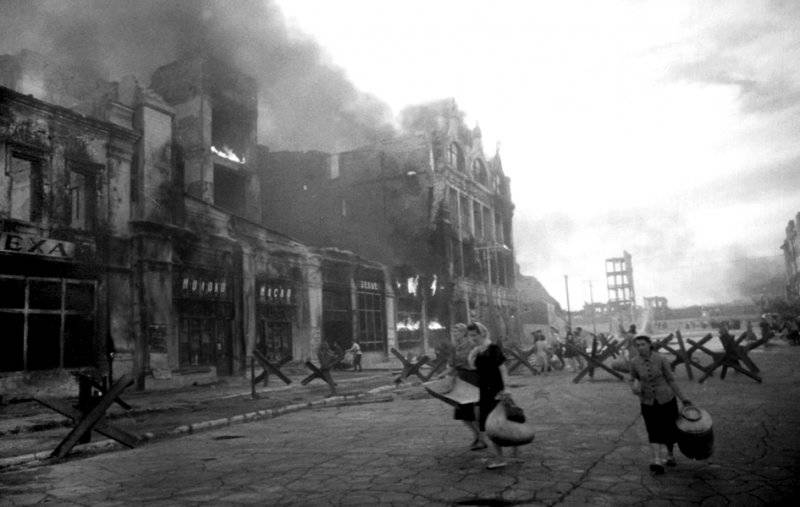 Today, on the first day of spring, eating traditional Shrovetide pancakes, cooked by her beloved grandmother, four generations of the family gathered at her home heard about, for someone, a small episode from her life, but for our seimya this memory will remain forever.
"I was born in 32 year here in Stalingrad. When the Germans came here I was ten. I remember everything well. When the bombings started, we then lived not far from the station, we hid not in bomb shelters, but on the stairs, because you remember movies, the house is bombed, and the stairs are? So that day we were the four of us, I, my mother and sister with a small child, my father was at the front a long time ago, sitting on the stairs when a bomb that fell on our house killed a mother shard. got a shard in the leg. "Jeanne," she told me then, "you have to go to your aunts." She was going And the child can't be quite small, she collected something for me in a backpack, my mother sewed it out of something, so I went. And to go through the whole city, and where to go? My sister is wounded, I know, if I don't get there - we'll all die. There were no tears, there was fear and one thought - to walk, to walk. I'm walking along one of the streets from ordinary one-story houses with gardens, I hear airplanes flying, I look, they fly somewhere over me and something small was pouring from them, explosions began in a nearby street, I fell. I was lying, very scary, the explosions ended, got up, there was no more left on the street, went further. Once I got there, knocking, no one at home, I don't know what to do, I sat on the porch to wait. After some time, the aunts came, they needed something in the house to pick up.
They have long been, like everyone near them, dug in the ravines of the burrows and lived in them, it is terrible to remain in houses, they are constantly bombed. They saw me, jumped: "Zhenochka, what happened?". I told them everything that my mother was killed, my sister was wounded, and in my head one thought: "I reached." They took a cart with two wheels, and we went. My two aunts and me. The sister and the child were taken away and returned, the sister recovered, and the child then died, from dysentery, could not be stopped. After all, there was no water in the city - you have to go to the Volga for water, but you will not reach it, so they gathered in puddles and drank one. And then we, when my sister began to walk, left for Don, the Germans did not let anyone stay in the city, you can take one bundle and go wherever you want. So they went, there for the first time and saw her future husband, his relatives sheltered us, his brother Athanasius nodded at me and said: "Mark, your future wife." He snorted, laughed, and forgotten. And survived the famine there, and the occupation. After the war, his aunts met with me, my picture was shown, and Mark was on vacation here in Stalingrad. He then already became a fighter pilot, then flew in Syzran. He took my photo, but came to me in Dubovka, where I got to work as a teacher during the distribution. By the end of the holiday, he made me an offer, did not know to agree al no, and my aunt and my second mother said: "Jeanne, he is a good man." I never regretted it. "
This is just one of my family stories. In the father's village, near Volgograd, near the village council there is a small memorial to the fallen in the war with the German fascist invaders. Of the forty names on it, twelve belong to my family. After all, my family is not the only one with whom the war left memory and names on the granite.
With friends several times a year, we go to one of them to his homeland, where his family comes from. Not far from Mikhaylovka (a town two hundred kilometers from Volgograd), the village where his father lives. He told us how to get to the farm where they used to live. There is a memorial there, next to the lake, there are no seventy years around the dwelling. Embossed surnames on granite tell who died from living here then. And on it eight times the name of my friend. At the foot of the memorial are flowers, the waves of the lake run onto the shore, the leaves of the surrounding trees rustle gently. That's what the war brought us. And how many families were destroyed at the root?
Events in Ukraine confuse my soul. That fascist reptile that our fathers and grandfathers destroyed, giving their lives so that we could live without ever knowing this bastard ideology, again destroys our people on our land, with the support of the West, seventy years ago. Again the boots of those who want to destroy our free will are being trampled on our Slavic land. Now in a country whose people I consider to be brothers, there has been a coup d'état where the fascists have seized power.
I ask everyone to remember to help each other. Do not remain indifferent to the misfortunes of others, even if they are completely outsiders. Only together we can survive everything, as we experienced then ... Ukrainians, Russians, remember that Russia is with you! Let the power be silent for now (it has its own reasons for that), but the people support you. I hope that this time it will be without twenty million victims, but we must be ready to fight back so that our children do not know what it is. I would very much like everything to be decided by diplomatic means. To avoid casualties. Here are just fascism raised his head, not only in Ukraine. How many in the Baltic countries destroyed monuments to wars who died in the war against fascism? How many SS "veterans" parades were held there? So this problem is not only Ukraine?
I just want you to remember that it cost us last time how much pain and suffering our people experienced and begins to experience again ...
This was written by my grandfather, Mark Denisovich. Fighter pilot
aviation
. I cannot find a better epigraph.
"Tank"
You are now standing on a pedestal
And how many roads have we walked with you?
How many cities with you took
How many anxieties have we experienced
You and I are like brothers
Protecting their homeland
I was in your arms
You did my will
And as soon as the guns died down
We broke up with you as friends
I built houses that stung
And on the tractor threw open the fields
And now I'm running a rough palm
By your chilled armor
You feel friend! Fascists in Bonn
Pulling countries to nuclear war
Nothing, you stand on the pedestal for now
It will be necessary, I will come to you
And for the Motherland to crush, we will become reptiles
How crushed in the last war ...