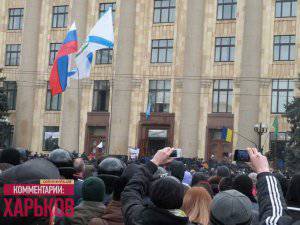 In Kharkov, the rally participants in support of the city authorities launched an assault and seized the regional state administration building, where Euromaidan supporters barricaded themselves.
Several hundred young people, most of them with St. George ribbons, after the rally in the city center on Freedom Square went to the RSA, in front of which stood the order of 100 Euromaidan activists, UNIAN writes.
The clashes began with the fact that people on both sides began to throw stones and sticks. As a result, evromaydanovtsev pushed back into the building. Several people suffered.
Later stormed broke into the building of the RSA. Police officers did not interfere in the events.
On the street Sumy in front of the RSA now gathered several thousand people. They hold the flags of Russia, Ukraine and the Soviet Union.
At the same time, from the window of the building of the regional state administration where the activists of the Maidan were, hung out a white flag. Now police officers are taking injured Euromaidan activists to ambulances.
Militiamen groups out activists one by one, as the brutal crowd tries to take away the injured from them. Before entering the RSA, the participants of the assault flag set the Russian flag and the flag of Kharkov.
According to "Kharkov. Comments", now in the stormed building the windows were broken.
Among the stormtroopers there were many people with the flags of the Russian Federation, they also shouted: "Kharkov!" "Russia!".