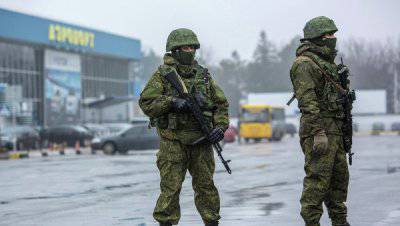 On 25 May 2014, the Supreme Council of the ARC appointed a referendum on the further status of Crimea. The authorities of Crimea intend to find out the opinion of people about whether they are ready to support the status of broad autonomy of Crimea as part of Ukraine or not.
Today's Crimea is one of the most stressful places on the world map. After the clashes between supporters and ardent opponents of the new Ukrainian authorities on the peninsula, there has been a lull in the peninsula. Calm this was, in fact, ensured by some armed people who entered the building of the Supreme Council, after which they took the deputies there. After that, Russian tricolors were hoisted over buildings in Simferopol and the Supreme Council and the Council of Ministers.
This gave Kiev an excuse to declare that Russian special forces are operating in the Crimea, which takes administrative buildings by storm and blocks Crimean infrastructure facilities to solve the tasks set in Moscow. The question about the Russian military presence in the south and east of Ukraine correspondents asked at a press conference and Viktor Yanukovych, who answered questions from the press in Rostov-on-Don for more than an hour. Yanukovych said that he has no information that there are Russian troops or representatives of special services in Ukraine.
In Kiev, a meeting of the Security Council was held, which was headed by Turchinov, who declared himself both acting president and supreme commander. The meeting discussed issues of armed activity in the Crimea.
Several particularly impulsive representatives of the world press have already managed to disseminate statements that Russian troops occupied airports and important facilities of the Crimean infrastructure. Some even saw ammunition in wooden boxes loaded into armored personnel carriers and military vehicles.
Allegedly on the boxes was Russian marking. But
production of wooden boxes
for military and civilian purposes, it is carried out in Ukraine too, and therefore the talk about the fact that only Russian servicemen in Crimea work is not always based on confirmed data.
The Ukrainian prosecutor's office calls the seizure of administrative buildings in Crimea terrorist acts, although it doesn't say anything about the seizure of administrative buildings in Kiev, Lvov, Ivano-Frankivsk and other cities of the country.