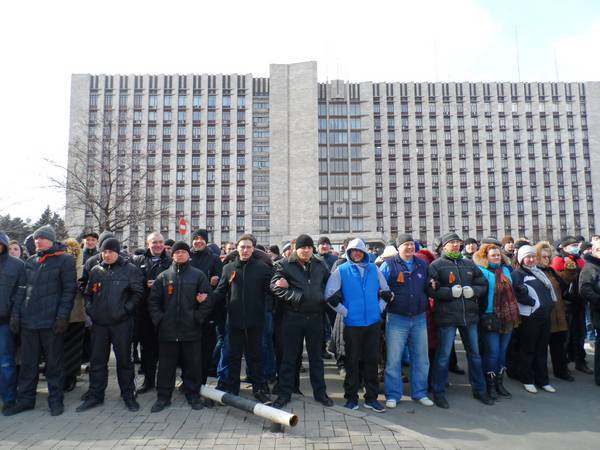 The commander of the Donbas People's Militia, Pavel Gubarev, on behalf of the militia, issued an ultimatum to the deputies of the Donetsk City Council. "The Verkhovna Rada of Ukraine has lost its legitimacy, since the majority of its deputies have been subjected to violence and threats, and the parliament itself is under the control of the armed people of Maidan. Therefore, all legislative acts adopted by the Verkhovna Rada after 22.02.2014 are illegal. The new Cabinet of Ministers is also illegal, since it was created contrary to the Constitution and the Laws of Ukraine. Accordingly, all the structures subordinate to the Cabinet, including the security forces, are illegal, "said Gubarev.
The appeal notes that 22 February 2014 of the year in Kharkov at the Congress of Deputies of the local councils of the Southeast, the Crimea and Sevastopol, all power in the Southeast was transferred to local authorities and local self-government. "However, the Donetsk Regional State Administration, by its decision, recognized the Verkhovna Rada of Ukraine as the only legitimate authority in Ukraine. In addition, the governor Shishatsky already now, transferring money to Kiev, is financing a state coup and the Nazi armed clique there, "Gubarev notes.
"In this regard, the People's Militia of Donbass decides and demands from the deputies of the city council the decision of today's session:
1. To recognize the Verkhovna Rada of Ukraine as an authority that has lost its legitimacy.
2. To recognize the existing Cabinet of Ministers as an illegitimate authority.
3. To recognize the illegitimate authority of the Donetsk Regional State Administration and Andriy Shishatsky.
4. To declare the only legitimate authority in the city of Donetsk City Council.
5. Dismiss the head of the city Ministry of Internal Affairs, the city prosecutor and other public authorities. The decision of the session of the city council to appoint new people to their place after consulting with representatives of the organizations of the People's Militia.
6. Eliminate the structure of the State Treasury in the city. Transfer all local government accounts to state banks. All government taxes and fees must go to the local council accounts.
7. Recognize the legitimate people's power of Sevastopol and establish political, economic and military cooperation with it, "the statement said.
In case of non-compliance with the requirements, "The Donbas People's Militia recognizes the Donetsk City Council and all its deputies as illegitimate and is ready to take adequate measures to delegitimize the city council, as well as each deputy separately, with all the ensuing consequences."