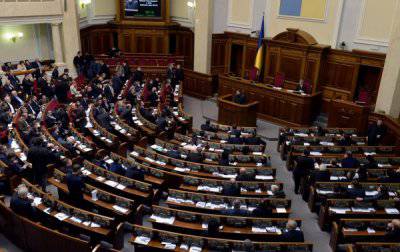 A group of deputies of the Verkhovna Rada of Ukraine made an appeal to citizens, the world community and politicians, in which it urges not to cooperate with the "criminals" who seized power in the country by means of a coup d'etat, not to recognize this power and fight back the "overbearing militants".
"We, a group of people's deputies of the Verkhovna Rada of Ukraine, appeal to you in connection with the tragic events in our country. We have no doubt that in the capital of our country, in the city of Kiev, the Nazi paramilitaries actually carried out a coup d'état with the full support of the so-called democratic the opposition and the total inaction of the President of Ukraine ", - stated in the document received by the RIA
News
.
The authors of the appeal note that "the Constitution of Ukraine has been crushed", the country "has been swept by a wave of violence, pogroms, murders, arsons," it "is slowly sinking into chaos, lawlessness and violence." "The Verkhovna Rada, grossly violating the Constitution, has become an absolutely illegitimate authority and does not reflect the opinion of the people of Ukraine," the document says.
"Those who cooperate with bandits today, who unconsciously stamp out anti-constitutional laws in the Verkhovna Rada, do it either because of fear and under pressure, or not understanding the essence of the fact that fascists are rushing to power in Ukraine," the deputies said. The authors of the appeal express regret that "the so-called democratic countries, through various sanctions, also resort to blackmail and pressure not only on politicians who resist lawlessness, but also members of their families," and this is done with a view to "intimidate, deny the possibility of resistance."
Deputies of the Verkhovna Rada, including Igor Kaletnik and Vladimir Oleinik, in this situation call upon their colleagues in parliament, deputies of all levels, "all who are dear to the future of our country, not to cooperate with the criminal power, not to recognize it", "to create voluntary everywhere order guards "," to establish relations among themselves and to give organized resistance to the presumptuous fascist militants. "
"We believe that the brown nightmare that hit our country, a wave of chaos and lawlessness will soon be a thing of the past. We are confident in the common sense of the Ukrainian people, who never
stories
did not recognize the power set on the bayonets. We will not allow the Constitution to be trampled on, legal rights, democratic freedoms and guarantees of the safety of citizens. For the perfect coup d'état of criminals and their accomplices, inevitable punishment awaits, "the authors of the appeal said.