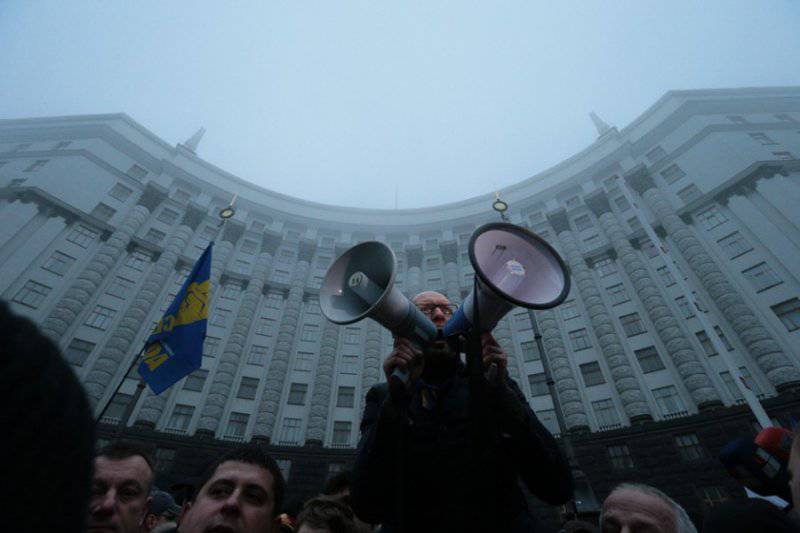 It is clear that those who studied the composition of the new Ukrainian government Arseniy Yatsenyuk will not laugh in a circus now. No clown will reach this level of insanity. Or, if you will, the penetration of insanity into our lives. Yes, it does not matter. Suffice it to recall what one of the famous "heroes of the revolution" in the famous video said about the new prime minister: "Senya Rabbit thought that he was already the king of animals, and his place on the pig farm, among rabbits." As they say, it is said how cut, capacious and to the point. In essence and in the form of what is happening. Revolution w ...
And the main thing, as you understand, is how the orders of this government will be carried out. It seems to me that in any way. But exactly and on time: when the team arrived - then it was not fulfilled. And today, as it seems to me, Ukraine needs to restore the blood from its nose to at least the appearance of controllability and the presence in the ruling elite of even non-negotiable, and at least adequate and sane comrades. Of course, if you have a third ear, you can be not only a minister. But how will this affect the breeding of sports for young people in our country? This is of course a question. Well, except that in Ukraine will go young three-eater mutants? I do not know…
But, I repeat, the responsibility of the leadership of the country, which is five minutes from the default, is very important. Otherwise, Ukraine will have a pale appearance and a boring face. So, in this situation - and this is exactly known in Kharkov! - no one will give her money. And if they give, then not money. And then they will catch up and give again ...
The new government has already been dubbed the "kamikaze cabinet". But they wanted to create a "coalition government of national trust." Even under this case, a quick revolutionary hand of crystal honest and inflexible principled fighters for the happiness of the people (and only for him, and who doubts that, is a freak!) In the Verkhovna Rada crammed the coalition, whose name was forgotten right there. But, apparently, something went wrong, and we got a kamikaze.
There are two reasons for this. The main ones. First, the country, as mentioned above, is on the verge of an economic collapse and financial catastrophe. And what is most surprising is that even the victorious revolutionaries saw it, who are usually busy with other equally exciting things. Well, there, golden toilet is considered. Or golden eagles (real birds, birds, and not special forces) are crucified on crosses.
Well, they can still catch someone from the "enemies" and put him on his knees in front of the crowd. So that, he asked for forgiveness and promised "not to do this again." No matter what, but do not do it, otherwise justice will not come ...
Money Ukraine can give a few borrowers - the IMF, personally the EU and the United States, China, Russia. But there is no answer to the main question: why do they need it - to support explicit losers and potential bankrupts? The answer can be one: they will give if Ukraine fulfills a number of conditions. Economic and / or political. For example, the IMF may adjust 15 "green yard" to "outbid" Ukraine from Russia. But the Fund surrounds lending with a number of conditions that put the entire poor population of Ukraine on the verge of survival. The EU and the US can give money, but nothing secured and freshly printed. Yes, and they will not slander and dopepechat something for Ukraine, which is already cancer and does not breathe in the direction of Russia - it has already done its work, why waste more? China, in general, is able to count and pragmatically sees the benefit in everything, and for this saves any ambition. But the countries that remind him of the events on Tiananmen in 1989, when they were also trying to destabilize the Western scenarios, still reluctantly. And now, in general, through a court in London, he wants money from Ukraine for unfulfilled contracts. And the sum, I will tell you, is quite good - 3 billion dollars. For such money, Kiev literally plots around in front of Russia, now before the IMF.
In short, everything is difficult. Fulfillment of any credit conditions that worsen the lives of the population further suspends the "kamikaze government" on the hook of resignation and acceleration. Despite the fact that the candidates for ministers allegedly terribly "approved by the Maidan."
Secondly, the temporality of a government is determined by the temporality and worthlessness of all its participants. It is formed from people who, relatively speaking, do not mind. No one. They are removed as either competitors, or simply fools with inflated ambitions. But before they disappear forever, either into oblivion, then they will always have secondary roles of sixes and assistants, carriers of cartridges and submissive performers of someone else's "supreme" will, they have to make unpopular decisions and load themselves with negative things for nothing. And already on their political corpses real "national saviors" will come - they will stabilize the situation and will be loved by the people forever. Well, it seems to me that this is exactly the calculation of all political heavyweights who put their sixes into the thick of it, played a play called "democracy by the people" before the Maidan, and they themselves laid down backstage. Wait until better times.
Yulia Tymoshenko, for example, burns at once in the "government of kamikazes" and in general in the current leadership of Ukraine two of her key players, who actually betrayed her, believed that they had put her forever and began to play their personal game behind her crippled back. Well, there places on the party lists were sold, not sharing with her, negotiations with the authorities were conducted, forgetting to fight for the will of "the one who sits", they themselves soaped up to lead the country, leaving her in jail. So Yulia Vladimirovna put her "right hand" in the throat of power - and. about. President Oleksandr Turchynov, who has become everything today, but whose political "remnant" after 25 in May of this year (if early presidential elections are held at this time) will not even need Tymoshenko.
And exactly the same fate with the official "heir" - the current Prime Minister Yatsenyuk. Even if a miracle happens and Yatsenyuk stabilizes the situation, he will do it with such losses for his own rating that he will not be accepted at any political dump. And Tymoshenko will also think whether she needs such a "personal Chubais" in store.
Yulia Vladimirovna herself, having tried on herself a cold shower of distrust of a part of Maidan towards her person, went to Germany. First of all, put yourself in order - to remove excess weight, to make liposuction, with suspenders to return the look of "the freshest and unfading princess, over whom the years are not powerful". In the second place - at least for the sake of treating the notorious ridge, which has withstood all the "cake of the anti-people regime". In fact, she, I repeat, is waiting for her to be asked for the throne. Whether the people, or those who see it as a guarantor of stability, advancing on the battlefield. And such, I assure you, there is.
In the same way, they act by calculation or by thoughtlessness and others. And Vitali Klitschko, and Oleg Tyagnybok, and Petro Poroshenko. Even Oleg Lyashko and he decided to go to the presidency. But they, too, are now on conservation and in the process of liposuction - an urgent removal of unnecessary in order to improve the image. After what and how it happened on Independence. In the Ukrainian "narid", such cases are usually said: "they spoke, they balakat, sili or cried" ...
... And then there is Viktor Yanukovych, the President of Ukraine, who was expelled from his homeland, whose legitimacy until December of this year was confirmed by their signatures to Yatsenyuk, Klitschko, and Pygnybok, and, most coolly, the foreign ministers of France, Germany and Poland. This is all the Americans on the drum, they did not sign anything. But the Europeans will have to somehow get out. For example, to give money for "political liposuction" ...