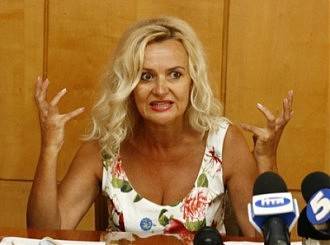 The journalist of the Galician truth tried to find out the opinion of the people's deputy from VO "Svoboda", the scandalous Irina Fahrion, about how the deputy relates to the fact that today Lviv citizens declared support for the Russian language. As a sign of support, the townspeople today speak Russian.
Therefore, they called Ms. Fahrion and asked (in Russian) to comment on such an initiative. As the correspondent spoke in Russian, Ms. Fahrion first said she did not hear, then she did not understand. And then Irina Dmitrievna repeated several times: "Translate please". Then she interrupted the conversation, transmits the resource dyvys.info.
Subsequently, we called Mrs. Irina and asked to express our opinion in Ukrainian. Here is what she told us: "This is not an initiative of Lviv citizens, but of Sadoviy and Zahid.net (news agency - author). I believe that every free Ukrainian welcomes the fact that the Verkhovna Rada repealed the rude law of Kivalov-Kolesnichenko. And I recommend to direct your activities to the fight against Ukrainophobia, which is flourishing, and not to be dishonored. "
Recall, Lviv's "Old Lev Publishing House" has decided to publish the first book in Russian for 11 years of its existence. This, according to publishers, is the publishers 'answer to the hasty and unreasonable decision of the new government to repeal the law on the languages ​​of Kivalov-Kolesnichenko. The publishing house believes that it is not worth now to stir up hostility in Ukraine with such decisions.
Lviv intelligentsia also came to defend the Russian language. In its address, the Lviv intelligentsia demands from the Verkhovna Rada, new members of the government and the acting. President of Ukraine to pursue a balanced cultural and linguistic policy. The appeal was signed, in particular, by Yuri Shukhevych, Igor Kalynets, Miroslav Marinovich, Ivan Vakarchuk, Roman Ivanichuk, Taras Wozniak, Zvenislav Kalynets, Natalya Ivanichuk.
And ordinary Lviv today spoke in Russian as a sign of support for Russian-speaking Ukrainians.
In particular, the journalist Galina Guzio wrote on her Facebook page that in Lviv public transport people reacted peacefully to her remarks in Russian.