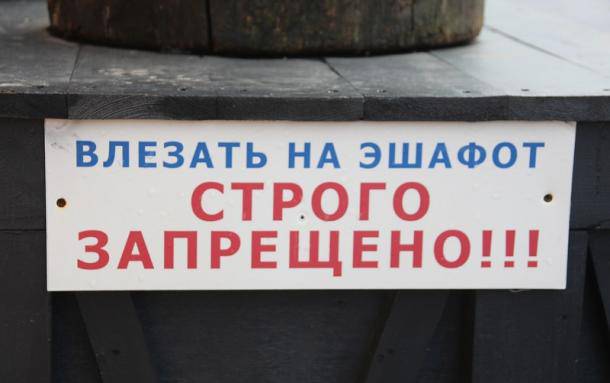 Letter to an orange friend
Yesterday I bought a bottle of Ukrainian vodka at the store and drank a glass in silence, without clinking. Sorry for her, Ukraine. Who would 23 a year ago have imagined that things will turn out this way ...
In principle, after the division of the Union, the Ukrainians broke off one of the best pieces of the Russian Empire. What an enviable industry she departed ... from the aircraft factory "Antonov" and four nuclear power plants to wineries of the Crimea. And 25% of world black soil, the best agriculture of the USSR, coal, oil, metals, powerful military-industrial complex, 1400 (!) Kilometers of the Black Sea coast, ports, roads, resorts, universities, research institutes, 50 millions of active and educated population ... Not Kyrgyzstan, damn it!
Ukraine historically was the most inhabited and developed part of the empire. As stated in the famous film, "and the forge, and the breadbasket, and health resort." All possible and impossible invaders, Mongol-Tatars, Turks, Poles, Lithuanians, Prussians, French, Austrians, even the Swedish king climbed into Poltava to fight (where Sweden, and where - Poltava), rolled its lip on its tasty lands. The ideological inspirer of the current Maidan-Bandera, Hitler, when it came to Ukraine, they say, smacking their tongues and voluptuously moaning: "I, I, a, das ist fiction! .."
In short, when the Ukrainians broke off the best part of the USSR from 23 a year ago (including the donated Crimea), all the peoples of the former empire thought with envy of black and white: "Khokhlov was lucky, it was lucky!"
And now, attention: the annual GDP of today's Ukraine per capita is 3860 dollars. For comparison: in poor Albania - 4000 dollars. Neighboring poor Poland and Russia overtake Ukraine for GDP almost FOUR TIMES - 13 300 and 15 000 dollars, respectively. The Latvians dying out and scattering from their land have 14 900 dollars per capita. And now the most annoying thing for Ukrainians: the Belarusians' neighbors (whom the wide and svidomy Ukrainians consider "stupid scoops") are 7400. Twice as much. Here is a bummer!
You - not cattle, you - not goats?
10 years ago, during the "Orange Revolution", the song of the Ukrainian rap group "Greenjoly" became the hit of the season: "We are rich, we are not underdone" ("We are many, we cannot be defeated"). On the Maidan they sang 100500 times. In ecstasy, people would come in, they would bang their heads against the ground, he would see. In that song, the key words were: "we are not cattle, we are not goats". Brave claim. I would like evidence. Some facts ... At least a clear answer to the sacramental question: if you are so clever, then why so poor? Poorer Albania and half the poorer "stupid sovkovaya" Belarus.
Or maybe all the same it is finally worth to doubt? Assume for a moment that perhaps you are - cattle and the same - goats? But what if? Any version is useful to consider from both sides.
Let me spread it on your fingers. 10 years ago, you protested against "dishonest elections." Say, Yanukovych, who then "podolal" you, - he manipulated the results. They arranged a big all-Ukrainian disco, sang and danced on their Maidan for a month. As a result, repeated elections and the victory of pimply Yushchenko and the "woman with a scythe." And only five years later you sent your coveted Yushchenko (for whom you sang and danced a month in the cold) sent to the garbage can forever. I apologize to ask: is it that way? Scho became?
And then you elected the president of the same "otmaydanennogo" Yanukovych (already without fraud, under the supervision of world experts), and the song "we are not cattle, we are not goats" got a fresh meaning. Catch? In 2004, you shouted that "you were not a cattle," and you chose Yushchenko, and in 2010, you went back to Yanukovych. That is, they thought carefully, weighed everything ... and admitted that you still were cattle and goats ... Laughing!
Brown Maidan
Three months ago, your President Yanukovych preferred Russian 15 billions and 30-percent gas discounts to a free "association agreement" with geyropy. In my practical opinion - well done! Skillfully powdered the brains of geyropeytsam, and in the meantime actively bargained with Putin. And yet, he threw up a stingy Uncle Pu into specific babosy! Romanians, Bulgarians, Greeks, who are many times richer than Ukraine, such a Yanukovich would have been carried out of the Moscow plane. Golden toilet presented in lifetime use. Ten toilet bowls!
And you, the Ukrainian "not-cattle-not-goats," began to burn tires in the city center. Eh, you have not eaten even European goryushka. 23 February, I rattled on Skype with my army friend Mishka (living in Lviv), drank a glass for the Soviet army. We talked for Russian gas ... I showed him my Skype-water bill for heating in January for Skype (211 euro). He did not believe it. He said that his pension of a lieutenant colonel in the Ukrainian army is one and a half times less. And our apartments are the same.
By the way, where will you take the loot now - repair Kiev? Foul because the city is not worse than the Nazi invaders. Sorry, but your "euromaidan" is the highest manifestation of idiocy. If it hadn't ended the 80 with corpses, I would now ride with laughter. By the way, I specifically warned about future corpses in early December: "In the light spectrum, orange stands next to red. Slightly shift the wavelength - and went. " Displaced, and went.
Yanukovych is a thief!
The main argument of the current Maidanians (who are not quite fascists) is this: Yanukovych is a thief, and his entourage is a gang. Here I will not argue with this. Of course - the thief. Yanukovych is a thief since childhood, his first conviction was in 17 years for a robbery as part of a gang, he got three years in prison and was sitting.
It was known to all Ukraine, but it was chosen anyway. Lol! Why? And it always happens when there are "orange" moods in the country with songs and dances. When people begin to vote for those who scream the loudest in a microphone in front of a crowd - the most inveterate bastards and clowns take the stage. And others there can not appear IN PRINCIPLE!
You can imagine that a sensible economist-manager would come on the Maidan's stage and, without haste, read out a serious program to bring the country out of crisis (an hour, say, on 3-4). Who would have listened to him there between the howls of pop-singer Ruslana and the rap songs "Razom is rich"? On the Maidan, slogans are short and moronic: "Choose me, choose me - the bird of happiness of tomorrow. Glory to Ukraine! Glory to heroes!"
After the song Maidan, the people ALWAYS choose the most senseless and despicable rulers - "bortsuny" like Yushchenko. And then, if the next Maidan does not happen, "strong business executives," that is, thieves, take the stage. However, orange wrestlers are also thieves, although not as skillful as those who replace them. We in Latvia were 23 years ago. And still go through.
Yanukovych is a murderer!
The second argument of the maydanut Ukrainian comrades: "Yanukovych gave orders to cripple and kill" peaceful demonstrators ". But with this I am ready to argue. Well, think for yourself who is in all this euro maid
stories
was least interested in blood?
If we discard the assumption that Yanukovych is an idiot with suicidal tendencies (and he is clearly not an idiot, and a very life-loving person), then it is clear that blood on the streets, even minimal, is his inevitable death. And he understood this for months, holding unarmed policemen under a hail of stones and fire.
And who specifically gave the inadequate orders to "wet the children", where did the snipers come from? That you will never know. The same question: who killed Kennedy? 23 a year ago blood was shed in Riga and Vilnius. The investigation is still ongoing. In all the song Maidan - from Riga and Vilnius to Syria and Ukraine - there are always snipers who unleash a slaughterhouse. And they are never found. The only thing that a reasonable public can do in this case is to speculate who benefits from it.
Take a patty from the shelf
Turn on the brain and think about it. How did the Maidan start? With the refusal of Yanukovych to sign "European integration". Who has been stirring up Maidan sentiments all these three months and has brought the Ukrainian people to a bloody madness? Harmful Putin? Australian aborigines? Martians?
No matter how wrong! Various "emissaries" —by Lithuanian, Polish, Swedish, German, and American politicians — ministers, deputies, commissioners, senators, state secretaries, and their deputies, poured into Maidan. And everyone got out onto the Maidan stage between revolutionary songs and shouted something meaningless, but incendiary (rousing), like "We are with you! Ukraine glory! Glory to heroes!"
And the more idiotic was the foreign person and its slogans, the more Maidan differed. Even the chief idiot and loser of the past decade came - the ex-president of Georgia Saakashvili, a man who sifted through a third of his own country, killed a bunch of people, a man whose name the Georgian people would curse for centuries. And this eater tie was released on the scene, and Maidan applauded him. Brothers Ukrainians, you want the fate of his country?
But the most disgusting sight, for me personally, was when the old toad, US Under-Secretary of State Victoria Nuland, distributed maydanutymi pies. And these maydanutye pies snatched from her hands and bowed. The state is on the verge of default, the people are on the verge of civil war, and she brought American pies. Not money, not help, not advice, how to save the country, but - pies! Feed the stupid and grateful trash. Glory to Ukraine, glory to the heroes, here's a pie for you! I would give her these pies in the well ... (crossed out) in the face threw. Sorry for non-parliamentary expressions.
Boys, you were bred like children. Do you think that you yourself have arranged their Maidan? Naive children! This they gave you the Maidan, the second for 10 years. Your Yanukovych tried not to follow the instructions of the Washington and Brussels regional committees - and he was punished with a bloody maidan. As previously punished Egypt, Libya, Syria, etc. In the same scenario, one to one. And you in this submission are not heroes (who are "glory!"), But - dancers and cannon fodder. For the pie.
Democracy Bandera sample
What are you doing now ... oh, superfluous! There is no government, there is no police, there is no money in the treasury and there is no place to take, in the country - Makhnov's Gulyai-field in half with Bandera's lawlessness, Crimea has already raised the Russian flag, and even there blood has been shed ... And your Rada cheerfully passes the law banning the Russian language. There is no more relevant issue at the moment? Oh, the garneau, oh, the "state thinking" of the Ukrainian people! Glory to Ukraine!
Yesterday evening on the Maidan they asserted a new government - from the stage, to the music. Complete surrealism - Gogol, "Taras Bulba", Zaporizhzhya Sich ... What is the millennium in the yard? Pinch me, I sleep ...
By the way, do you keep yelling "Glory to Ukraine!"? At the very least, this is immodest. It sounds like I would go out into the street and start yelling: "Glory to ME!" These are other people, staring at you, should exclaim with delight "Glory to Ukraine!" And now other people, glancing at you, whisper in horror : "n ... t Ukraine". Smacks, you maydante every 10 years - and you will be overtaken by Somalia on GDP.
And although I feel sorry for the close people (he himself is by blood - a quarter a crest), but in this case, I still think that this cup you must spill to the bottom. With bankruptcy, with the complete collapse of the economy, with the collapse of the country, with hundreds of thousands of economic refugees, with humanitarian alms from the rich neighbors ... In short, with all that should happen after a great nationwide madness. Peoples, even big ones, from time to time you need to hit the face with a face on the table.
Otherwise they will never become wiser.