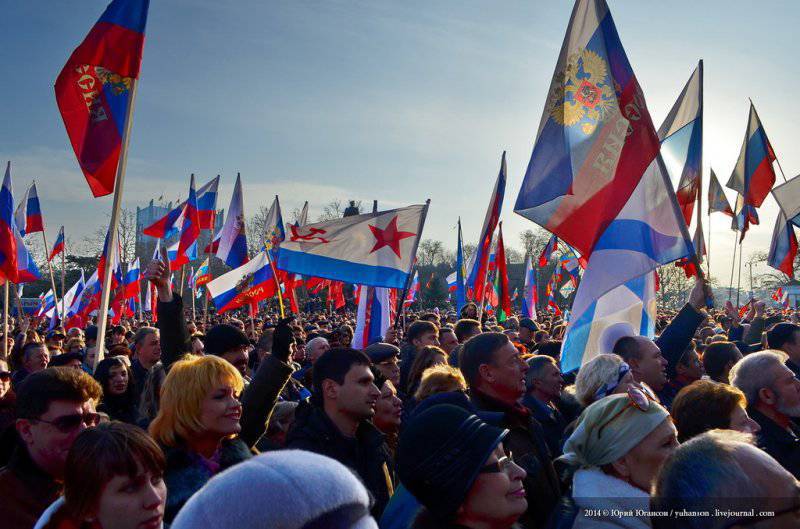 The older generation, who is well acquainted with the works of M. Zhvanetsky, are familiar with the words about the meat of the second freshness. For the uninitiated: in the Soviet public catering (the great and funny inventor was this notorious public catering!) There was such a category of product offered to the working population at the points of eating (all kinds of eateries, aptly named unknown witty toshnilovkami) - "meat of the second category of freshness" To which Zhvanetsky reasonably inquired: "But does meat of the second freshness happen? Meat is either fresh or not! "
Why did I remember this? To Ukraine, our long-suffering young ... The Verkhovna Rada of Crimea is in favor of holding a referendum on the special status of the Crimean autonomy and the expansion of its powers. What a cowardly and sophisticated hypocrisy!
The Verkhovna Rada of Crimea, as I understand it, are those bureaucrats who all these years of Ukrainian stupid attempts to show themselves as self-sufficient state bureaucrats have harmoniously adapted to the new Ukrainian laws, mostly hoping to keep the "face of the face" in pleasant proximity to a cup of sour cream. Have we heard a lot of words from these Radarists condemning openly anti-Russian laws adopted in the Verkhovna Rada of Ukraine? I do not exclude that they have met. But the whole policy of most of the Crimean RADARATARIANS was reduced mainly to constant attempts to maneuver and sit in their place of bread. That is why the question of the return of Crimea to Russia did not arise so acutely. Everything was postponed, settled and waited ...
But the Berkut guys, outlawed by the new Ukrainian Bandera power, did not hesitate for a long time and made their choice!
Smearing snot and selection of melodious formulations are not enough for them to do. They took in hand
weapon
and made it clear: "Banderlog will not pass!"
Or Sevastopol. This is where the unbending spirit of the Russian sailors appeared! The question is posed unambiguously: the return of Sevastopol to the jurisdiction of Russia. At this
historical
moment only by a strong-willed order and, if necessary, by force of arms. And there, let lawyers and diplomats find the rationale ...
The meat is either fresh or stale.