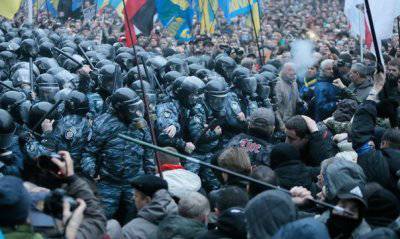 Authorities in Kiev and the western regions of Ukraine were captured by Nazi gangs, fed and brought to the street by the team of Western curators of the "Ukrainian project". T.N. "Maidan leaders" are just a pitiful and worthless political cover for the dispersed Natsik. Corrupt and cowardly power, time after time betraying the interests of their voters, fled, finally clearing the political field of the South-East from itself.
Here - in the Crimea, in Kharkov, in Odessa - we see tremendous examples of self-organization and political will. Despite the complete absence of any serious organizational structures, the creation of which is hampered in every way by both the former government and the so-called. "opposition".
Note that all this happens with the obvious inaction and non-interference of Russia. Our Russian political position is legitimism in the spirit of Nikolai Pavlovich. It looks extremely noble - with all this more and more meaningless and unpromising. We confidently hold in the legal legitimate field. And everything would be great if it were not for one circumstance: what happens on the blood is in fact a revolution, and it does not matter what character or direction a revolution is generally a rare rubbish. However, in these conditions, everything that happens, and all real players are beyond the legal field and legitimacy. Armed bastards with "mandates from Avakov" are meaningless to resist an appeal to the law and moral conviction. We have to state a fact: in the Ukrainian situation, we are left alone in this legal field, and only the wind plays with bits of legitimacy.
Our Western partners were endlessly cynical, pragmatic and wanted to spit on any legitimacy, not to mention the fact that if the current "Ukrainian project" was called "European integration", Hitler's "Drang Nah Osten" would have to be considered the best and most ambitious project of European integration.
It's time to recall the experience of Transnistria. Recall the words of the then commander of the 14th Army, General Lebed: "... The shadow of fascism fell on this fertile land. I believe that the former huge country should know about it. And I must remember that it was worth it [in 1941–1945] to break the backbone of fascism. And I have to move in my
historical
memory. And I must remember what concessions to fascism turn out to be. And I must take measures to ensure that the Nazis take the right places on the pillar. "
As in Transnistria 22 a year ago, we must understand today that there are no Ukrainians, Russians, Moldovans, Jews, Tatars. There are Euro-Nazis, and there is resistance to them — in fact, an emerging anti-fascist front. And Russia has no choice on which side of the front to be.