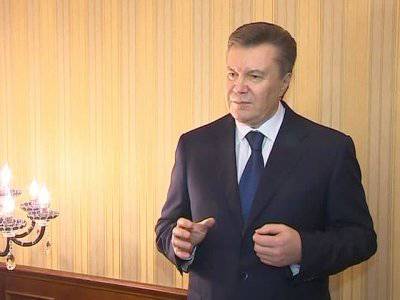 Viktor Yanukovych said that he still considers himself the legitimate president of the country. The text of his statement entered the Russian news agencies.
"I, Viktor Yanukovych, addressing the people of Ukraine," Yanukovych said in a statement. "I still consider myself the legitimate head of the Ukrainian state, elected on the basis of the free will of Ukrainian citizens. I cannot be indifferent to the tragic events in my homeland. I consider that the Agreement on the settlement of the crisis in Ukraine 21 February 2014, signed by me and the leaders of the Ukrainian opposition in the presence of respected Western partners, was not fulfilled. There are rampant extremism on the streets of many cities of our country. address of, sound threat of physical violence "against my colleagues.
"I'm forced to ask the Russian authorities to ensure my personal safety from the actions of extremists," the president continued. "Unfortunately, everything that is happening now in the Verkhovna Rada of Ukraine is not legitimate. Decisions made by parliament in the absence of many members of the Party of Regions" Other factions that fear for their security, and some were subjected to physical violence and forced to leave the territory of Ukraine, are illegal.
I am convinced that under these conditions all decisions made will soon prove their inefficiency and will not be implemented. In this situation, I officially declare my determination to fight to the end for the fulfillment of important compromise agreements on Ukraine's exit from a deep political crisis. I urge you to immediately return the situation in our country to the constitutional field.
It is now becoming obvious that people in the south-east of Ukraine and in the Crimea do not perceive the powerlessness and actual lawlessness in the country when the heads of ministries are elected by the crowd in the square. I, as the current president, did not allow the Ukrainian armed forces to interfere in the domestic political events. I order it now. In the event that someone begins to issue such an order to the Armed Forces and law enforcement agencies, such orders will be illegal and criminal. "
Later, Russian agencies, citing the authorities of the Russian Federation, said that Russia would ensure the security of Yanukovych on its territory.