26 February 2014 of the year in Zelenodolsk at OAO Zelenodolsk Plant named after A.M. Gorky "(the company is a member of the group of companies of the Ak Bars Holding Company OJSC) a solemn laying-in ceremony for the Russian Navy of the lead patrol ship Vasily Bykov (161 serial number) of the 22160 project was held. The project was developed by JSC "North Design Bureau". The ceremony was attended by the Prime Minister of Tatarstan Ildar Khalikov and the Commander-in-Chief of the Russian Navy Admiral Viktor Chirkov.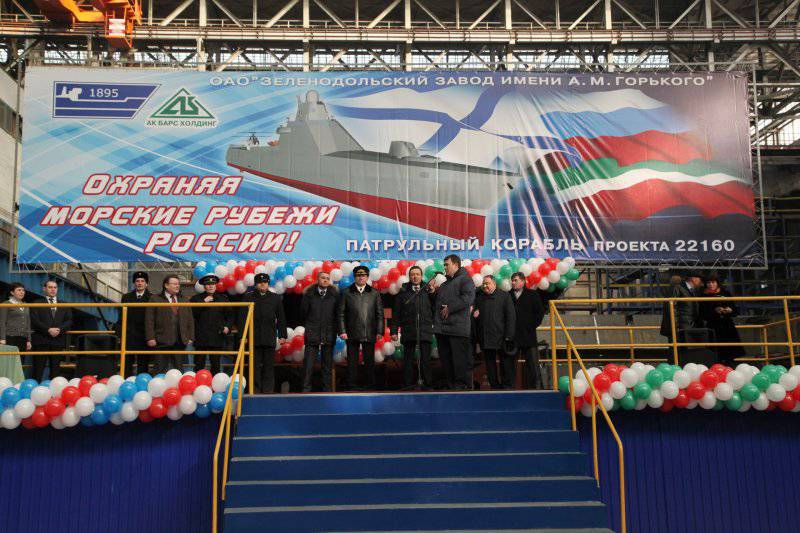 At the groundbreaking ceremony for the Russian Navy of the patrol ship "Vasily Bykov" of the 22160 project at the Zelenodolsk Plant named after A.M. Gorky. Zelenodolsk, 26.12.2014 (c) Mikhail Kozlovsky / press service of the Government of Tatarstan
As stated, the patrol ship of the 22160 project is designed to protect territorial waters, patrol the economic zone in the open and closed seas, prevent smuggling and piracy, search for and assist victims of marine disasters, environmental monitoring of the environment, and to protect ships and vessels at sea crossing, as well as naval bases and water areas with the aim of warning about the attack of various enemy forces and assets in wartime. "
The official representative of the Russian Navy, Captain 1st Rank Igor Dygalo said that "this ship is a new generation ship in which the design principle and construction used the modular principle." I. Dygalo explained that thanks to this, the ship can be converted for tasks in a short time: it can be used as a patrol ship with antiterrorist and anti-piracy tasks. It can also act as a rescue ship and as a medical support ship. "In total, within the framework of the state armament program, by 2019 it is planned to build for the Naval
fleet
Russia has six ships of this project, which can be part of each of the fleets, "I. Dygalo said.
The lead ship of the 22160 project was named in honor of the Soviet cutter Hero of the Soviet Union V, I. ​​Bykov (1920-1999), after the war - Rear Admiral (1970). In 1972-1974, V.I. Bykov was a military adviser to the commander of the Syrian Navy. At the ceremony in Zelenodolsk was attended by the grandson of V.I. Bykova - Head of the Research Institute of Shipbuilding and Armaments of the Navy.
Mortgage board of the head patrol ship "Vasily Bykov" of the 22160 project (c) RBC Tatarstan / top.rbc.ru