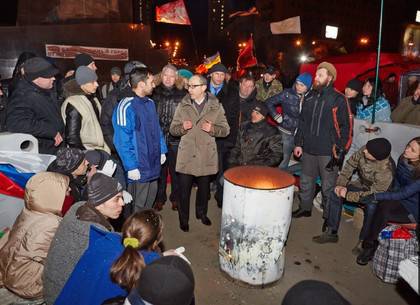 Kharkiv Mayor Gennady Kernes came to the Kharkiv Regional State Administration in order to enter the building blocked by Euromaidan. This is the correspondent of controversy.
However, euromaidan militants in masks, who were on duty near the entrance, and other euromaidan workers did not let the mayor into the building where the RSA, regional council and city council offices are located. The protesters greeted him with insulting shouts: "Ganba" and "Bitch Dog." In front of the fence near the Regional State Administration the mayor was supported by a large group of Kharkiv citizens with St. George ribbons. But Kernes urged his supporters not to show aggression and not to storm the building.
The mayor spoke from the stage set opposite the RSA building in front of more 200 supporters. Kernes said that if necessary, Kharkiv citizens could free the building within 10 minutes, but "aggression and hatred emanate from that side," said the mayor, pointing to those who blocked the building and added, "You are cowards."
After that, he urged the Kharkiv citizens to remain calm and noted that they would manage to defend their values. "Even today, at the session, representatives of the Batkivshchyna offensively called Kharkiv citizens titushki. And some Inna Bogoslavskaya said that they were going to be a freak in a freak." Inna Bogoslovskaya yesterday drew a plan how to capture Kharkov and called him Stalingrad. Kharkov will become Stalingrad for them, as for the Germans, "said Kernes.
After the performance, the mayor could not leave the stage for a long time, because all Kharkovites wanted to shake his hand. After that, Kernes went to the tent camp located at the monument to Lenin and spoke there. He said that the largest square in Europe is architectural
historical
value. "On this square, planes landed in the war, our troops liberated it. Kharkiv rebuilt it after the war. And we will not allow the vandals to destroy a stone on our square," the mayor said.
Here Kernes was also not allowed to go for a long time after the performance: everyone wanted to take a picture with him and express support. But Kernes asked to let him go, saying that he was going to a meeting with Mikhail Dobkin, who plans to run for president.
Recall that at the present time on the Freedom Square a tent camp is deployed around the monument to Lenin. There is food and security, there is a medical center. At the request of Kharkiv citizens to connect free WiFi to the square, the mayor answered that this had already been done. On the opposite side, the entrance to the RSA is blocked by supporters of euromaidan and is surrounded by a metal fence, in front of which Kharkiv citizens constantly gather with St. George ribbons, which engage in quarrels with Euro Maidan.