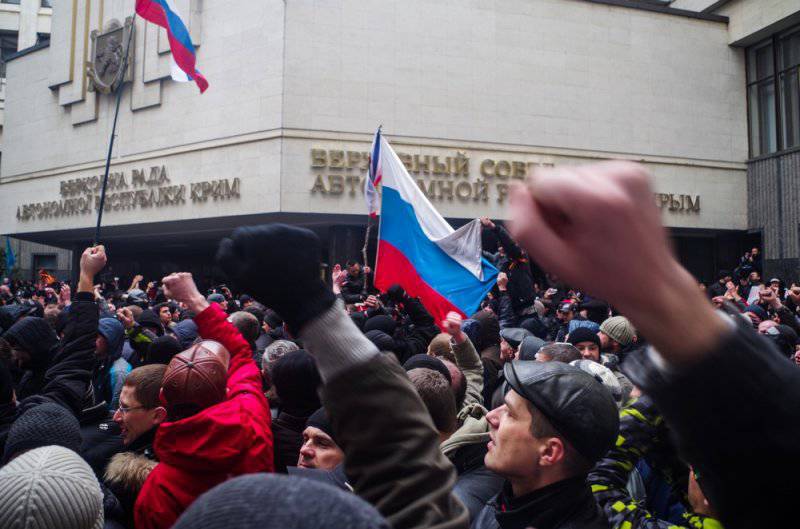 What do Crimeans, thirsting for joining Russia, think? What are their expectations?
Let's assume that this crazy scenario has become a reality, and the Autonomous Republic of Crimea acquired the status of a subject of the Russian Federation.
In Novoalekseevka and Kalanchak Crimea begins by land. On these roads and railway tracks there will be roadblocks, there is no connection by land with Russia. Food supplies for 2,2 million people will depend on the enemy country and can be carried out only by sea from Russia, at Russian prices. In the nearest large Russian city of Novorossiysk, prices in 30-60% supermarkets are higher than those in Sevastopol, in cafes - by 200-300%, manufactured goods and services are more expensive by 50-150%. And it still needs to be delivered.
Water and electricity will end in 1-24 hours after joining the Russian Federation. After all, everything comes from the Kherson region. Transportation of gas through the Ukrainian gas transportation system to the Crimea will cease instantly. All utilities and industry will stop on the first day, food will end in 2-3 of the day, medicines will be bought even faster, there will be no gasoline even before the annexation (as gasoline is bought up in panic, I saw it a week ago in Kiev). Prices will rise many times, and goods will start to be bought only for dollars / euro, because the hryvnia will become illiquid, and the ruble will not be enough for everyone.
A humanitarian catastrophe will start: the shortage of food, water, medicines, there will be no electricity ... Tritely there will be nothing to flush in the toilet, there is nothing to prepare food for, there will be no fuel to take the garbage out of the city, etc.
600 thousand. Crimean pensioners will instantly cease to receive pensions, state employees - wages. From the state budget of Ukraine, they will stop financing the expenses of the Crimea (only 30% of expenses will be independently covered by Crimea). Ukraine will cease cooperation with all the Crimean factories, factories, private firms (nothing strategically important in the Crimea is not produced, and there will be only local losses to partner firms in Ukraine).
250 Thousands of Tatar Muslims who support the integrity of Ukraine will find themselves in the same plight. Riots and pogroms will begin, which, perhaps, will be able to soften, but definitely not suppress the Russian Black Sea Fleet. Financing of the Tatar militants and replenishment of their ranks from Turkey, Syria, Saud. Arabia will begin in a week or two.
Without electricity and water, 50-70% of industry and non-irrigated land will not be able to recover the coming years.
There will be chaos, famine, devastation and military conflicts.
What can and what can Russia not do?
It will be able to proclaim moral support for Crimeans, stop "violent Ukrainization", announce the elimination of "fascist-Bandera", establish martial law, a couple of days later start distributing food brought by the sea (for 2 million people, at least 1 kg per day per person no
fleet
not enough to bring), start distribution
weapons
and passports, in a couple of weeks to arrange the supply of clothing and household goods in the form of humanitarian aid (no one can buy at the market price).
In the coming years, he will never be able to adjust the supply of water, gas, electricity, gasoline, or stop the war (guerrilla or open conflict between the Tatars and rebels against the Russian Federation). If they allocate billions of dollars, they will be immediately withdrawn from the Crimea in all possible ways, because they will soon become illiquid within the ARC.
If Ukraine is simply fenced off with a concrete wall and roadblocks, and this is easy to do - take a look at the map and declare Crimea a seized territory (and why would it be different?), Then the ARC will turn into the real Mordor, without exaggeration. And that is if Ukraine simply dissociates itself, and the world community will not interfere.
It is impossible within the framework of the notes to assume and describe everything that will happen in this case. But, I think, to sum up the everyday life of the Middle Ages, the script of the film "Life after people" and the situation in Afghanistan will turn out to be close to a new reality ...
Anyone who disagrees with this, find another, geographically and politically similar example, which ended well. Russia will have to cope with the absolutely dependent 2,2 million peninsula, without having any ties with it.