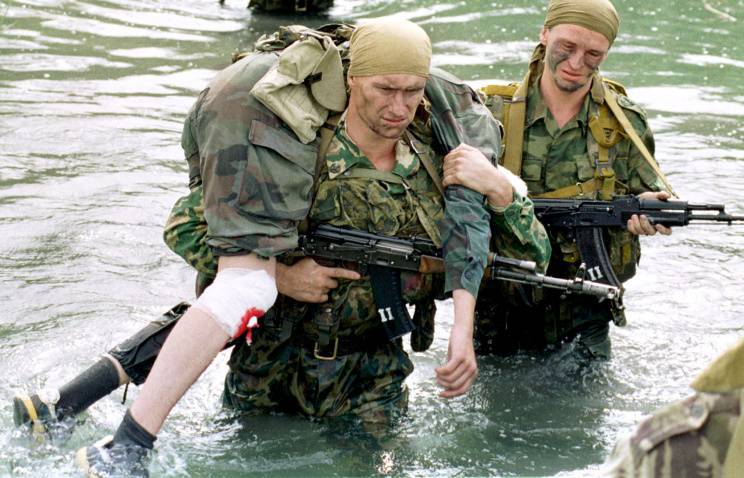 Scientists from St. Petersburg and Rostov-on-Don, at the request of the RF Ministry of Defense, have created a special tourniquet for the "future soldier" that protects him from injury from internal hemorrhage. There are no analogues of such protection in the world.
According to the head of the department of the Research Institute of Physics of the Southern Federal University (Research Institute of Physics of the Southern Federal University) Andrei Rybants, the acoustic cuff to stop internal bleeding will pass the first tests in May.
"During the war, large losses of personnel occur precisely as a result of internal bleeding, which is not visible," Rybianets explained. "The use of an ultrasound unit will stop the internal hemorrhage for six hours, which will give time to evacuate the wounded person and perform an operation without amputation a life". The standard methods of assistance for such a wound - the usual tourniquet - are of little effect, a person bleeds and dies in a short time.
According to the general opinion, the acoustic cuff will be widely used both by rescuers of the Ministry of Emergency Situations and in emergency medical care. The design is similar to a blood pressure measurement device. A tourniquet is applied to the place of damage, it is inflated with a help of an electric motor and clamps a limb. At this time, the built-in ultrasonic sensor system locates the rupture of the vessel and cauterizes the damage.
"A similar technique of force ultrasound is used to treat cancer. In the case of a soldier's cuff, the system will have to independently search for damage in the blood flow in order to make a hole," Rybyanets commented.
There will be several options for the device - for the soldier's first-aid kit (weight of the cuff is 3 kg) and a more heavy version for the orderly and inpatient hospital.
The main customer in the project is the St. Petersburg State Polytechnic University. St. Petersburg scientists together with the Kirov Military Medical Academy, the Russian Ministry of Defense makes a harness. And Rostovites - an ultrasound cuff system, exactly what will burn the site of damage to the artery. The total cost of the project is 280 million rubles, of which the Rostov part of the development of the coagulation system is 70 million.