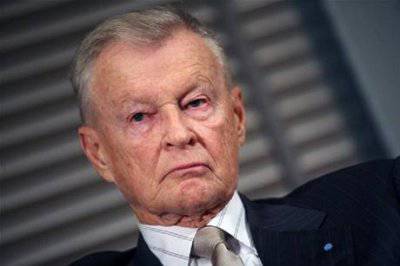 The old anti-Slavist Brzezinski will not stop at all. Every time carries the naked and primitive propaganda. Primitive because all his articles are encrypted, but in a primitive cipher. To get to the truth in his "works", you just need to apply the rule of inversion. We will explain. Any meaning (if any) of each phrase or sentence must be understood to the exact opposite. In order not to be unfounded, let us give examples from his latest article "Russia needs a" Finnish version "in relation to Ukraine."
The first paragraph he begins with the words "Now, when in Ukraine ..." and ends "... the separation of the Crimea and some eastern regions." We will not continue to give it "pearls" completely, but only give the real meaning of these phrases, and you will easily get a decrypted answer by the rule of reverse inversion. So…
No, Russia cannot push Ukraine to a civil war and support the secession of the Crimea and some eastern regions. We explain for ostensibly "dull" Brzezinski. The West and your new homeland, Mr. Brzezinski, are not interested in this, since, naturally, they want to get Ukraine as a whole, and not in parts. What has been repeatedly stated in a concrete form to the Russian leadership, which has already taken under the hood, and the Olympics have nothing to do with it. The main role, as always, is played by the printing press. All assets are absolutely with all of the current top management are with you, you have their movable and immovable property, their families with children and households are also there. Here they only generate funds to get these assets. Therefore, to call them, as well as Yanukovych and his team, are independent politicians — slyness on your part. They have already exactly followed all the instructions on this. So your first paragraph does not make sense - it is nothing more than a shock of air.
Then we decipher two passages at once: "Let the United States explain to Putin ... the steps that Moscow will cause major economic losses."
Well, about Putin you are repeating, he has long been explained everything. As for Finland, this is correct, during the war it easily provided its territory for the base of the Wehrmacht units. And why Ukraine is worse? If the bosses from the secondary department of the State Department (Nuland) orders, then there will always be a place for the anti-missiles of the West or something else, especially in the young democracy a la Bandera.
By the way, there, among the young democratists, there is one interesting functionary, Yarosh, it seems, who recently dropped the phrase that was not picked up and not emphasized, including you, Mr. Brzezinski. And he expressed confidence that the new leadership of Ukraine should not be rich Buratin. Here he is clever, the direction of thought is correct, although not original. In 1917, too, it began this way - but what did you get after a little more than half a century? .. If he and his team implement this, what is the big doubt, then his team can be forgiven, and Ukraine can really jerk forward, and then the other Slavs will join, including yours, Mr. Brzezinski.
And the truth is, most of the unpleasant moments in
stories
Slavic peoples emanated from the treacherous movements. They, traitors, have a common unifying feature. They were all rich - compradors without moral and other principles. This is the breeding ground for the collapse of any state from the inside. These traders oligarchs are the viral environment that is capable of destroying any viable body.
Further excerpt: "The European Union must be a firm partner ... for the democratic forces in Kiev to take the position of national unity and political moderation."
As for the anti-crisis package of a "solid" partner, i.e., the West, one can say that they won't be spoiled: they will give a dollar, take three, free packages from the West are cheese in a mousetrap. As for Brzezinski's ability to convince Ukrainian oligarchs to give a billion dollars for his native Ukraine, there are also big doubts. Ukrainian, and not only embezzlers are able and accustomed to move these billions only in one direction - from Ukraine to offshore, and so much so that even competent authorities are unable to locate them.
The final phrase of Mr. analyst will be the last and ours. He expresses the hope that sooner or later Ukraine and even Russia will enter a "healthy" Europe, "if it does not self-isolate and turn into a half-rotten remnant of imperialism".
Only Russia here, as well as Ukraine, is not a relic, but an appendage, and not of imperialism, but of Western Americanism. And so, in general, will enter - someday and somewhere! And yet there is a solution! It consists in quickly changing the entire manual at the same time. These gentle little mice are not able to control a huge power ...