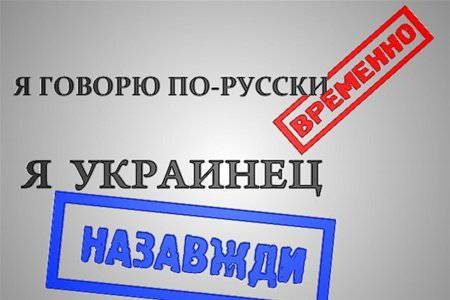 More than a year ago I wrote an article, or rather the appeal, which was called "
Manifesto to the Russian people in Ukraine (updated)
". Let me remind in a nutshell that the publication focused on the penetration of Ukrainian nationalism into the Russian-speaking environment. The trouble is that nationalism mowed not only Russian-speaking Ukrainians, but also ethnic Russians. Many did not believe me then, and wrote in the comments that I exaggerate the problem. And when the article came out a week before the euromaidan, which was loudly and boldly called "
In Ukraine, not a single Russian person is younger than 30. Only facts
", Not everyone believed me at once either. For example, some residents of Kharkov wrote disturbances in the comments, however, it later turned out that they were residents of Belgorod, who simply often live and work in Kharkov. But, thank God, most of the readers of "VO" have already seriously reacted to the article. Regular readers of the "Military Review" may find repetitions of some of my thoughts and links to other publications. This is due to the fact that I want to make capacious and universal articles, which thanks to this resource will be distributed further.
So what do we have for today? Most likely, this article will be released on Wednesday, so I do not know whether Kharkiv will fall. But, I can definitely say that the author of the article "
The Russians missed their chance without imposing their agenda on Maydan to Yanukovych
, Unfortunately, comes true. In Donetsk, Russian-speaking policemen with Russian surnames have already begun to persecute those Russians who want to remain true Russians. In particular, they began to open criminal cases against those who set fire to political Bandera offices. It turns out that some investigator Petrov will give out Bandera's Kiev Ivanov for disobedience to new orders from Mr. Gritsk from Lvov.
I do not want to be categorical and say that a Russian is a humble and servant Russian. But I know for sure that a Russian person is a person of the state and state. Consequently, he, unfortunately, is subordinate to the one at the top. Otherwise, the USSR would not have collapsed, and Gorbachev would have shifted the initiative officers. As was to be expected, the elite of the South-East of Ukraine betrayed the Russian people, as the elite of the Galician-Volyn principality betrayed the Russian people in its time, entering into an alliance with Lithuania, and then concluding a union with the Poles in exchange for preferences and immunity. Today and now there is "Union number 2". After all, the Donbass (Luhansk and Donetsk region), Novorossia (Odessa, Nikolaev, Kherson and Zaporizhzhya regions), and the Crimea were never part of Galicia, but can be bowed. Nor was Slobozhanshchina and the whole Molorossia. There is fragmented and unorganized resistance. And what is the most annoying, it occurs in the form of rallies. And in Western Ukraine, people walk with Kalashnikovs and are not going to take them back to the warehouses.
Today it is too late to appeal to
stories
and justice. In previous publications, we figured out that every version of the Russian-language history textbook of Ukraine, starting with the 90s, became more radical. We figured out that the tale of the "bad" and "good" Bandera remained in 90, today all the heroes, and Melnykians, and Bandera, and the SS division "Galicia", only the Soviets and the Russians remained the invaders and enemies of Ukraine. Unfortunately, 23 was not in vain. Separately, it is worth noting that the Russian and Russian-speaking Ukrainians lost channels, which defended their point of view and the ideology of the Russian World. During the Orange Revolution, this mission was carried out by the TV channel Ukraina. Now he is completely on the side of euromaidan. And more and more it broadcasts in Ukrainian.
So who is he - Ukrainian Russian-speaking Russophobe ?! As a rule, such people live in all parts of Ukraine, except that there are literally a few in Sevastopol. Sevastopol euromaidan takes place in the 2 hour of the night, at a meeting of 8-10 participants and 20-ti journalists! But most of all Russian-speaking Russophobes in million-plus cities, and in cities where industry is degraded: Nikolaev, Kherson, Dnepropetrovsk (except for Yuzhmash, there is almost nothing left), Krivoi Rog (there a year ago there was a march in honor of the SS division "Galicia"), Kirovograd , Cherkasy, Berdyansk (seaport and Azmol enterprise), etc. In these cities the entrepreneurial, service, consumer and office class dominates. There are cities where the industry has been preserved, but it is not a city-forming one, where the consumer class and office plankton divide the city with the proletariat by influence in half. These are Kharkov, Odessa, Zaporozhye and Donetsk. Here, the Russian-speaking Bandera will never take power themselves unless the true and Ukrainian-speaking Bandera come to their aid, i.e. from Western Ukraine. But there are citadel cities where the percentage of Russian-speaking Bandera is so small that it will be difficult for the militants from Western Ukraine to establish power there. But it provided, if there is organized resistance. So, the Russian cities of the citadel, in descending order of solidity: Sevastopol, Kerch, Mariupol (the most industrialized city with a huge Greek community), perhaps even Lugansk, although Mr. Efremov, judging by
news
, passed the Lugansk Guard. I don't put Simferopol on this list because Tatars act as a fifth column. According to my subjective assessments, the split among the Russian-speaking world in the Southeast
average 37% vs 63% of people who are Russian in spirit
(Russian-speaking Ukrainians and Russians). But if in these regions to send Western Ukrainian-speaking Bandera, the Russophobic forces will prevail. Naturally, I leave behind the brackets the factor of officials who rent everyone. And they know without my publication that there have been more Russophobes since 2004 of the year. Especially among young people. Therefore, the split cards of Ukraine by language principle lose their relevance. The West, thanks to its information war, completely destroyed the thesis that Russia ends where the Russian language ends. Now relevant pictures of the map of Ukraine with speckles and shades.
Portrait of a typical Russian-speaking Russophobe. Advanced PC and Internet user, creative. Native language, naturally Russian. Age is most often up to 30. With great pleasure, listening to Russian music and watching some movies in the style of Hollywood. He also enjoys shaking up Russian-language programs developed by Russians in Novosibirsk and other Russian scientific cities. Can periodically "boast", moving defiantly on the Ukrainian language.
If this is a Russian-speaking Ukrainian, then most often he believes that evil Moscow Russified his ancestors. The Russian Empire, the USSR and the modern Russian Federation - obscurantism.
If it is an ethnic Russian, then he considers himself either an advanced Russian liberal, or a cosmopolitan, or a globalist. Being Russian, he can openly support the thesis that Russians are not Slavs, but a mixture of the peoples of northwestern Russia and the Tatars. In the event of a threat can become a opportunist. And it is easy to change the name and speak on the move. Higher education. Considers himself a competent expert in politics and law. In discussions, he often appeals to civil society, to the community and experience of Eastern Europe, but deliberately closes his eyes to the existence of neoliberalism and the project of human emancipation.
Many Russian-speaking Russophobes believe that since the rights of sex minorities and animals are so strongly protected in the West, then the rights of normal people are even more so. The argument that there is a mandatory European concept of sex education for children is not valid. As a rule, the conversation turns to corruption. At the same time, they do not disdain to get out of the shashlyk for the May holidays in the forest plantation, leaving the scoops in the city with their rallies. True, they forget or do not want to know what they can do in Europe only in their private courtyard, where they will notify the neighbors about the smoke of the kebab and possible inconveniences, or only in special places. They do not want to recognize the fact that in Europe there is no classic Russian free fishing. No one in the store will sell you the bait unless you have completed paid fisher courses and have not joined their community where you have to pay annual fees. As a rule, they respond to these arguments approximately as follows: "And we already have private bodies of water and rates!" They also don't want to hear about secondary environmental taxes, about the prohibition to heat stoves in houses, about obligatory honey. insurance. Their main idea is respect for the individual and for her freedoms. Of course, they do not forget about their obligations, thereby demonstrating that they cannot be reproached for their ignorance: they say that even without "scoops" they know that freedom has its own obligations. However, when debriefing about the very obligations takes place, they withdraw themselves or launch the record in a new way. Arguments about other social models that will reduce corruption, they are rejected, afraid to lose their position in the debate about the advantages of liberalism.
Also Russian-speaking Russophobes are peculiar to the romantic idea of ​​Western Ukraine. When they say that no one in Lviv will strike you for speaking Russian, they are right, of course. And they admire this, believing that by doing so they break soviet stereotypes. But thanks to the fate that she abandoned me in Western Ukraine. I live here for half a year, and I can confidently assure you of something. Yes, in Western Ukraine there is patriotism, and very strong, but it is patriotism towards Ukrainian nationality. State patriotism in a broad sense is not here. Here, the desire to integrate into Europe under any conditions is overwhelming, as long as the visa regime has been eased or eliminated. Unfortunately, those residents of South-Eastern Ukraine who sympathize with euromaidan cannot fully see and feel the local atmosphere. There is almost every family on earnings. Someone parents for 10-15 years are not returned. Happen, even get divorced; families break up. But on the other hand they have two or even three-story houses and huts. Europlatform everywhere, automatic gates and neat fences. Of course, there are also poor huts, there are about 30-35%. And the streets are not asphalted even in regional centers. Hospitals and schools - the same Soviet gray houses. Dirt and broken roads. In such a contrast, there arises the euphoria that you can sign anything, as we live without the industry of the east of Ukraine. And who will finance kindergartens, hospitals, and schools? And who will pay the pension and help with the birth of a child? Does a parcel from Italy and a money order from Poland solve all the problems? The myth of self-organization in Western Ukraine according to the principles of "Magdeburg Law" is a fairy tale. Believe me, no one here in Western Ukraine will throw money off a public road or hospital. There are the same elemental garbage dumps as in the south-east of Ukraine, and even worse. The mentality here, dear Russian-speaking Russophobes, is still different from ours. You can shout "Glory to Ukraine!" In the South-East as much as you like, but it's hard for me to imagine you, Russian-speaking, picking apples in Poland or sweeping the streets of Italy. And all this for several years in a row, not only to support the family, but also to build a house or buy an apartment! Arabs and Africans will dump, are you ready for this? Are you ready to leave your families for 10 years to exchange a stable job near the house for hard, degrading, but well paid? It is hard for me to imagine you on Sundays in churches that observe Greek-catalytic rites! You, "respected" Russian-speaking Russophobes, call all Putin's orthodox agents or, in disgust, set a liberal diagnosis: "Inflammation of the Orthodox hemisphere!" And you yourself, except the chanters of the zapadenskys, do not in any way join their Uniate traditions! The day after tomorrow you will be traitors for them too, when they build their great Galicia!
But who am I talking to? I russophobes answer that they stand for freedom and the rule of law! For a system of checks and balances! For freedom of speech!
And what will sign a bonded association and tie it to the financial assistance from the IMF? And the fact that our industry physically does not have time to adapt to European standards in a few years? You work in offices, you are entrepreneurs, you are so smart and creative, but still your food chain reaches for factories and plants! Remember the 7 class, namely the lesson of economic geography! And the fact that European standards of law carry a total unification and regulation of personal and public life, is it nothing? Are you ready for the fact that in exchange for arresting a minister for plagiarism of scientific work, you should host the institute of civil squealing? Is it a holy duty to push a neighbor? Do you want a liberal totalitarianism?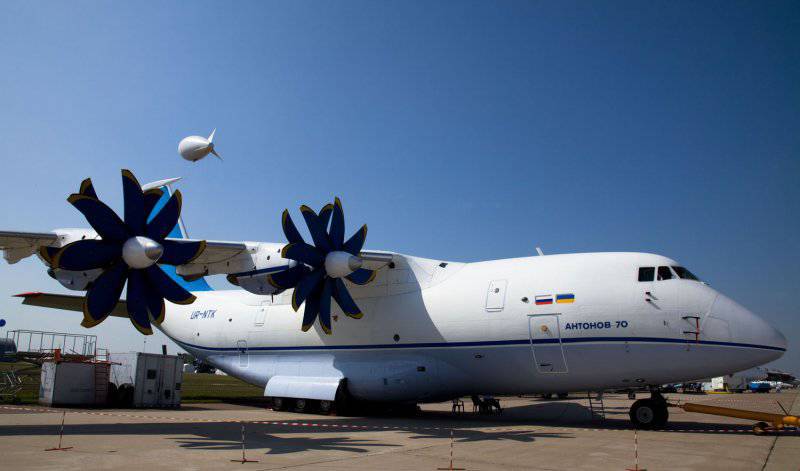 Gritsko, what about the Ukrainian industry? After all, our planes are not needed by Europe! Answer: "Ukraine - tsevropa! Freedom abo death!"
Russian-speaking Bandera are not true nationalists of Ukraine, not only because they do not speak the Ukrainian language of Ternopil's sample, not only because they don't go to the Greek Catholic churches, but because they are a dangerous mix of Americanism, liberalism, Europeanism, Russophobia ( fear of returning to the "scoop" and the association with corruption) and agnosticism. They are easy to take flight. They are cowards. Because in their blood there is an adaptation and a craving for liberal comfort. In addition to Russophobia, zapadentsev has a pivot - the Christian faith, it is a pity that it is treacherous. And in Russian-speaking Russophobes, only liberal Ponte and pseudo-nationalism. Almost all of my "familiar" Russian-speaking Ukrainian. nationalists from Berdyansk stayed at home, they were afraid of their liberal "little soul" to give up under bullets. It is better and safer to write Russian-speaking Russophobic comments on the pages of the Russian-language newspaper "Berdyansk Vedomosti" in the Russian-speaking city of Berdyansk, which was founded by the Russian count Vorontsov. Zapadensky enemy I have more respect than the traitors of the Russian people. Adapted in one word. Now they got out when Kiev fell, and they want to demolish the monument to Lenin on Primorskaya Square. The local mayor A. Bakay is ready to discuss the technical aspects of dismantling. About 100 people came to the defense of the monument - this is from the 112-thousandth city! The next one will be a monument to Count Vorontsov and Soviet paratrooper liberators in Schmidt Park, I am almost certain. But for this, 5 is also needed for years, in order for a new generation to grow up on even more radical textbooks edited by the "Right Sector".
And on the other side of the Azov Sea, to the south, there is the city of Yeisk. There, too, there is a monument to Lenin, there is also a monument to Count Vorontsov (the builder of Novorossiya) and also a monument to the fallen Soviet soldier, but there people not only speak Russian, there they know that they are Russian. So, two Russian cities became antagonists. Give me the city of Vladivostok, a textbook on the history of Ukraine, and in 23, it will be 40% Russophobic, albeit Russian-speaking.
Russian in Russia! Kill liberalism on the vine, revive Russian traditions! Liberals beat in the back!