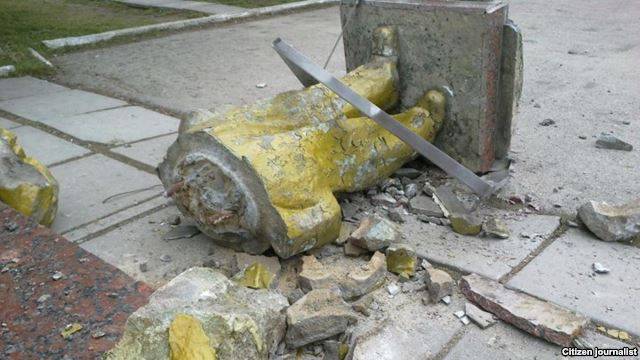 Bust of the famed Russian commander Mikhail Kutuzov dismantled on Monday in the city of Brody in Lviv Oblast in western Ukraine.
The monument was removed from the pedestal crane. Its dismantling was observed by local deputies and residents, who shouted the slogans of the Ukrainian Insurgent Army: "Glory to Ukraine!", "Glory to the Heroes!" - ITAR-TASS informs.
10 December 2013 at the session of the Brodovsky City Council, the deputies decided to transfer the bust of Kutuzov from the square opposite the Pedagogical College named after M. Shashkevich to the territory of the municipal enterprise "Brody"
Recall, 23 February evromaydana activists urged Ukrainians to come and destroy the monument of the Cheka in Kiev and a statue of Lenin in Kharkiv.
Prior to this, 22 February Lenin monuments were demolished in Dnepropetrovsk and Chernigov.
21 February protesters knocked down a statue of Lenin in Zhitomir.
10 January this year unknown decapitated at the Lenin monument in the center of the Poltava region Mashevka.
9 January vandals beheaded the monument, which stood near the village council in the village of Waterside Vinnitsa region.
January 6 unknown piled monument to Lenin in Berdichev (Zhytomyr region).
The first such incident occurred in December 8 2013, when during mass opposition rallies in Kiev was demolished and destroyed a statue of Lenin, located near the area of ​​Bessarabia.