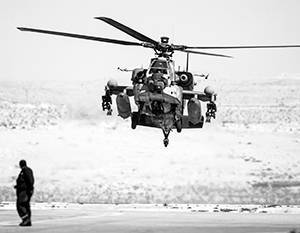 India sharply increased the purchase of American military equipment. Last year, New Delhi bought military products from the US for 1,9 billion dollars, which is eight times more than the level of 2009 of the year. Until now, the majority of Indian arms procurement contracts have been in Russia. However, in recent years, Moscow has been losing competition.
In 2013, India bought US military products for as much as 1,9 billion dollars, making New Delhi the largest foreign buyer of American
weapons
, note the authors of the IHS report, FT reports. For comparison: back in 2009, India imported US military equipment for only 237 million dollars. Total India last year bought weapons for 5,9 billion dollars.
Recently, in the face of corruption scandals, a slowdown in economic growth and budgetary constraints, India has experienced difficulties in financing armaments. As a result, many Western exporters have not yet been able to conclude solid deals with New Delhi. For example, the French Dassault has been waiting for India for the final stage of negotiations on the purchase of the Rafale 18 fighter jets until only a preliminary agreement has been signed. However, the problems of India do not affect the contracts with the United States, which is only becoming more.
"We see that the structure of trade has changed dramatically for the dominant players. India is ahead of everyone, "states IHS report author Ben Moore.
India overtook China and became the largest importer of weapons in 2010 year (data from the International Peace Research Institute in Stockholm, which explores the global arms trade). Now India has overtaken Saudi Arabia, which was previously the largest buyer of American weapons, the authors report IHS.
However, the Middle East continues to gain momentum. So, Saudi Arabia as a whole last year imported military equipment for more than 5,4 billion dollars, which is twice as much as in the 2009 year (2,2 billion dollars). It is expected that by 2015, its imports will grow to 7,8 billion dollars. The UAE bought arms for 1,4 billion dollars last year, and by the year 2015 will increase imports by half - to 3,1 billion dollars.
In total, Saudi Arabia, Oman and the United Arab Emirates last year imported military equipment worth 9,3 billion dollars (against 8,7 billion dollars a year earlier). Moreover, American companies account for half of all exports in the region.
After a year and a half, South Korea may enter the top 10 of global military exporters, according to IHS. Last year, South Korea exported military equipment to 600 million dollars, but by the year 2015 will increase exports to 1,5 billion dollars, which will allow overtaking China and ousting some large western companies from the export market, analysts say.
IHS experts have noted a disappointing trend for Russia. The US is winning the Indian arms market from Russia, while remaining the largest exporter of military equipment in the world. In total, last year, the United States exported weapons to 25,5 billion dollars against 24,9 billion dollars the previous year.
Until now, the majority of Indian arms procurement contracts have been in Russia. In part, this was a tribute to the Soviet past: India needed to replace or upgrade the equipment that it bought from its former ally, the USSR. In particular, the Indian Air Force has been using MiG-21 and MiG-27 together with Su-30 for several decades. The number of Su-30 MKIs to 2018 is planned to be brought to 272 units.
Now India has 184 of these machines: 50 delivered from Russia in assembled form, another 134 were assembled under license in the country itself. Thus, India must replenish the park with another 88 Su-30s. Russia generously supplied India with Mi and Ka helicopters, Tu and Il planes,
Tanks
T-72 and T-90, different types of armored cars, anti-tank missiles, anti-aircraft weapons, destroyers and submarines, as well as nuclear submarines and aircraft carriers.
However, for several years now India has been actively replacing Russian weapons with American ones, and Russia's share in the Indian arms market has begun to flow into the hands of the United States. A year ago, this had to be recognized by the highest military leadership of the Russian Federation. Alexander Fomin, head of the Federal Service for Military-Technical Cooperation, acknowledged that Russia is losing arms markets in Asia and the Middle East (recalling, however, that it is acquiring new markets - in Latin America and Africa).
Russia's losing in a number of tenders held in recent years by the Indian Defense Ministry, Fomin explained the tightening of competition in the world market, but not the quality of the products of the Russian military-industrial complex.
"I agree that there is a trend. But if you are hinting whether there is a drop in quality in this trend, then there is no and there is no again. There are quality problems, we do not deny it. But exactly the same have our main competitors. These are solvable issues, "Fomin said. "We live in a tough competitive environment, in which our well-known rivals - the USA, Europe and even China - are located," he added.
"Once India had the same relations with its Western competitors. Now they are different - more free, the corresponding embargoes have been lifted, the gates have opened, and our competitors have entered their full height. And, as a rule, winning and losing a tender are not always explained by technical or economic considerations. The entire set of these parameters is important, including, perhaps, the intention to diversify arms suppliers. After all, a weapon is a delicate thing. This is a very important area of ​​interaction not only economic, but also political, "said Fomin.
Among the failures of Russia in the Indian market - the loss of the Indian tender to replace the old Russian military helicopters Mi-24. New Delhi decided to replace them not with new Russian Mi-28 and Ka-52, but with American Apache helicopters, ordering 22 overseas machines for 1,5 billion dollars. In addition, the Indian leadership chose to order American-made 15 heavy transport helicopters instead of Russian Mi-26.
India also preferred the Russian anti-submarine aircraft Tu-142, which for a long time were in service with the Indian
fleet
, American anti-submarine P-8. India ordered 12 such aircraft for $ 3 billion; there is an option to purchase another 12 aircraft.
India actively used An-24, transport aircraft for medium and small airlines. Russia arrogantly believed that India, which decided to update the fleet of this technology, would buy Russian new models. However, New Delhi made a knight's move and ordered Super Hercules 12 machines (C-130) for 2,1 billion dollars. IL-76 and its last modification IL-476 also turned out to be uninteresting to the Hindus. They signed a contract for 4,1 billion dollars from the United States for the purchase of X-NUMX military transport aircraft Globemaster C-10 (instead of IL-17).
India also adopted the latest US reconnaissance aircraft, the Gulfstream-3. Russia's failure is also associated with India's refusal to continue to procure Russian Igla man-portable air defense systems. Their place was taken by American missile systems Stinger.
Moreover, Russia often loses tenders not only to Americans, but also to other competitors. Earlier, New Delhi decided to buy the Israeli Spider missile system instead of the Russian Buk-M1-2. India also stopped buying Russian T-90 tanks, since it began producing its own Arjun tanks.
India is now strongly trying to diversify sources of weapons in order not to depend too much on anyone, explains Alexander Khramchikhin, head of the analytical department of the Institute for Political and Military Analysis (IPVA).
At the same time, Russia in its relations with India makes obvious mistakes. "Russia still does not understand that India is no longer a banana, but a great power with rather strong technological and financial capabilities. Russian officials believe that India will buy whatever it offers, as it was in Soviet times. But this is not the case for a long time, "Hramchikhin told the newspaper VIEW.
"Therefore, we often offer a deliberately losing option - and we are really losing the competition in terms of quality, prices and timing of the program's implementation," he adds.
"For some reason, for combat helicopters, we decided that the Mi-28, not tested in any war, would win against Apache, which was tested in dozens of wars. It was at least strange, "the military expert said.
There is also a geopolitical problem that Russia has created for itself. "Moscow imposes on India a senseless triangle Russia-India-China, which New Delhi is absolutely not needed. India will be happy to be friends against China, but not with China. By this we also pushed India away from us towards the United States, which is just ready to be friends against China, "Khramchikhin said.
India is still Russia's strategic partner. According to experts, only in 2009 – 2012. Russia earned roughly 11 billion dollars in arms exports to India. "In fact, 40% of our arms exports go to India. We have joint projects and licensed samples of aviation and land transport armaments. But the problem is that in recent years Russia has found it difficult to compete in the global arms market. And the Indian side will always look closely at the ratio of innovation, reliability and cost, "said Ivan Andrievsky, first vice president of the Russian public organization Russian Union of Engineers, to the VIEW newspaper.
"Russian officials need to realize that India is a great power, that New Delhi does not owe us anything. It is necessary to offer adequate goods plus stop imposing on her friendship with China, "Khramchikhin concludes.