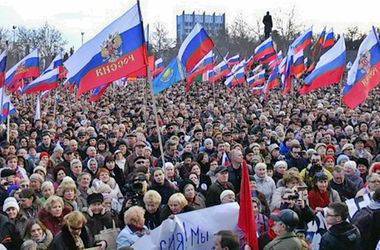 The political crisis in Ukraine continues. Today, Ukraine is ruled by self-proclaimed authorities, which have nothing to do with political legitimacy. One of the main mysteries of recent times is where Viktor Yanukovych disappeared, who a couple of days ago talked about not recognizing the new authorities, but at the same time did not take any decisive action to restore constitutional order in the country.
According to the "Russian Service
News
", Which itself refers to" unnamed sources ", Viktor Yanukovych may be in the Crimea, namely at the Russian base of the Black Sea
fleet
in the Sevastopol. Allegedly, Yanukovych could move to Russia on one of the ships of the Russian Navy. The inhabitants of the City of Russian Glory themselves cannot confirm such information.
By implementing
taxi ordering
, talked to his driver and found out the mood of Sevastopol. For the most part, residents of the city are not ready to recognize the new authorities of Ukraine, calling them fascist. In different cities of the Crimea, militia gathers who are ready to defend the peninsula and are quite ready to proceed to the recognition of independence. Russian residents of Crimea are gathering on the streets of Sevastopol, who openly say that the future of the city and the peninsula cannot be in the hands of those who are now seeking to fall into power under the banner of the Nazis.
On the eve of the head of Sevastopol, announced that he resigns from the powers of the mayor and leaves the "Party of Regions". After some time, the townspeople held a rally on Nakhimov Square, where he elected Alexey Chaly, the head of the executive committee of the city. Chaly is a citizen of the Russian Federation.
In this regard, the head of the nationalist party "Freedom" Tyagnibok made a statement that Russia is preparing a military invasion of Sevastopol. According to him, Russian amphibious ships are being pushed to Sevastopol. It seems that Tyagnibok forgets that no "invasion" of Russia should be prepared, if only because Sevastopol is already a point of deployment for the Russian Black Sea Fleet. The only reason for the utterances is connected with the desire to further aggravate the situation and introduce radicals in the Crimea.
The national composition of Sevastopol is 72% Russians, 22% Ukrainians, 6% - Belarusians, Jews, Moldovans, etc.