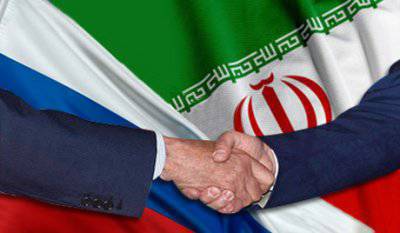 A month ago, the media wrote about Russian plans to buy or exchange crude oil from Iran. Russia supposedly intends to buy from Iran up to 500 thousands of barrels of oil per day. That's a lot: about 5% of what Russia itself is extracting (about 10 million barrels per day). Some analysts wrote that it would be beneficial for Russia to change Iran's oil for its own goods - that is, a question of barter. The Russian economy, built almost entirely on the trade in raw materials, such a foreign trade transaction would be beneficial. In recent days, talks about Russian-Iranian cooperation have continued.
Today, Russia is negotiating with Iran to increase trade through energy cooperation. This was announced a few days ago by the Minister of Energy of the Russian Federation Alexander Novak. It is about restoring trade between the two countries at the pre-sanction level. In the media, it is noted that the trade and economic turnover of Russia with Iran over 2013 a year was reduced to 1,59 billion dollars (by 31,5%).
However, on the path of cooperation between Russia and Iran, there is a significant obstacle in the face of the United States.
As noted by correspondents
"Kommersant"
Elena Chernenko and Kirill Belyaninov, the struggle for access to the Iranian market is escalating. The United States at various levels is seeking Moscow's rejection of the discussed oil-commodity deal with Tehran. Russian government sources told journalists about the newspaper. According to one of the interlocutors, we are talking about "hard pressure" - even with threats to apply economic sanctions against Russian companies and financial structures that will participate in the transaction.
PIR Center President Vladimir Orlov, whose opinion is quoted by Kommersant, explains the US response to reports of a rapprochement between Moscow and Tehran like this: "The White House really feels very thin ice in Congress: any appearance of Russia in Iran, be it economic or military-technical , now - before reaching a final agreement on the Iranian nuclear program - it will cause a storm in the Congress ... "
The authors of the material note that over the past few months businessmen from Great Britain, China, Italy, Austria, Sweden and other countries have visited Tehran. Americans are also in a hurry to grab their share: a Russian diplomatic source told Kommersant that the United States and Iran have already created a Chamber of Commerce and Economics.
Thus, there is a survival from the "battlefield" of economic competitors by political means.
Recently it became known that Tehran, seeking to cooperate with Russia, made it clear to Moscow that it runs the risk of missing a profitable deal if it does not act quickly. This was reported by the newspaper.
Daily Mail
.
Russia may plan to build a second reactor for the Bushehr nuclear power plant in exchange for oil. This was stated by the Iranian ambassador in Moscow, Mehdi Sanai. In addition, Russia could also supply Iran with trucks, railway tracks, mini-refineries, or other goods, exchanging them for oil.
The ambassador confirmed in an interview that Russia and Iran are discussing deliveries of "several hundred thousand barrels a day." "Iran can use some of the revenues (for payment) for Russian companies to build a second unit at the Bushehr nuclear power plant," he said.
Sanai noted that a memorandum on economic cooperation could be signed before August 2014. Russia's Minister of Economic Development, Alexei Ulyukayev, is due to visit Iran in April for trade talks.
On the clarifying question of what Russia could supply in exchange for oil, Sanai noted that the parties discussed a number of possibilities: here and the construction of small oil refineries, and Russian investments in gas fields, and the supply of electricity, heavy trucks, railways, grain and building a second reactor at Bushehr.
As for the American threats about the deal between Russia and Iran.
Sanai believes that Russia should ignore these statements. The ambassador recalled that European countries have already sent their business delegations to Iran and that Moscow risks losing the benefits if it does not rush to the decision. He added: "Our Russian friends who were with us in difficult moments should have advantages in the Iranian market ... But Russian companies must hurry to find their niche in our market, and not to delay, fearing Western sanctions."
Apparently, Russia will build the second reactor in Bushehr, despite American threats. February 24
RIA News"
handed the statement to the deputy head of Rosatom for international cooperation Nikolai Spassky. He said that the negotiations of the Russian company with Tehran on the possibility of building new power units of the Bushehr NPP are in the "working" stage.
However, a new player entered the political game - Kuwait. They said they were afraid of nuclear construction.
Construction by Tehran of the second unit for nuclear power plants causes concern, said Kuwaiti ambassador to Russia Abdulaziz Ahmed Saud Aladwani. "The construction of new reactors in Iran on the coast of the Persian Gulf, of course, causes some concern. We are interested in keeping our region safe. Building in such an active region creates a very serious problem for us: if, God forbid, a large-scale earthquake occurs, it will be a disaster. And, of course, this is not the only problem that worries us, "the diplomat said at a press conference in RIA,"
News
"Dedicated to Kuwait's Independence Day from the British protectorate and the Day of the country's liberation from Iraqi occupation.
According to Aladwani, the Kuwaiti side expressed its concerns at a meeting with the Russian Foreign Minister at the ministerial meeting of the strategic dialogue "Russia - Cooperation Council for the Arab States of the Persian Gulf". "Russia looks at this problem somewhat differently, but we were able to reach an understanding that it is necessary to ensure the security of the Persian Gulf. And Moscow, of course, is also interested in ensuring that this region is safe, "the ambassador said.
In conclusion, it should be added that Iran's desire to conclude a major trade transaction with analysts with Russia
explain
Tehran's desire to tap into "oil money." The fact is that sanctions from the US and the EU against the oil and several other sectors of the Iranian economy are still in force. Iran thus wants to circumvent the oil export embargo and invite Russia to participate in a number of infrastructure projects.
Observed and commented on Oleg Chuvakin
- especially for topwar.ru