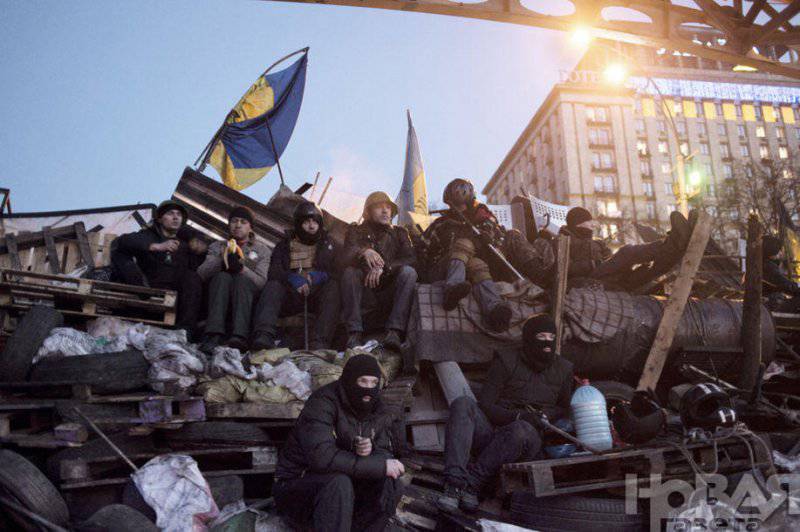 I was ashamed of being Russian. I was embarrassed for myself, for my relatives, my ancestors. My God, as far as we, Russians, it turns out, are wild, uneducated, and svolochnye people! How much dirt and blood from us. We live in the cesspool, dirtied the sixth part of the land and tried to drag the neighbors into our trash. Here the Poles, Bulgarians, Balts were lucky - they broke with the stinking scoop and became normal European countries. And we, Ukrainians, Ukrainians and despicable Russians (but I don't want to be despised by myself), will soon be normal Europeans. Yeah, like in France. And these stupid and boorish Muscovites let them go through the forest, taiga, tundra and ... to their very Moscow. And I, who am I?
Being a part of the great and mighty is great. To be an accomplice and descendant of the empire of a thousand-year slavery is somehow not very.
My beloved grandfather won the autograph on Berlin and left the autograph on the Reichstag, and on the way to the Nazi capital, in passing, Bandera crushed like bedbugs. The man was solid, and he would be terribly angry, first of all, at himself for not having passed on all of them. It is good that he does not see everything that we see on TV.
His future son-in-law and my great-grandfather received a year in prison for refusing to buy defense loan bonds; after being released, he very quickly died of tuberculosis. And his own daughter, the future wife of a man who conquered to Berlin and left an autograph on the Reichstag, and on the way to the Nazi capital, in passing Bandera, pressed bugs like a bug, until the end of his days on the windowsill he kept Stalin's portrait. That same Herod, who forced her father to buy defense loan bonds, so that his future father-in-law could leave an autograph on the Reichstag, so that my mom and dad, me, brother and sister could be born.
My great-grandfather did not want the means necessary for the survival of his daughter and the rest of his children, to give for some distant goals, he wanted his grandchildren and great-grandchildren, including myself, to be born. My grandfather wanted the same thing, his future father-in-law, the man who finished war with Berlin and left an autograph on the Reichstag, and on the way to the Nazi capital, in passing, Bandera crushed bugs.
It was a terrible time, even on the front line, even thousands of kilometers from it, in a distant Ural village (now some of the pro-Western "historians" ponder us with those deaths and those deprivations. Where would they be, if not our grandfathers and great-grandfathers).
My grandmother, I remember, in front of the window sill with Stalin was a red corner with an 19 icon of the century, saved by her as a child, at the hands of evacuated Jews from Lviv region, including those from unbridled Bandera, whom her future grandfather would crush like bugs in passing. Not dodavil. It's a pity.
The evacuees were given a house near a closed church, and they prepared firewood from the iconostasis all day, and she kept one icon.
A Jewish child who was born in an evacuation in one of thousands of similar villages, when he got a gray beard with a wedge and got rid of the party card that was no longer needed, for two semesters in class
stories
Ukraine taught me, a person who had moved as a child for 3 before the USSR broke up from one part to another, Russophobia, contributed to my reading of a whole pile of books, scrupulously scribing out of me, a Russian, a real Russophobe, passionately and enthusiastically trampled the remnants of my pioneering self-awareness and pride of the motherland. My, the grandson of one of those who saved him and his family from inevitable death. He ridiculed, reinterpreted, juggled with facts and frank fiction, and I, quite young and curious, eagerly absorbed all this. Now it is very disappointing that my parents paid money for this "education", for those times a lot.
Then we moved to Russia, I got into a different cultural environment, and gradually my mind was cured. I became Russian again. I even remember the date when I finally realized my Russianness: March 24, 1999, on the day of the start of the NATO bombings of Yugoslavia. Even in protest, I stopped watching MTV, which had always transmitted me non-stop directly to my brain. Do not laugh: for me it was a very serious personal protest. And quite hard, as for someone to quit smoking.
And someone is not lucky, his zombie long and carefully. This hulk was first taken away with pride for the Motherland, then they taught her to despise, then instead they slipped into Batkiv's region, and explained that the Motherland is such a big, smelly heap, and Batkivshchyna suffered and suffered from it all the time, suffered and suffered, but there was a disdain, and now we are all svidomye homicides. If Muscovites again show their snouts, then you need to fight them back. Heil Hitler, in a word. In the sense of "glory to Ukraine." I could easily be there, waving the yellow-blooded, jumping like not Moskal and cursing Russia. Good thing I'm Russian again.
What then to speak about zapadentsev, about Lviv, if the anti-Russian mutation there occurred a century ago and is transmitted at the gene level. Now it's almost indecent to talk about ethnic community with them, but they are of the same root with us. For me, those who are possessed with madness on Independence should be treated with water cannons and batons, sent to a government house, and someone should be treated more easily, so that the infection does not spread.
By the way, the only advantage in all of this orgy in the Ukrainian lands occupied by the banderlog-revolutionaries will be the rejection of ordinary people of the anarchy that maydanstvuyuschie. The path that Russia has taken, and Russianness in the minds of many Ukrainians for a long time: irritation - rejection - hatred - search for a different identity, under the "wise guidance" of self-proclaimed gangsters, political svidomity and russophobia will be overcome in the same way. The faster, the sooner personal security, food, medical care disappears. And these things under the "control" of Bandera disappear simply rapidly.
According to Yandex, 70% of requests in the network in the same Lviv takes place in Russian. It's funny when it turns out that in many cases, notebook ukronatsionalisty in everyday life prefer great and powerful to their Move. This suggests that, in private with themselves, the inhabitants of the west of Ukraine still feel a certain commonality with us, they just despise and hate everything Russian, embarrassed before each other the Russian word. All this is the result of competent work in the field of culture, ideology and propaganda. Where is Russia's counterplay on this field?
In order for the hopes and aspirations of the people of Ukraine, and of all the other neighbors, to be associated with Russia, it is necessary that any mention of our country caused not "fu", but "wow". We need to grow and develop, defeat poverty and corruption, build new cities and revive villages, increase birth rates and improve health care, revive the army and navy, fly into space without falling, learn how to build roads and affordable housing, tie up with booze and dope, yourself proud of your country.
It is very important to broadcast all the positive things that we have, even those scanty and half-hearted ones, like now (although in recent weeks a contrasting picture has turned out to be beautiful: we have a fabulous olympiad and Maidan ...). We must be able to freely convey our thoughts, ideas and vision of the world to the temporarily occupied Little Russian lands in order to regain them not only economically and politically, but most importantly - mentally.
For this, the role of the subject of HISTORY and other humanities is important. Very important. Modern Ukrainian youth is brought up on the example of Mazepa, Petlyura, Bandera, Shukhevych and other Russophobes, the enemies of united Russia, the minions of our enemies. It is necessary to counter them with Alexander Nevsky, Dmitry Donskoy, Alexander Suvorov, Pavel Nakhimov, George Zhukov. Those outstanding personalities who did their best and even more for the sake of our common homeland.
The humanities teach youth what is good and what is bad. A tractor who has learned to drive a tractor can go to the field, and maybe send it to peers - conscripts, who had several different teachers, and therefore life foundations, and who stood to the end until they were betrayed.
I wonder what grades young Yanukovych had on history and what lessons did he learn from her?