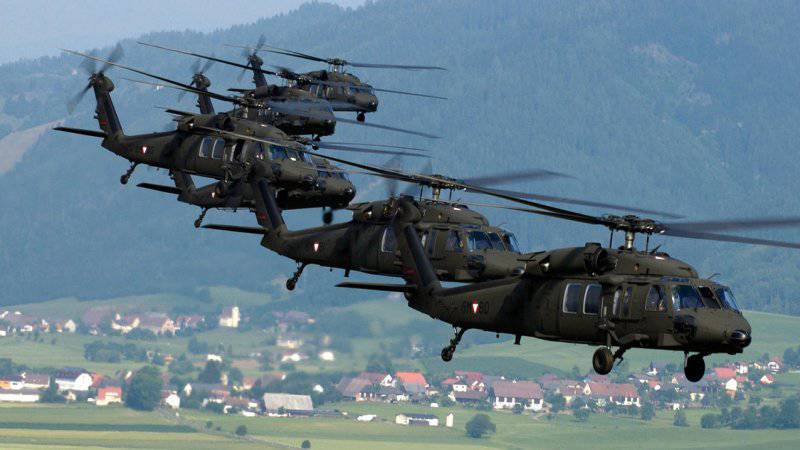 Turkish Prime Minister Recep Tayyip Erdogan 21 February announced the signing by the government of Sikorsky Aircraft of a long-term contract providing for the joint production of multi-purpose T-109i helicopters 70.
As the prime minister said at the ceremony of handing over the first long-range radar detection and control aircraft to the Turkish Air Force, the cost of the agreement on T-70i helicopters is 3,5 billion dollars.
In May, the 2013 of the year during the IDEF-2013 exhibition in Istanbul, the Turkish Defense Industry Secretariat (SSM) announced that the lengthy negotiations with the American company on the licensed production of the Black Hawk multi-purpose T-109i helicopters were almost completed. However, then the SSM leadership repeatedly accused the American corporation and other "bureaucratic institutions" of delaying the conclusion of the contract.
The program for purchasing multi-purpose helicopters for law enforcement and other government agencies in Turkey has continued intermittently since 2005, when the first tender for the supply of 52 helicopters of this type was announced.
The latest version of the program provides for the delivery of seven 109 helicopter operators in two configurations (with an option for 12 additional machines), including 30 units. for gendarmerie on 20 units - For the Ground Forces, Police and Fire Service of the Ministry of Natural Resources and Forests, 11 units. - special operations forces and 6 units. - for the Air Force.
In the final stage of the tender, Sikorsky, selected as the winner of the competition in April 2011, offered the T-70 helicopter to Turkey's security forces, which was adapted to Turkish requirements with the S-70i version of Black Hawk International. The rival of the American company was Agusta / Westland with a multi-purpose helicopter of the new generation TUHP-149 (Turkish Utility Helicopter Program), developed on the basis of the AW-149 project.
The assembly of helicopters will be carried out in Turkey. As representatives of the Sikorsky company said earlier, about 67% of the production of T-70i will be carried out by Turkish companies.
Türkish Aerospace Industries (TAI) will be the main contractor, will carry out the final assembly of the helicopters and will receive a license to manufacture the wing, cockpit and cockpit components T-70i. Aselsan will manufacture electronics, including a set of avionics equipment. According to Reuters, Aselsan has already signed a contract with TAI that costs 491,5 million to supply components for helicopters.
A joint venture with General Dynamics - Tusas Engine Industries (Tusas Engine Industries) - will license the T700-TEI-701 engine and gearbox under license, and the Alp Aviation joint venture (Alp Aviation) - transmission.
In the future, various Turkish government agencies may place orders for the supply of up to 600 new helicopters, the total cost of which will exceed 20 billion dollars.
Turkey will also take part in the further development of the helicopter and will receive the right to export T-70 abroad.