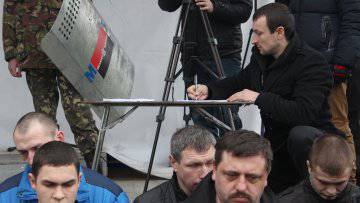 In Lutsk, around 40, the special forces "Berkut" officers wrote reports on the dismissal on the scene of the local Euromaidan.
Public interrogation and apologies of the workers of the "Golden Eagle" were staged at 16.00 on Lutsk Theater Square.
Employees of the "Berkut" were kneeling, reports resource "Volyn
news
". The leader of the Right Sector, Pavel Danilchuk, announced to the people that the military would kneel if they wanted to.
One of the representatives of the "Berkut" said that he was following orders from the head of the regional police, Alexander Tereshchuk and his deputy, Vladimir Polishchuk.
Special Forces fighters were supposed to appear before the public even 22 February, but the meeting was postponed. February 23, in turn, each employee of the "Golden Eagle" went on the scene and answered questions.
In particular, whether they were involved in suppressing protests in Kiev, they used force and
weapon
against people, how much money they got and are they ready to ask for forgiveness.
Part of the fighters during the riots in Kiev was not. Someone claimed to be the only driver. None admitted that he shot and beat people. Some of the fighters were in the capital for almost two months, starting from 24 in November 2013 and received, according to them, a reward in the amount of 10 thousand UAH.
In addition, the "Berkutovtsy" claimed that they were not given weapons, but only special means - batons, gas cartridges and shields. And in recent days - "thrown like kittens" so that they could get on their own from Kiev.