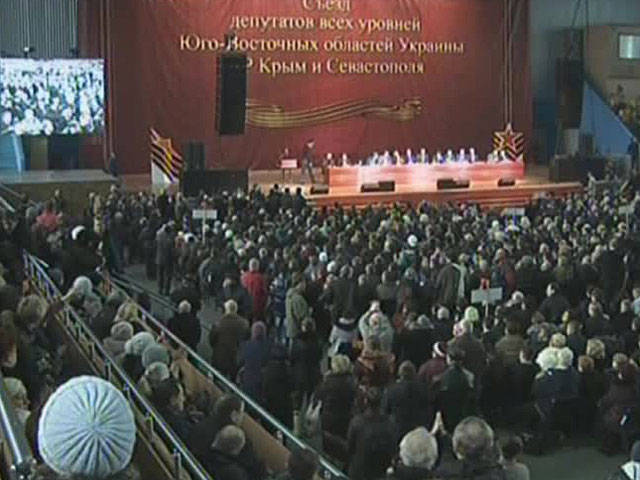 At the congress of deputies of local councils of the south-east of Ukraine, which was held at the Palace of Sports in Kharkov, 3477 people's deputies from the eastern part of the country arrived. According to Mikhail Dobkin, chairman of the Kharkiv Regional Administration, they gathered to "save the country."
The congress participants spoke in favor of the peace and unity of the country. Mikhail Dobkin stressed that Ukraine needs "peace and law" and promised "not to allow fascism." The head of Kharkiv, Gennady Kernes, stated that the congress is an attempt by "adequate politicians from the east of the country to stabilize the situation." He admitted that he and his colleagues were threatened, but noted that they "will not retreat" and "will stand to the end."
Verkhovna Rada deputy from the Party of Regions Vadim Kolesnichenko called the events in Ukraine a coup d'etat and stressed that each region must "develop in proportion to their contribution to the economy."
Oleg Tsarev, deputy head of the Party of Regions faction of the Verkhovna Rada of Ukraine, noted that an armed seizure of power had taken place in the country. He urged the participants of the congress to do everything possible so that this did not happen in those regions where a stable situation still exists, in particular, in Dnepropetrovsk, Kharkov and Crimea. According to Tsarev, there are no guarantees that 20 thousands of armed people from Kiev will not be in the south-east of the country. He stressed that the main task is "not to allow chaos."
Russia was represented at the congress by the head of the Duma committee on international affairs, Alexei Pushkov, the governors of the Voronezh, Belgorod, Rostov and Bryansk regions. Their performances were greeted with applause, ITAR-TASS.