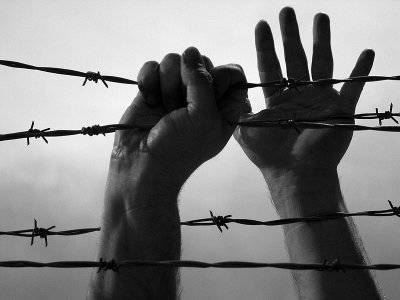 Once, long ago, when the sky was bluer and the birds sang louder, there were free people. They plowed, sowed, hunted, rejoiced at life, bred and multiplied. They knew what is WILL (an interesting word!) And could use it. These free-will nations sometimes even fought with each other until blood. But in the end, CONSCIENCE (one more word) told them that they were free nations. After that, they lived peacefully, understanding each other. As time went on, these FREE "uncivilized" peoples had a common
история
which they were proud of, heroes and leaders whom they sometimes respected, and sometimes loved. They knew that WILL and CONSCIENCE are not material entities and do not bring personal gain. Sometimes they can be sold, but you can never buy! It was understood even by their children, who respected and loved their history and their heroes!
But then the idea of ​​a "civilization" came to one "smart" head. And here are some of the Freedom peoples decided to get rid of unnecessary WILL and CONSCIENCE and buy FREEDOM (and freedom - running goods). They became "civilized" and got FREEDOM (a very interesting word). Now needed "civilization" slaves. The "civilized" began to freely fight with free nations and force them to work for themselves. But the "civilized" ones could not take away from the backward the WILL and CONSCIENCE. As a result, these freemen were either forcibly turned into slaves, or completely destroyed and occupied their territory with their "civilization". "Civilization" was first carried with a sword, then with a gun, cannon and machine gun, "humanitarian bombardments". The "uncivilized peoples" sometimes chased away the "civilizers", and then for a long time were proud of their history and their heroes. But they were "uncivilized."
But the "civilizations" needed new and new slaves, and therefore she was looking for ways to get them and developed. Or rather, developed the techniques of "civilization". The "civilized" pulled out of a distant history, corrected and edited the word DEMOCRACY to fit their needs and called themselves beautifully Democrats. I also understood "civilization" that free nations should not be driven into slavery in the forehead. Itself is more expensive. Then she came up with another cunning move - the offensive definition of "uncivilized" was removed from the turnover. Free nations have become "undemocratic." The leaders and heroes of these peoples became tyrants and obscurantists, who do not give people freedom, and the accomplices and traitors of a free people became the agents of "civilization", "democracy" and "freedom". It does not matter that these "conductors" have elbow blood in their hands. The main thing is that they are tame, lured and sing what they need. The main thing is that they do not have what cannot be bought - it is sold by them, - CONSCIENCE. The "civilized" tried to replace the children of FREE "uncivilized" peoples with education so that they did not know their proud history, and replaced it with mud. Thereby undermining their will, preparing for the sale of conscience. As a result, the children of the once-free-of-charge Peoples peoples with pleasure began to sell CONSCIENCE in order to get an extra cookie, gingerbread, car. And as adults, they could not stop. They need an extra car, a yacht, a villa. So, basically for the sake of "Ponte." Moreover, the "civilized" have introduced the concept of "success", which implies only personal gain, and everyone who does not think so - "suckers", "sucks", "losers".
And now in the former FREE peoples, the people who have passed the WILL, sold the CONSCIENCE and received FREEDOM, kill others who have left the WILL and CONSCIENCE, only to break through to the trough that the "civilization" promised them. But the feeder put PIGS (and this word is interesting) to fatten them and score. For the sake of "civilization". But this will not get the freedom.
And now consider the words used in this story, based on their historical roots:
- WILL is the core of a person, a nation, based on their history and heroes. It is handed down from generation to generation by inheritance. It is wrong to understand WILL as "do what you want" - this is chaos. It is possible to interpret this way: VOL-I is a strong, powerful animal that can stand up for itself, work, knows its value, but does not forgive when it is taken out.
- CONSCIENCE - CLEE VEST. An old Russian word meaning VEST from above, emanating from the Heavenly Forces. "Follow the CONSCIENCE" - follow the advice of the forces of heaven. Therefore, conscience does not deceive. It can be sold, but not bought.
- WILL and CONSCIENCE can not exist separately !!!
- PIG - SOE-STELL-ME. No comments!
Now the most crafty word FREEDOM! I thought about its hidden meaning for a long time - the word seems to be good, but for some reason it more often brings people to Fortune. Why Freedom must necessarily win, why it is so stubbornly imposed - take, get!
Russian language is a wise language!
- FREEDOM, or get FREEDOM, - get CIE-IN-FUCK!
- HAPPINESS - WITH-PARTICIPATION. And nothing else !!! And certainly not "success."
Now everything is in place among the peoples who have passed the WILL, who sold CES-VEST and instead received CIE-IN-BAD !!!
PS I have not seen or heard of paintings, sculptures and monuments, such as "Will" and "Conscience". But it is noteworthy that the sculptures and monuments of "Freedom" and "Justice" are sold everywhere !!!
If you like this story of "civilizations", tell it to everyone!
ALL WILL, CONSCIENCE AND HAPPINESS !!!