I would like to talk about the quality of recruits and, accordingly, about the future and existing contractors. I will give a few examples.
On education. Classes for UCP, the theme is the Great Patriotic War. I ask the question:
- When and how did you start?
"It seems that in the forty-first, the Entente and Germany attacked the USSR," said one of the soldiers.
"The Japanese attacked Pearl Harbor and the Second World War began," the soldier confidently declares.
- Not. It was the USSR that attacked Czechoslovakia, and then Germany, in order to defend itself, attacked the USSR, - says another fighter.
My heart starts to beat less often.
- What countries were included in the Axis? - my other question.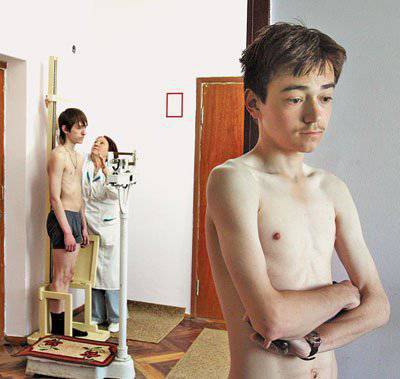 - Britain, Spain, France, Germany and it seems China and Japan. - Brilliant answers just pour in.
- And who fought on the side of the allies?
- Ukraine, Russia, Finland, and anti-fascists.
My heart beats even less.
- Who were the leaders of Germany?
- Hitler!
Well, the good is all remember. And who is Dr. Goebbels?
"This, in my opinion, is connected with Sherlock Holmes," replies several soldiers, agreeing to each other.
"Yeah," I say. - "The Adventures of Sherlock Holmes and Dr. Goebbels," probably everyone read.
Brilliant answers simply fell on this topic. But maybe we know something else?
- First cosmonaut?
- Gagarin! - solemnly announces the whole platoon.
- First female cosmonaut?
"Alice Ka, Ku, Ko, in general, something like that," says one of our heroes.
"Yes," I reply. - And she flew to the planet Shelezyaka, search for the missing captains.
Due to the fact that my heart has already stopped, I decide to punish those responsible for the collapse of our education, and together we begin to shake America (who is not in the subject, we start pushing up).
People come with higher education, just graduated from school, and give out such that you stop believing in some bright future there. Sometimes they do not know simple, elementary things. The sun revolves around the earth and the like is the most innocuous "pearls".
About physical development. When people come to special forces and can't even pull up FIVE times, 20 just wring out, there are no words. They come, put their legs apart, close their eyes and say: "That's it, I'm ready, make a special forces out of me." But, guys, the Soviet Army, unfortunately, is no more. The cartoon "About Sidorov Vova" in the Russian army already "does not channel." "If you don't know how - we will teach, if you don't want — we will force." We, of course, if you do not know how, then we will teach, however, if we are able, but no one will force. Nobody needs that.
About health. Well, about this, and so everyone knows. Category A is simply worth its weight in gold now. I remember, came the replenishment of the SHMS. Here you all know, kvass or milk is poured into such barrels. So, imagine that this barrel has grown legs and arms. Two such barrels arrived, they even could not wear the berets, because their legs did not fit, they walked in slippers. And they talked with everyone so condescendingly that Mama did not grieve. Well, Moscow recruits differ in some special Ponte. But after some preventive strikes began to behave much easier. In general, a lot of fun went through our SHMS. They were prepared for three months, and they went to serve further, there was little left. I was already in the detachment and we crossed paths only in the canteens. And in the teams with health everything is not bad. Although it was a funny case. The guy started having sharp pains in his stomach, as it turned out later, the acute principle of appendicitis, well, and his colleague took him to the medical unit, and shortly X-NUMX meters from the presenter an asthma attack occurs. And they barely crawled these 30 meters. Oh, and laughter, and sin.
Of course there are people who know well
history
, math and stuff, there are superbly prepared physically. But if for the Soviet Army it was the norm, then for the Russian Army this is already some of the greatest achievements. Now began a massive set of contractors, but the quality of them, to put it mildly, leaves much to be desired. Slag very much.
I am writing all this mini-narrative, so that we again chase not for quantity, but pay more attention to quality. It is possible and 200, and 300, and 500 thousands of contract soldiers, but there will be little confusion. And of course, this is a topic about a catastrophic situation in education. This is really a disaster. And every year it does not get better, on the contrary, they know less and less and pull up less. But, nevertheless, it remains to believe in the best, because "hope dies last."