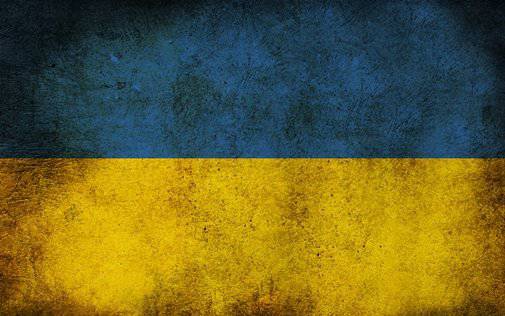 21 February 2014 as a result of a coup d'état, organized by Klitschko, Yatsenyuk, Pyagnibok, as well as a whole cohort of less visible "politicians" and outspoken extremists, the state of Ukraine de facto ceased to exist. Unfortunately, this is not the plot of a cheap fiction novel in the "alternative
stories
"And the harsh and terrible truth. It is very likely that the official "date of death" will be clarified, and this February day will be the beginning of a long or not too painful agony. However, the Ukraine that has been present on the map of Europe since 1991 of the year will never be.
But the Ukrainian people remain, before whom again stand two great sacramental Slavic questions: "Who is to blame?" And "What to do?". I gave the names of the criminals above. Of course, one should add to them Viktor Yanukovych - the one who struck the last fatal blow. But the answer to the second question, alas, will no longer be the Ukrainian people. Now our fate will be decided by the true leaders of other states. Fifty years ago, in such a situation, no one would have been surprised if Russia, Poland, Romania and the rest of the neighbors would simply have deployed troops, trying to break apart the remnants of the country. Now such a turn of events is almost impossible, after all, people are changing, and the way of conducting politics is changing. Open occupation of the territories will not happen for a number of reasons that are not so important as to dwell on them.
I am not an astrologer or a political analyst (it is not known, by the way, from whose lips true predictions are heard more often) to guess the future, and I don't want to talk about that. I am a citizen of Ukraine, and before that I was a citizen of the USSR. Not much more than thirty years of life have stolen two homelands from me. I hardly remember the first one, in order to grieve about her in particular, and in childhood any losses are less painful. However, I know for sure that the first Motherland was strong, it was respected. Then there was the second, Ukraine, which is as dear to me as the first. Its main advantage was not in the strength of the army and economic power, but in peace. We could all be proud of Ukraine (at least for peace) even in the era of the most difficult trials. In the dashing 90, when a mighty Russia got an unhealed wound of the Chechen war, the Ukrainians said that "we don't have that, it's quiet here." And it was true. Not such a small achievement, even if one of the few that the country has achieved and has kept for twenty years. Today Ukraine was stolen from me, raped on the Maidan and killed. Tranquility if it returns, it is not very soon and no longer in this state.
Homeland must be protected, you say, and you will be right. In Kiev, I was not when all this happened, I did not defend my homeland. No, I will not repent, that is not my fault, because Ukraine as an independent state had citizens who took the oath and the obligation to protect her and me, all the others. The army and the police were supposed to be on guard. In these frosty winter days in Kiev, both these structures performed their duty with honor. Those guys from "Berkut" and "veveshniki", who gave their lives for their homeland, deserve all the respect. As for the army, its leadership made a promise to maintain neutrality and kept this promise. I think that this is exactly what needed to be done, for which a special thank you, otherwise there would be much more blood on the streets.
Well ... I remembered my untimely deceased Motherland. I was also hurt only that day when my mother died. For the first time since that day, tears come to my eyes. In no article can I convey what I feel now (I say "I", but I cannot believe that there are no people who are experiencing or will soon experience something similar).
And now I want to say something else. Completely different. On television in such cases, warned: "Take the children away from the screens." No, I can restrain myself, of course, otherwise the material will become unprintable, but I know that you will understand me. I will blame because I have the right to this as a citizen of Ukraine. And blame the names and details.
Viktor Yanukovych, President of Ukraine. I, a citizen of Ukraine, accuse you of treason and the collapse of the country. I blame the killings of civilians, police officers and internal troops, as well as the death of protesters from the Maidan and even extremists, because they had to be arrested and put on trial, but not killed, like dogs on the street. The blood of all these people is on your conscience, no matter who put the trigger. Blame the criminal inactivity and cowardice. It was you, the president, who had to make key decisions in a difficult moment, but did not make it. Your blood has been shed. I, a resident of the Donetsk region, am proud that in the last election I did not vote for such nothingness.
Oleg Tyagnibok. You are a frank Nazi, and this alone is enough. No charges would be required anymore. But still clarify. I accuse you of calling for an armed uprising against the law and seizing power. I blame the support of armed extremists. Your personal fault can be easily proved. There are many video footage of how you are calling for a riot from the Maidan's rostrum. "We don't need elections, because we won't be able to win them!" I quoted your recent words. You knew that the Nazis would not win the elections in a country whose people know what fascism is better than anyone else. And therefore they acted as it should be for a real Nazi.
Arseniy Yatsenyuk. I accuse you of calling for an armed uprising against the law and seizing power. In contrast, you are not a Nazi, and this is undoubtedly a mitigating circumstance. Nevertheless, your fault before the Ukrainian people is beyond doubt. Let me remind you personally that the population of Ukraine is not only radical people of several regions.
Vitaliy Klichko. You are a very special person in this click. Who could have imagined you in the company of the organizers of the coup a couple of years ago ?! You were the pride of Ukraine. Only out of respect for past merit, I would not really blame you strictly, but what you did, what you said, would be enough for a decent period of time behind bars. However, what is the merit? This is just a sport, but it's cynical to trample on the Constitution - there's no sporting merits of blame.
But do you really care about my accusations? Winners are not judged, especially when the winners themselves are judges. So come for congratulations to Donetsk, for example, or to Lugansk, or to Kharkov. All together, revolutionaries, bolder! Look into the eyes of the people who did not choose you and that you are now going to rule. You have been waiting for a long time, oh, how are they waiting ...
And the last. There, on the Maidan, shouts of "Glory to Ukraine!" Are often heard. Here only those who have no moral right to it shout. It is not for you to shout, criminals and traitors! Not to you who drowned the capital in blood! And I say: "Glory to Ukraine!" And the eternal memory ...