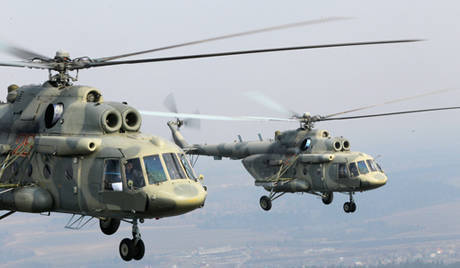 The Russian Federation plans to deliver another batch of Mi-17 helicopters to Afghanistan. Russian aircraft - the most reliable, proven and easy to maintain. Due to such characteristics, they are in great demand among the Afghan military and leave behind the products of the American manufacturer Sikorsky, expert Vadim Kozyulin is sure
Russia will supply an additional batch of multipurpose Mi-17 helicopters to Afghanistan. This was announced by the Special Representative of the President of Russia for Afghanistan Zamir Kabulov, ITAR-TASS reports.
In just the past two years, Russia, together with the Americans, has delivered 33 Russian Mi-17 helicopters to Afghanistan. Earlier, Americans have already acquired two dozen such helicopters to strengthen the Afghan armed forces.
The Pentagon planned to continue procurement, but in the US Congress are unhappy that the United States is purchasing military equipment from Russia amid disagreements over the Syrian crisis. In December, Congress demanded that the Ministry of Defense cease cooperation with Rosoboronexport.
Why Afghanistan is seeking to buy Russian helicopters, Vadim Kozyulin, a senior researcher at the Center for Political Studies of Russia, a professor at the Academy of Military Sciences, told Golos Rossii.
- What do you think will be the reaction of the Americans against the background of these events?
- Their reaction is already known. Congress opposes the procurement of Russian weapons. As already mentioned, the reason is Syria. But, I think, Ukraine will also increase. It is also important that the Americans have their own manufacturer, with which Russia competes in Afghanistan - Sikorsky.
Nevertheless, the American side will be forced to return to the Russian deal. Our helicopters are the most reliable, proven vehicles known in Afghanistan.
- There he has no equal?
- Yes, absolutely. It does not require serious maintenance, which requires an American helicopter. He is more hardy. Its carrying capacity allows it to deliver large loads to greater heights. And most importantly, it is easy to use and familiar to Afghan pilots.
- Can there be another friction between the leadership of Afghanistan and the Americans because of this deal?
- The Americans are funding this deal, and in fact it is a gift for Afghans. Afghans may insist that these are Russian helicopters, but the key to resolving this issue lies in American hands. I do not think that they will have serious disagreements on this issue, if they ever arise, especially against the background of those that already exist between Hamid Karzai and Barack Obama.
- While there is only a preliminary agreement on the signing of the contract, the timing of its signing is not reported. What do you think when Kabul gets these helicopters?
- I think that Russia is able to fulfill such a contract within a year.
- When a country, in particular Afghanistan, buys such equipment, should Russian specialists take any part in its maintenance and operation?
- I think it is quite possible. I assume that this is all covered by the contract, namely technical assistance, and, most importantly, the supply of components and spare parts.
- You talked about US financing. It turns out, is not Afghanistan paying?
"Afghanistan is a bankrupt state." All of his military contracts are paid from the budget of American taxpayers.
- It turns out that Americans can reject this deal. Do they have any leverage?
- Of course. A lot was said about this, there was a big debate in the US Congress. US congressmen are lobbying for the interests of Sikorsky and opposing this deal.
- Do you think it will take place?
- Circumstances dictate that it take place, because the situation in Afghanistan will worsen, and without Russian helicopters it is already difficult for Afghans, and after a while it will be simply impossible. The Afghan military says that the lack of helicopters is the main problem for the Afghan army, besides the lack of armored vehicles. It is numerous, but it is poorly equipped with technology, especially - helicopter.
- Now the Afghan military are undergoing retraining in order to understand how the helicopter works? Or do they know her very well?
- Russia, as is known, is ready to render any assistance to Afghanistan, besides directly military. The Russian Federation warned in advance that it would not send its military specialists to Afghanistan. With regard to the training of military, police, fighters against drug trafficking, and so on, Russia has always stated that it is ready to provide all-round support in these matters.