An increasing number of people are ready to call what is happening in Ukraine a civil war, chaos and anarchy. Taking out the causes of the bloody massacre, people clearly see before themselves the complete helplessness of both the representatives of the so-called opposition and the toothlessness of the current authorities. All this thick bloody brew turns one of the largest states of geographical Europe, a state with nuclear energy, developed industrial complex and incredible potential into something medieval.
Fears of understanding their own impunity, the thugs, who managed to turn into typical militants in just a few weeks, with an animal grin and wild screams in the euphoria, puncture the eyes of the law enforcement officers, slaughter the police officers lying on the ground and ordinary ordinary 18-year-old soldiers of the Internal Troops, do not even spare those who have no relation to the authorities either (for example, killing the guard).
In a short period of time, people turned into nonhumans, cast the once flourishing republic into a civilizational chasm, in which there is no room for development on a constitutional basis, there is no place for fulfilling social obligations, there is no place for humanity, in the end, but there is a place for direct and overt fascism - ideology that retained its rotten grain in the heads of a number of Nazi nedobitkov and their descendants.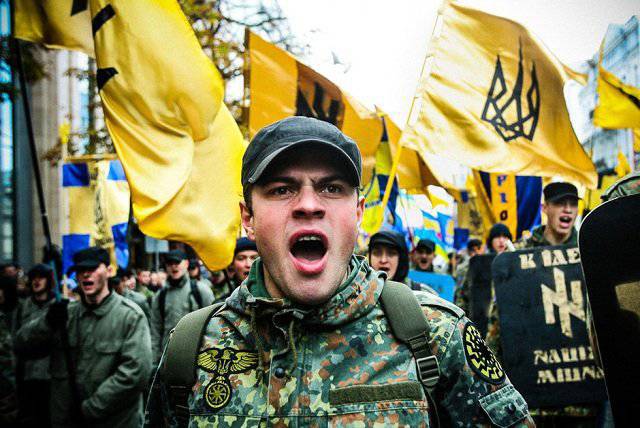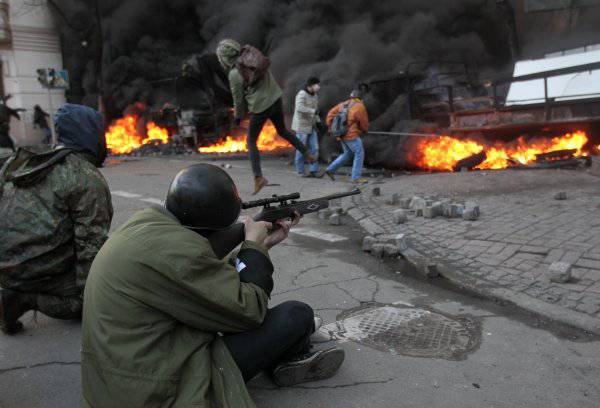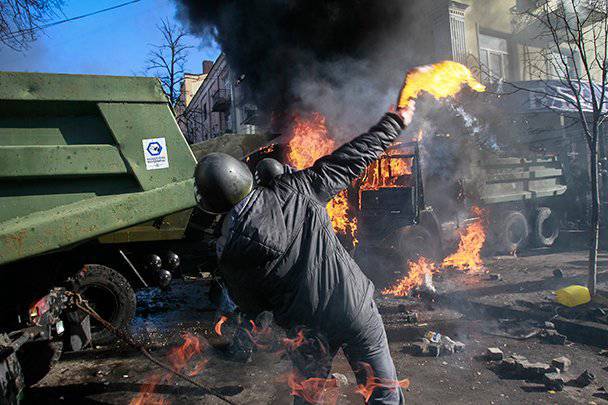 One can argue for a long time about the fact that Ukraine needed timely political decisions, that the Ukrainian legitimate authorities initially lacked consolidation, that the blame was on the corrupt elite. However, today these arguments no longer mean anything. Ukraine has what it has. In the last few days alone, 15 law enforcement officers died in Kiev, and about 200 police and internal troops were injured, of which over 30 are in serious condition. According to the Ukrainian Ministry of Health, the total death toll in the center of Kiev was 77 people. Among them are medical workers, at whom the fire was opened at the moment when they tried to help the wounded "Berkutovtsy". According to the same Ministry of Health, from February 18 until now, about 600 people have applied for medical help in Kiev, of whom almost 400 have been hospitalized.
Violence, smoke, shooting, blood, chaos, death, the removal of any responsibility whatsoever - these are just a few characteristic terms in today's Ukrainian capital and a number of cities of this state.
The horror of the civil war unfolding literally before our eyes in a brotherly country literally overlaps over the edge. Without any exaggeration, you can say: a lump rises to the throat when you look at that orgy, which today manifests itself in the territory of Ukraine! Basically, the foundations of statehood itself are trampled on - the green light is being lit up to extremism. The thesis is proclaimed: "I am not satisfied with the power - do not wait for the elections - overthrow, kill, burn!" It would seem that a complete degenerate can feel a sense of satisfaction from all this.
However, there are still such gentlemen, for whom anarchy, fratricide and other manifestations of a bloody nightmare are unequivocal positive. Honestly, it was always thought that if a person feels a sense of moral satisfaction at the sight of when a brother kills a brother, and when blood flows in streams along the pavement (or because of what remains of it), then such a person clearly has nothing to do with psyche. In this regard, we can say that once again the Russian hyperliberal party has demonstrated that it has long needed to get a subscription for a systematic visit to the psychiatry department.
Distinguished, for example, the main "exposer" of All Russia Alexei Navalny. In his microblogging, commenting on a photo with three criminals defying the seizure of the Ternopil prosecutor's office and posing for cameras in front of the lenses, he said the following:
Perfectly. Better normal people in masks than the usual thugs and thieves in prosecutors' uniforms.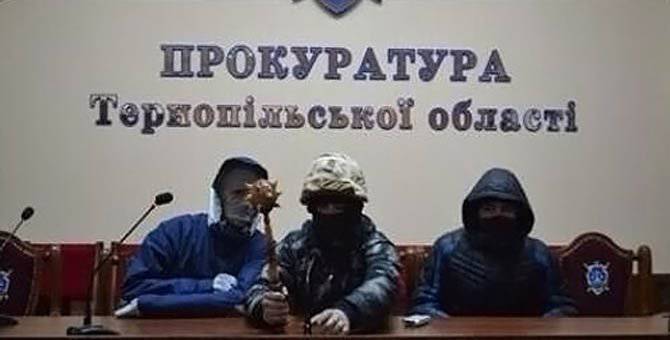 That is, Mr. Navalny not for the first time makes it clear that for him any person in uniform is a priori ("usual") a thug and a thief. And just, you know, Alexei Anatolyevich himself, who, even jumping out of his own cowards, cannot at all please the authorities (and, well, apparently, one wants to - by any means ...) - the baby's tears are crystal clear.
"Excellent" - helps the medical specialists to make a diagnosis of the main "collector of the Russian forest" ... Of course, fine, Alexey Anatolyevich is great when the chairs in the prosecutor's office, courts, police stations (militia) are occupied by people who are ready to cut a man's head just because that he has a Russian or Jewish surname, only because he did not go along with such as they themselves to rob museums and burn the Kiev Conservatory (apparently, indeed, in the conservatory it was necessary to correct something, as Mikhail Zhvanetsky says) .... And how wonderful it would be if people whom Navalny calls "normal masked people" sent "justice" in his own attitude ... Now he would sit at home and score Twitter with "manuscripts" about "freedom and democracy" and "normality" " in Ukraine? It is unlikely ... And wherever, interestingly, Mr. Navalny would run - not to the representatives of law enforcement agencies - if such "normal people in masks" for "mass" and "merriment" took their spouse and Alexey Anatolyevich's children into their hands? Perhaps, after such a turn of events (and it would be completely possible, because, as you know, the revolution devours its children), a graduate of Yale University (he is A.Anavalny) could correctly evaluate the term "normality" ... It's a pity that so far can…
By the way, for those who are not in the know need to be reminded: Alexey Navalny is the chairman of the Russian Progress party. Oh how! It turns out, the comrade is expressing progressive ideas ... That is, the leader of the party, which rushes to the power olimps, unequivocally declares that this party supports forceful seizure of power and a priori does not recognize those election results that do not interfere with the interests of the puppeteers of such a party. Here is such a "progressive" political force.
Ksenia Sobchak also decided to remind about herself, having gone to Kiev Maidan one of these days. The Ukrainian national costume, which Sobchak put on, apparently, should have emphasized that she was with the people. That's just how? With those, I'm sorry, ghouls who rush into power, being ready to walk and already walking on the corpses, plundering museums, burning stadiums. If not with them, then Sobchak's comment in one of the social networks looks a bit strange when "Miss-House-Two" was verbally upset that as soon as she left Kiev, there, they say, "it started." Apparently, Sobchak really wanted "action" - to be there to call for throwing Molotov cocktails at the Ukrainian police and rejoice that the next "berkutovtsa" was shot with a sniper rifle.
To find out the names of those who are still satisfied with what is happening in Ukraine in Russia, it is enough to walk in the "marshland" (so as not to wear out) boots on hyperliberal publications and other Twitter feeds ...
The building of democracy is such a thing. PR, PR, PR - even on blood, even on human bones, even on their own mental health problems ...