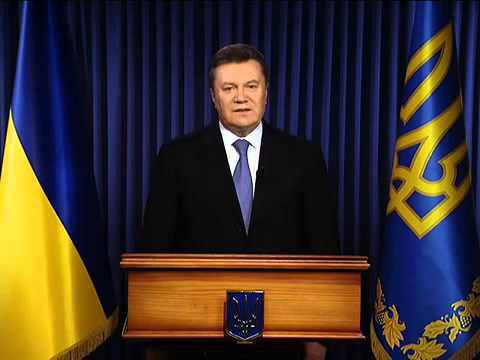 MP believes that the throwing of the Ukrainian president is clear, but it's time to make a choice
Kiev is on fire. The death toll is growing. "Forum euromaidan" supported the call for the use of legal
weapons
in defense of the Maidan. Acting Prime Minister of Ukraine Sergey Arbuzov said that the situation in Kiev is nothing but a forceful seizure of power. The EU is holding an emergency meeting on the situation in Ukraine.
KM.RU correspondent Larisa Mikhailova talked about the current situation in Ukraine with State Duma deputy Yevgeny Fedorov.
- What is happening in Ukraine is both shocking and frightening. What do you think is happening in Kiev?
- There is a struggle between the so-called fifth column (in other words, interventionists) and the forces of national resistance. And, unfortunately, the power of Ukraine is not on the side of the patriots.
- How do you assess the actions of Viktor Yanukovich?
- I draw a parallel between Yanukovych and Gorbachev. Yanukovych was given a similar task - to surrender Ukraine. Nevertheless, he understands that neither the Americans nor the Germans need him, although he is completely tied to them.
Whether he will surrender Ukraine or not, in any case he faces the Hague Tribunal. Maybe the sentence will be softer, but fundamentally it will not change the situation. West holds him for his family, for his son, for business. It is logical that Yanukovych is torn.
For me, his choice is obvious - do not pass. Syrian President Assad also was not a patriot from birth. He also had a family abroad, money abroad, but circumstances arose when either you become a patriot and get rid of tailings in Europe and America, or you wait patiently for the death penalty, as happened with Gaddafi.
Patriots, with all due respect to them, very often choose the side because of the hopelessness of the situation. If Yanukovych cuts off external manipulation, which is 90% of the system with which he is associated, he, frankly, will also not be safe. Where is the guarantee that Russia will not throw it? Russia issued Honecker.
And yet it's time for Yanukovych to make a choice.
- Does the president of Ukraine have no one to lean on?
- Do you remember what made the Ministry of Defense of Ukraine? It declared its "neutrality." Speaking openly, it betrayed its homeland. Under the conditions of intervention, the preservation of neutrality is equal to treason. Look at the Verkhovna Rada: 10% of the Communists, who more or less understand what is happening, the rest are the agents who are just playing the show. Ukraine has created a very powerful fifth column.
"However, she has not yet managed to achieve a final victory ..."
- The paradox is that the intervention was stopped by 2000 guys, "Golden Eagles". Conscripts, young guys. Do you know what their salary is? Total 500 dollars! For this they are doused with gasoline, set on fire, and they stand to the last in position. This is a purely Russian trait. "Golden eagles" are all forbidden; they cannot show strength, as was the case, for example, in Greece. Moreover, if the "Golden Eagle" even look bad - they will immediately be judged. But in relation to the "maydanschikov" - the third amnesty. This is the most obvious betrayal of Yanukovich, his flirting with the interventionists.
- You say so openly: "invaders." "Maydans" themselves declare themselves fighters for the freedom and independence of Ukraine ...
- I suggest everyone to carefully study the so-called unsigned agreement. The "Maidan" all the requirements are collected in large
historical
document. It has 300 pages and 2000 applications.
43: Ukraine recognizes itself as an underdeveloped state in relation to Europe, and Ukrainians as an underdeveloped nation. Such - in the interstate document already signed by the European Union! Based on this position, and all other points in the document are logical.
For example, in Kiev, the power of the European government is established. Most of the government is foreigners, it is allowed to enter several Ukrainian officials, which will not affect the external management regime. How is this different from the occupation of Kiev during World War II? I do not know.
- "Maydanshchiki" require to sign all this?
- Another interesting example is the recognition of the priority of European courts over the courts of Ukraine. That is, any European citizen can be tried at any time by any European court, including for violations on the territory of Ukraine. For example, a German court will call a certain citizen of Ukraine to be convicted by its laws, and Ukraine is obliged to extradite him. By the way, this is not the first time that such a requirement is imposed on Ukraine. In 2001, this proposal was declared unconstitutional by the Constitutional Court of Ukraine.
- Still would!
- Well, as a result, the new government will be tasked with reducing the standard of living in Ukraine, that is, significantly reducing government spending, benefits, pensions, salaries. As an economist, it is obvious to me: somewhere is shrinking - somewhere is increasing. This is actually a tribute requirement.
Therefore, it is obvious: "maydanschiki" are interventionists whose goal is to make an independent Ukraine a colony. I would even call their methods the Anschluss. Ukraine delivered a power ultimatum.
- Is it really not obvious to the people of Ukraine what the "maydanschiki" are striving for? Why are people silent?
- People are under the pressure of propaganda. This is still in Russia there is a little bit of freedom of speech. In Ukraine, only one truth-to support the Maidan.
There is another factor, I call it "betrayal syndrome". In fact, people themselves betrayed their country in 1991, in 1993, by voting for these laws. And it is very difficult for them to admit this mistake now. It was not one person's mistake: tens of millions of people committed it. After all, it was the people who voted for the Constitution of Russia 1993 of the year.
- Perhaps Russia can still save Ukraine?
- Of course. Russia must support Ukraine and, above all, conclude a defensive alliance. The nuclear umbrella will temper the ardor of the West.
Читать полностью: http://www.km.ru/world/2014/02/20/protivostoyanie-na-ukraine-2013-14/732895-efedorov-yanukovichu-v-lyubom-sluchae-gro