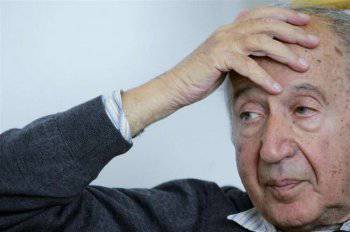 We suggest reading a topical interview with the famous American historian and political scientist, former advisor to President Ronald Reagan, Professor Richard Pipes.
Professor Pipes shared his opinion on the political situation in Ukraine with the American correspondent of the Polish radio station RMF Pavel Zhukhovsky.
- Mr. Professor, what is your assessment of what is currently happening in Ukraine?
- The situation is very sad. Because many Ukrainians, although not all, of course, want to become part of Europe, however, Russia cannot allow this, and in any case will not allow it. It is more likely that the Russians will either force the Ukrainians to abandon their European aspirations, or Ukraine will split into two parts.
- It is known that Russia wants to maintain its influence in Ukraine ...
"Russia has a huge economic influence in Ukraine and in no way will it allow this country to become part of Europe." Ukrainian lands Moscow considers its own. It is just the same as if today California suddenly wanted to secede from America and become part of Russia. For Russia, this is absolutely unthinkable. Therefore, Russia will put economic pressure on Ukraine. And if it doesn't have any effect, she will simply bring in her troops.
- What can the United States do in this situation?
- Very little. America can criticize what is happening in Ukraine. She can criticize Russians for their actions, for blackmailing Ukrainians, and so on. However, the sense of this will be a bit. This question is too important for Russia to be influenced by the United States in some way.
- However, the United States has already threatened with further sanctions, what measures are we talking about?
- What can America do? Almost nothing. After all, she will not break off relations with Russia because of Ukraine? Yes, we need to talk about the situation in Ukraine. President Obama must criticize Moscow for its actions. However, this will not bring much effect.
- And what actions can the European Union take? After all, we are much closer to Ukraine than the United States.
- Yes, too, nothing special. I think all these actions will not have the desired effect. Well, what can they do? Cut yourself off from gas or oil coming from Russia? It is unthinkable. So everything will be limited to empty gestures that have little effect on real politics.
- How do you think the scenario of events in Ukraine in the coming weeks or months might look like?

- There are several options. Either the opposition realizes that it is unable to do anything, after which the protests will begin to calm down. The pro-European movement will weaken, people will lose hope and stop the protests, well, or they will continue and then, from time to time, we will become witnesses of such bloody clashes. Or it could all end with the fact that Russia, in the end, will bring its troops into Ukraine, as it did in Georgia. And the last option is the final disintegration of Ukraine.
- How high, in your opinion, is the likelihood that Russia will deploy its troops to Ukraine?
- This can happen if the Russians have no other choice. For them, this is an extreme case. First of all, they will try to use economic and political levers. The option with the introduction of troops will become relevant only if political and economic actions end in failure ...