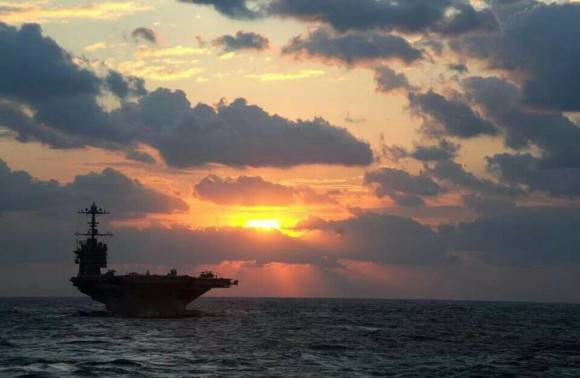 In the US, the debate continues on how many aircraft carriers to have in the Navy, reports naval.com.br 20 February.
The Pentagon's official statement says that under the 2015 budget of the year "most decisions have already been made, some are under consideration." The essence of the question is whether the Navy can continue to maintain the number of aircraft carriers at the level of 11 units.
Many analysts believe that a solution can be found in reducing the number of aircraft carriers, which will allow better financing of the construction of other ships and submarines. The issue of withdrawing USS George Washington aircraft carrier (CVN 73), which will soon need nuclear fuel, is being considered. This procedure is carried out in the middle of the ship's life cycle (25 years after being accepted for
fleet
), after which the aircraft carrier should last another 25 years (a total of 50 years). The US government has made it clear that it will continue to adhere to the number of 11 aircraft carriers in the Navy, but the Pentagon continues to discuss this issue.
According to sources close to the US Department of Defense, 2015 billion will be needed to refuel an aircraft carrier and maintain its combat capability in 4.
Some experts have a positive attitude towards reducing the number of ships of this class to 10 units. An employee of the Cato Institute (Washington), Ben Friedman (Ben Friedman) believes that reducing the number of operational aircraft carriers will equalize the costs between different classes of ships and submarines. "The idea is to rationally approach the financing of the Navy, which will reduce the number of aircraft carriers," said the expert.
On the other hand, some analysts and lawmakers are calling for further support of the number of aircraft carriers at the level of 11 units, and remind that in the 1980-ies their number in the Navy reached 15. Admiral Tom Moore (Tom Moore), responsible for the construction of Ford-class aircraft carriers, believes that "aircraft carriers are no doubt expensive, but it is also clear that they provide more opportunities for ensuring US national security throughout the world." In his opinion, aircraft carriers play an important role for humanitarian missions, as was the case during the disaster in Haiti in 2008 and to support ground forces in combat situations, such as the Afghan campaign.