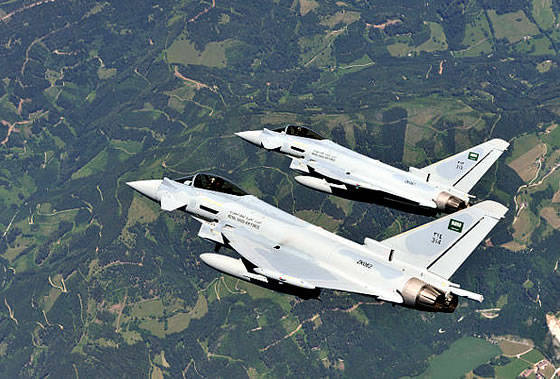 The government of Saudi Arabia has agreed to increase the cost of the EF-2000 Typhoon fighters purchased and make appropriate price changes to the underlying contract.
This removed all existing barriers to the completion of the delivery of aircraft to the Saudi Arabian Air Force by BAE Systems on new contractual terms.
As the press service of the British company reported, the governments of the two countries agreed on the parameters for increasing the cost of the Typhoon aircraft, which are supplied as part of the Salam program. This price is higher compared to the cost parameters that were previously recorded in the contractual commitments of BA Systems in the base contract.
The need to agree on the final cost of the contract arose in connection with the decision (at the request of Riyadh) to finalize the last batch of machines in the amount of 24 units. to the modification "Tranche 3".
According to the statement of the head of BAE Systems, Ian King, the agreement was concluded on mutually acceptable conditions for both parties. Payments are expected to begin in the first half of 2014. Parameters to increase the value of the base agreement were not disclosed.
As TSAMTO previously reported, an intergovernmental agreement worth 4,43 billion pounds (8,9 billion dollars) for the supply of 72 aircraft Typhoon EF-2000, as well as the transfer of production technologies, investment in the sector of the Arab defense industry and the United Kingdom concluded under the Salam 11 September 2007 project.
During the 2008-2011. Saudi Arabian Air Force received 24 Typhoon, including 6 two-seat UBS, manufactured at BAe Systems in the UK.
At the end of March, 2012, BAE Systems, and the Saudi Arabian military, signed a new basic contract, which includes the assembly of the remaining 48 EF-2000 Typhoon aircraft at the company in Wharton (United Kingdom), and not in Saudi Arabia.
This resulted in a 18-month supply delay, which resumed only in February 2013 (and at that time, changes in the contract's cost parameters due to the need to finalize the last batch of fighters were not yet finally agreed by the parties).
As a result, negotiations on amending the contract due to an increase in its value due to the refinement of the last 24 aircraft for the modification of the "Tranche 3" dragged on for almost two years. The parties were able to agree on pricing issues just now.