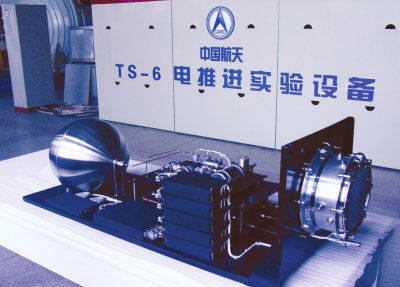 According to the Zhongguo Kesue Bao newspaper, the 510 Research Institute of the Fifth Academy of Aviation and Space Concern CASC successfully completed the development of a new type of ion engine with 200 mm grating diameter, which was tested on board the experimental satellite Shijian-9 ) worked continuously over 9 thousands of hours. This is the first ion engine model for spacecraft in China.
Ion engines are actively used to target Russian and American spacecraft from the 1960-70-s. According to the director of the Scientific Research Institute 510, Zhang Weiwen, so far the Chinese have used chemical-fueled engines in the propulsion systems of their satellites, which have made them heavier. He cited as an example a certain satellite that was launched into a high orbit, in which out of 4,8 tons of total mass about 3 tons accounted for fuel. When using an ion engine, the mass savings would be within 2 tons.
SRI 510 began work on the engine in 2007. Its serial use on Chinese spacecraft is expected to begin in 2015.