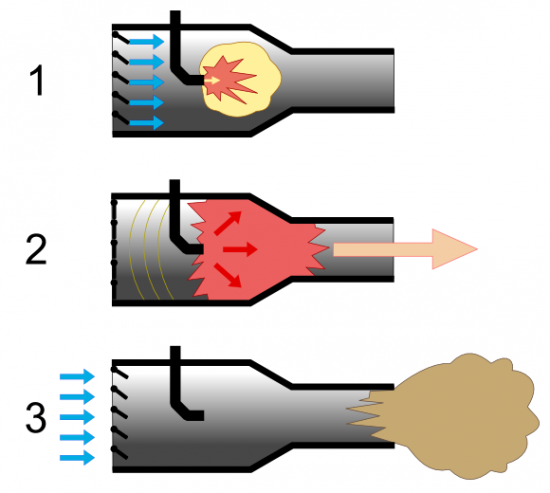 The scientific and technical center named after Lyulka, a branch of the scientific and production association "Saturn", is engaged in the creation of a pulsating air-jet engine. On this, as reported by ITAR-TASS, said managing director of Saturn Ilya Fedorov. The development is carried out in parallel with the project of a promising engine of the second stage ("Product 129") for the T-50 fighter (PAK FA). According to Fedorov, Saturn itself is working "on promising next-stage aircraft," which may be unmanned.
On the development of what kind of a pulsating engine in question, Fedorov did not elaborate. Currently, there are three types of pulsating engines - valve, valveless and detonation. The principle of operation of these power plants is to periodically feed fuel and oxidizer into the combustion chamber, where the fuel mixture ignites and the combustion products outflow from the nozzle with the formation of jet thrust. It is believed that the pulsating motor is simple and cheap to manufacture.
The pulsating air-jet engine was invented at the end of the 1th century by the Swedish engineer Martin Wiberg. The new power plant was developed during the Second World War and was serially used on the German Vau-014 cruise missiles. These missiles were equipped with the Argus As-XNUMX engine manufactured by Argus-Werken. The power plant was inferior in its characteristics to those already available at that time.
aviation
engines, but was cheap and easy to manufacture.
Currently, several large defense companies in the world are engaged in research in the field of creating highly efficient pulsating jet engines. In particular, the work is carried out by the French company SNECMA and the American General Electric and Pratt & Whitney.