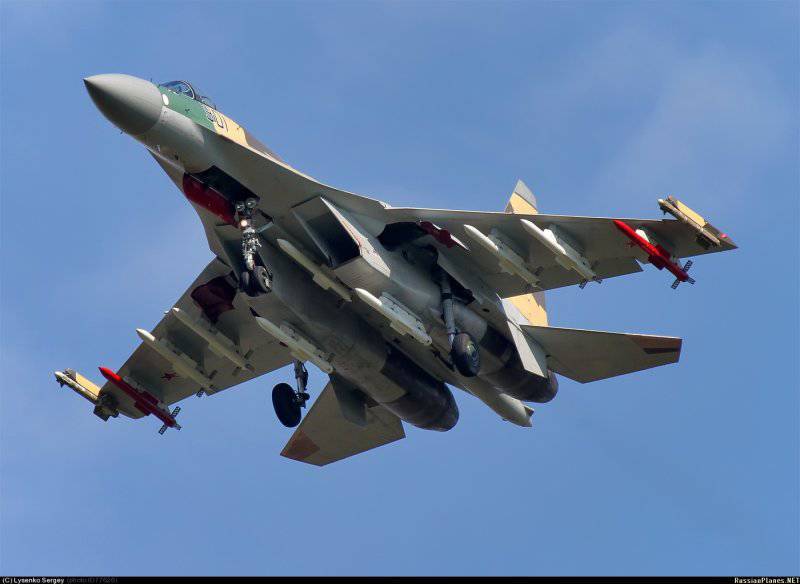 "Russia and China have a clear understanding of the Su-35", - Pogosyan.
The Russian United Aircraft Corporation (UAC) "feels" that it is possible to sell Su-35 fighter jets to China, despite existing concerns about the "Chinese point of view" on intellectual property issues, February flightglobal.com reports 18.
"We have a good opportunity to work with China on this issue (Su-35) despite the successes of the Chinese industry (copying previously delivered Russian fighters)," said President of the UAC, General Director of the Sukhoi company Mikhail Pogosyan. Speaking to reporters at the Singapore Airshow 2014 exhibition last week, Poghosyan answered the question if he was concerned about the issue of respecting intellectual property: "We will find a place in the Chinese market and will find an opportunity to strike a balance against the background of China's success."
The media, citing anonymous sources from Rosoboronexport, report that Moscow and Beijing may sign a contract for 20 Su-35 in 2014.
Beijing is keen on acquiring technology in key areas such as
aviation
engines and avionics. There are concerns in Russian defense circles that China may use the Su-35 technology at its discretion, as was the case with the J-27B fighter based on the Su-11 and the J-15 carrier-based Su-33 fighter aircraft. Poghosyan claims that copying an aircraft (Su-35) created "4-5 years ago" is not a "development tool".
"I believe that we and our Chinese colleagues have a clear understanding on this issue. I do not know successful examples of copying. The plane is too complicated a product to make a good copy. An airplane is a constantly growing organism. If you don't know how it was created, you won't be able to figure out what to do with it in the next 3-4 years. I believe that we have more opportunities for joint development. We and our Chinese colleagues do not look back, we are looking to the future, "Pogosyan said.
The KLA President also announced that in 2013, the Russian Air Force delivered 12 serial Su-35 fighters. This aircraft in the "full serial configuration." They were produced after the release of 10 pre-production machines, which were used for testing in 2010-2013.