In the corporate newspaper "For Victory!", Published by OJSC "Ural Transport Engineering Plant" (Yekaterinburg, part of OJSC "NPK" Uralvagonzavod ") in number 3 (February 14) for 2014 year in the material" The work is organized clearly "published statement The speeches of the production director of this company, IA Zhdanovskikh, at a factory trade union seminar In this presentation, IA Zhdanovskikh reported on some of the results of Uraltransmash's activities in the state defense order in 2013 and plans for 2014.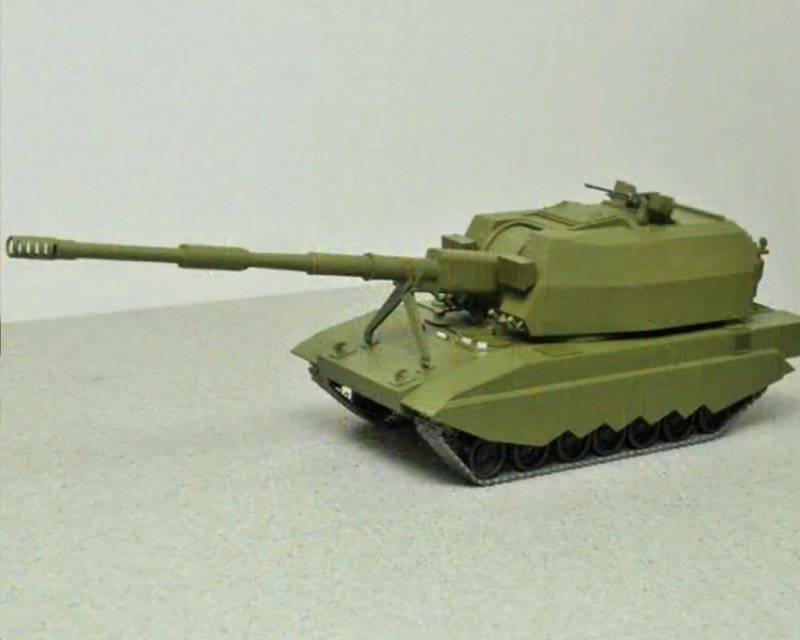 One of the variants of the promising 152-mm self-propelled howitzer 2C35 "Coalition-SV" (c) otvaga2004.mybb.ru
In the speech of I.A. Zhdanovskih said:
"2013 year Uraltransmash worked successfully, and this success is expressed in several indicators. First of all, the plant fulfilled the state defense order in time.
A positive point should be noted: for the first time in a long time, having completed the state defense order, and sending the finished products, the assembly shops did not stop, but continued to work. As a result, on 1 of January of this year, we had a good start on the 2014 program of the year - 12 cases and hubcaps, as well as internal and external equipment, which is the third part of the annual plan in the framework of the state defense order.
Of course, it can't do without difficulties, but the work is organized clearly. We are able to execute the state defense order-2014 in the summer.
In 2013, we started to master the Coalition products. This is a new promising direction. The first two products were sent to the consumer, and this year they have to send 10, which, according to plans, announced by the Government of the Russian Federation and Uralvagonzavod Scientific and Production Corporation OJSC, will take part in the anniversary Victory Parade in Moscow in 2015.
Among other things, in 2014, we have to make repairs with upgrading 36 of Msta-S products - to М1 state, and two more products - to М2 state, and also to create repair design documentation on them.
In the middle of 2012, we signed a contract for the manufacture of the Pantsir-С1 product, according to which the production plan was increased on average from 4 to 6 products per month. We have successfully coped with this difficult task. Currently, the production plan for the Pantsir-С1 remains as tense.
Last year, we fully, in the proper amount and quality, fulfilled a two-year contract for the manufacture of A-190 units. "