According to Serbian and Pakistani sources, the police department of the southern Pakistani province of Sind (administrative center - Karachi) concluded an agreement worth 1,24 billion Pakistani rupees (about 12 million dollars) for the purchase of 20 new Serbian high-security Lazar II armored personnel carriers with wheel formula 8 and XXNX. Delivery of these machines will be made in two batches. Negotiations on this have been going on since the end of 8.
The purchase of Lazar II is carried out on a non-competitive basis as part of an emergency program worth 5 billion rupees to strengthen the technical equipment of the Sindh Provincial Police in connection with a significant increase in Islamic terrorists in Karachi and other parts of the province. Even in Karachi, terrorists use increasingly heavier weapons against law enforcement agencies. It is reported that in the fall of 2013, the police in Sindh had 79 armored vehicles and armored personnel carriers (62 wheeled and 17 tracked), of which 30 were used in Karachi, but all of them have protection against small arms.
weapons
with 7,62X51 mm cartridges, while armored vehicles with fire protection 12,7x108 mm machine guns (DShKM), as well as with protection against explosive devices are urgently required.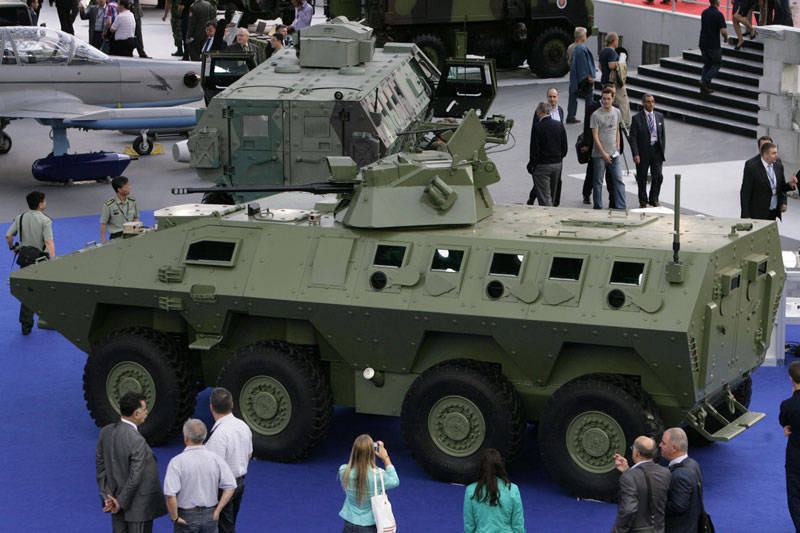 The prototype of the Serbian armored personnel carrier Lazar II at the exposition of the Partner 2013 exhibition in Belgrade. 28.06.2013 (s) SRB-HawkEye
The Lazar II 8x8 BTR was first introduced by the Serbian state association Yugoimport-SDPR in June 2013 at the Partner 2013 exhibition in Belgrade. The machine was developed with the leading role of the Belgrade Military Technical Institute and is manufactured at the new enterprise Complex Battle System built in Yugoimport-SDPR in the city of Velika Plana. Structurally, the Lazar II is a development of the Lazar BVT (Lazar I) armored personnel carrier developed in Serbia earlier and tested from 2008, which is a fairly innovative hybrid of multi-axle armored personnel carrier and MRAP vehicles, and has generated great interest in the world. According to the Serbian source, the KAMAZ automobiles are widely used in the design of the Lazar II.
According to known information, the Pakistani army has shown great interest in the Lazar II armored personnel carrier from the very beginning, and possibly partially financed its development. At the exhibition Partner 2013, Serbian Defense Minister Alexander Vucic said that an agreement had already been signed with Pakistan to supply him with three Lazar II vehicles. According to the Pakistani media, these vehicles were purchased by the Pakistani army to conduct troop testing in the northern provinces of Pakistan, and the possibility of purchasing a large batch of these vehicles is being considered. According to Yugoslav media, a number of other countries are showing interest in acquiring the new Baz Lazar II, including Bangladesh and Kenya.