"Parliament will burn at night," MP Inna Bogoslovskaya said, but the Ukrainian parliament did not burn, his February 18 assault by "peaceful demonstrators", speaking as always with the cover of the neo-Nazi Right Sector, failed. Moreover, the government seems to have lost patience: pogroms with human casualties of neo-fascist euromaidan militants armed with gunshot
weapons
- is a feature beyond which the war ...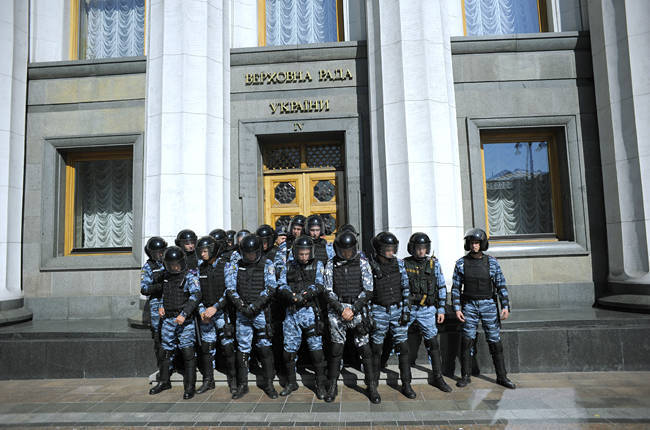 And counterattack so that drove the militants on the Maidan, and began to clean them and there. The opposition did not expect decisive action by the security forces, its fighters ran into prepared defense.
It seems that Yanukovych managed to outplay the opposition. He played a difficult game with negotiations, amnesty, made concessions, and the opposition regarded it as a weakness. And I decided to press the president, seize the parliament, and thus take power in the country. The main calculation was, apparently, the fact that Yanukovych will not use force against the "activists of the Maidan", even when they take the parliament. She was wrong.
The authorities calculated this option and prepared, and were not afraid to use force. And she didn't ask permission to use it from either the European Union or Washington. What does all of this mean? Such a development of the situation, such actions of Yanukovych are possible, provided that he is confident in his rear. Only Russia, Putin, can give him reliable rear.
The European Union, through the mouth of Catherine Ashton, spoke in favor of a peaceful way out of the opposition by parliamentary means. In general, everyone will agree with this, but the amnesty, ripped off by the militants, gives Yanukovych a strong argument: it is impossible to agree with the neo-Fascists of Bandera, and their political roof. And nowhere, and never, does the government enter into negotiations with the militants.
The Prosecutor General's Office of Ukraine made a statement on the responsibility of opposition leaders for the February 18 pogroms. If the government follows this logic, then negotiations with the opposition are no longer possible, their leaders must be held accountable for organizing mass riots and attempting a coup.
The Russian Foreign Ministry issued a statement that the responsibility for the new bloody events in Kiev lies on the policy of the West, which for a long time did not carefully notice and justified the fighters of euromaidan.
What will happen next is hard to say. Galicia announced "mobilization", the European Union will probably impose sanctions. Washington will join them. But another thing is clear: the initiative is in the hands of Yanukovych and the power structures, and they have already made their choice. Rubicon crossed.
It is striking that the worsening crisis in Ukraine occurs against the backdrop of the Olympic Games in Sochi, Saakashvili attacked Tskhinval, Russian peacekeepers, and started the 08.08.08 war against the backdrop of the Olympic Games in Beijing. A coincidence?