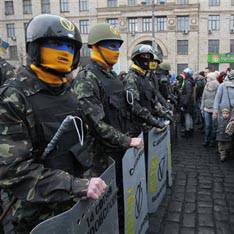 The building of the city council and city administration of Kiev, liberated on the eve of the activists of "Euromaidan", was seized again. This time, supporters of the Coalition of the Orange Revolution participants broke into the mayor's office.
"We are not interested in the agreement between the authorities and the opposition. The law on amnesty entered into force, and all Maidan activists should be released. Since this did not happen, we will be in the mayor's office," said the leader of the coalition, Sergey Melnichenko.
Young people with closed faces penetrated the windows of the Kiev City Hall around 00: 30 local time (02: 30 Moscow time) through the windows. According to Vesti, they carried out household appliances, a fan and an oven, from the premises, and then they walked along the corridors of the building with hammers, batons and fittings in their hands.
As Melnichenko said, the activists of the Coalition of the Orange Revolution participants "decided to live in the mayor's office", but they would be allowed to work for the employees. He also promised that on Monday new activists will join the two dozen people of his movement: "Let us give a few dozen more."
In addition to coalition activists, the mayor's office included representatives of such groups as the Black Committee, the Social-National Assembly, the Patriot of Ukraine, the Vikings, and Narnia. Supporters of the opposition nationalist party Freedom also came to the building and tried to expel the invaders.
Activists of "Narnia" and "Vikings", in turn, stated that there are too many Svoboda workers and they will not be able to resist them in case of an open conflict. "There is no confrontation. Supporters of" for "and" against "the liberation of the building are divided into groups and have fun communicating with each other. The degree has dropped significantly," Liga reported.
News
".
Recall, the activists of "Euromaidan" 16 February released the building of the City Council and the city administration of Kiev, which kept the 2,5 of the month. The opposition took this step after the authorities released all the detained participants in the riots. The transfer of the building to the hands of the Kiev authorities took place with the participation of the OSCE representative, the Swiss ambassador to Ukraine about 10: 00 local time (12: 00 Moscow time). The act of transfer was signed by the head of the Kiev city administration, Vladimir Makeyenko.
On Sunday, the opposition announced the release of Lviv, Ivano-Frankivsk, Ternopil and Poltava regional state administrations. It was also unlocked travel on the street Grushevskogo in the center of Kiev, where there were fierce clashes.